Papamoa bus users left in the lurch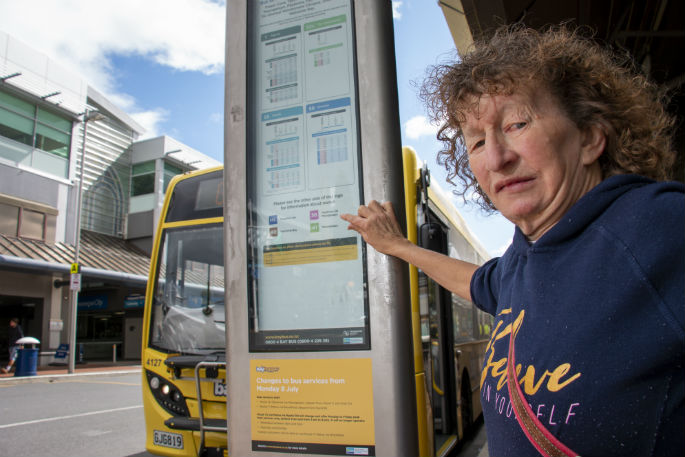 A Papamoa resident is pushing to have a critical bus service extended, saying it's the only way she can directly commute to the CBD on public transport.
Route 36 Papamoa via Maungatapu bus service only operates on weekdays from 5.45am to 9.03am and 3.16pm to 8.03pm.
Debz Tuner presented at the Bay of Plenty Regional Council's Public Transport Committee last week, sharing her struggles around using the bus as her primary form of transport.
She doesn't own a car and finds it difficult to get around during weekday off-peak hours and at the weekend.
"It can be really frustrating and it makes me feel stuck. It's really hard for me to get anywhere most of the time because bussing is the main way I get around.
"I used to be able to get the 36 on a Saturday morning and go to the market. Now I have to get three buses to get there and three busses home again, so it's not worth it," Debz says.
"I have to walk twenty minutes to the bus stop, get a bus to Bayfair, then a bus from Bayfair to the CBD, then another bus to the market. It can be quite a hassle."
Between February and July this year, there has been a 13 per cent decline of adults in Mount Maunganui and Papamoa using bus services.
Debz currently opts to catch rides with other Papamoa residents when possible.
"I used to be one of the most regular bus users, but now if I can help it I avoid busses and get rides into town. It saves me so much time."
Route 36 entirely ceased operation on December 10, 2018. A modified service was reintroduced on July, 8 this year due to requests from community members.
BOPRC senior transport planner Joe Metcalfe says extending the operating hours of the service is one of a series of options that is being considered by staff for improving services in Papamoa and Mount area.
"Staff will be engaging with stakeholders and bus users on these options over the coming months."
Joe says patronage on the service is meeting their patronage expectations at the moment.
"Maintaining the reliability of the service is critical to continuing to encourage more users. As always we will regularly review the performance of the service to identify if any changes are required."
Debz says these days when she does catch the bus, often she is the only passenger.
"There are never many people on the bus, most of the time I am the only one. The other day there were ten passengers, and that was a lot.
"The bus is one such limited hours at the moment. If the 36 service is extended it means I can commute to more places whenever I need to."
More on SunLive...