Sustainable Blue Backyard taking over Waihi Beach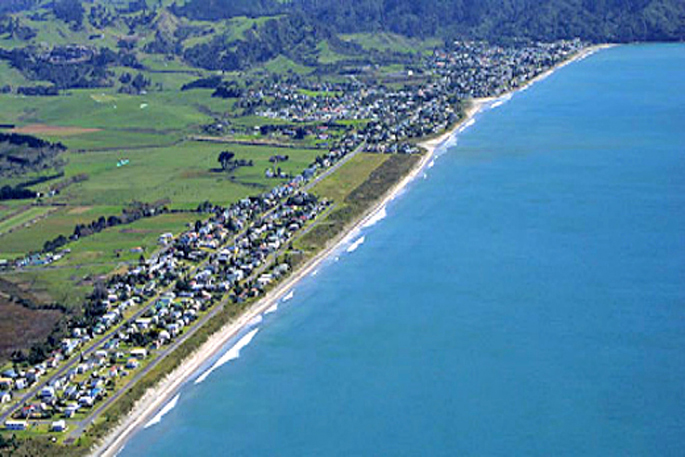 Envirohub Bay of Plenty has teamed up with the Department of Conservation for a fun-filled and educational free family day out at North End, Waihi Beach on Sunday September 22 from 10am to 1pm for Conservation Week.
The Sustainable Blue Backyard event will include a kids treasure dig, sand sculpture contest, education providers, a beach clean-up and live music.
'Nature Needs Us' is the focus of Conservation Week 2019.
"There are lots of opportunities for everyone to help us reverse the loss of biodiversity and help restore habitat. We're pleased to be winding up this years Conservation week with this exciting event at Waihi Beach," says DOC community ranger Nataalia Lunson.
Event organiser Emma Woods from Envirohub is looking forward to the event being a great platform for people to come along and learn about conservation.
"In addition to the conservation messaging being shared by Department of Conservation, Envirohub and our partner organisations the University of Waikato Coastal Marine Station, Scion, Waihi Beach Environment Society, Coastcare Bay of Plenty and Predator Free Waihi Beach will also offer education about the importance of keeping rubbish out of the environment, marine biosecurity threats, myrtle rust ID, local conservation efforts and predator control," says Emma.
Locals from Western Bay of Plenty and Tauranga Districts can also pick up a free rat trap for their backyard from Predator Free Bay of Plenty's local Waihi Beach community leader. There is also a chance for kids to paint their rat trap to take home.
"The main purpose of this conservation event is education, but we're jazzing it up by adding some fun activities that the whole family can participate in. There will be cool prizes up for grabs, and as a bonus Harcourts Waihi Beach have kindly sponsored prize money for the sculpture contest – so it'll be worthwhile coming along and putting your creative flair and sand building skills to the test," says Emma.
"We'll also have the Hydrohub on hand to provide free water – people just need to bring their own drink bottles to fill up. It's going to be a great day."
In keeping with the conservation week kaupapa, the theme for the sand sculpture contest is marine creatures. Local sand art legend Jamie Harkins is onboard as a judge.
"We're extremely happy to have the talented Jamie Harkins as a judge and we can't wait to see all the marine themed sculptures people create!"
Jamie recommends coming prepared with a few tools to help make great sand sculptures. These include a bucket, trowel, spades, spoons and blunt knives – so make sure you bring these with you.
With the Over the Top Fun Run the day before, Waihi Beach events and promotion community coordinator Teresa Qualtrough says 'the event is a fantastic opportunity for families and interested community members to enjoy a full weekend of family-friendly activities, and for our visitors to make a weekend of it'.
The event will start at 10am with a welcome and then get straight into the kids treasure dig, so it's best to get there early with your family as event organisers expect a flurry of activity with kids digging up treasure and winning great environmentally-friendly prizes.
The sand sculpture contest will run from 10.30am – 12pm, and the beach clean up, education stalls and live music by Waihi Beach musicians Briana and Paris will happen throughout the event until 1pm.
More on SunLive...