The Elms wins NZ Trust of the Year award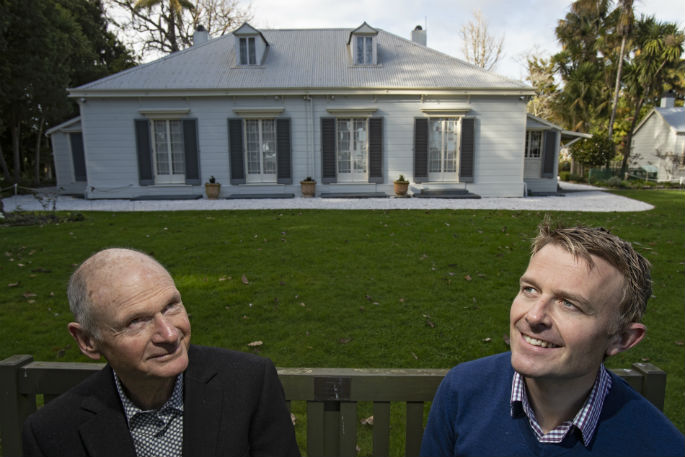 Chairperson Ian Thomas was surprised to hear The Elms Foundation Trust has been awarded the 2018 Trust of the Year award by the NZ Trustees Association.
"It came right out of the blue," says Ian. "We got a letter from Mayor Greg Brownless telling us that we had been given this award.
"This was totally unexpected because we had not been aware that we'd been nominated."
"It was a really nice surprise," says The Elms | Te Papa Tauranga manager Andrew Gregg. "We're not members of the New Zealand Trustees Association, nonetheless, the mayor has nominated us and we've won."
The award acknowledges 'outstanding endeavour, performance and achievement'.
"I think it's great that The Elms Foundation Trust has received this award," says Greg. "It's been a number of years now since the Trust acquired the property as the result of generous donations by the Council, TECT, Lotteries and the Tauranga Charitable Trust.
"They've kept that in trust for all New Zealand and they've done an excellent job. It's a mixture of paid staff now and volunteers, and they take great pride in the appearance of the gardens and the building itself. Of course being a historic building it requires a lot of work to keep the maintenance up."
Ian says the trust transitioned from being a voluntary organisation to a professional organisation towards the end of 2015.
"So that's made all the difference given the huge increase in cruise ships," says Ian. "We would never have coped without the professional staff.
"Greg has written us a nice letter congratulating us and mentioning all the hard work of our board, staff and volunteers and particularly, of course, our manager Andrew Gregg has been a real gem for us since his appointment in late 2015."
Along with Andrew, there is a small team of professional staff that support the operation.
There is also an enthusiastic and committed team of over 50 trained volunteers who dedicate their time to guiding, garden maintenance, education programmes, community events and Devonshire teas.
"There are so many volunteers that help," says Andrew. "This is a wonderful recognition of the incredible commitment and work of a large number of people, over a long period of time. It's a phenomenal achievement.
"We've got volunteers who have contributed to an excess of 15 years of service, so this is really a recognition of them and the commitment they've made for so long to this place."
The Elms | Te Papa Tauranga is regarded as a national treasure, being one of the Bay of Plenty's oldest heritage sites. The mission house and library are both registered as Category 1 by Heritage New Zealand.
"We're working hard to keep the building up-to-date," says Ian. "There will be maintenance done next year to the house and library which needs to be done.
"Our heritage garden will be open towards the end of September as we're giving time for the plants to grow a bit more."
"The Elms is now attracting visitors from, not only around the country, but around the world," says Greg. "It's one of those treasures that not everyone knows about in this city."
"This award is a wonderful achievement and recognises a great deal of commitment and passion of some really special people in our community," says Andrew.
More on SunLive...