Tauranga to host its first 'Upgrade with a Trade'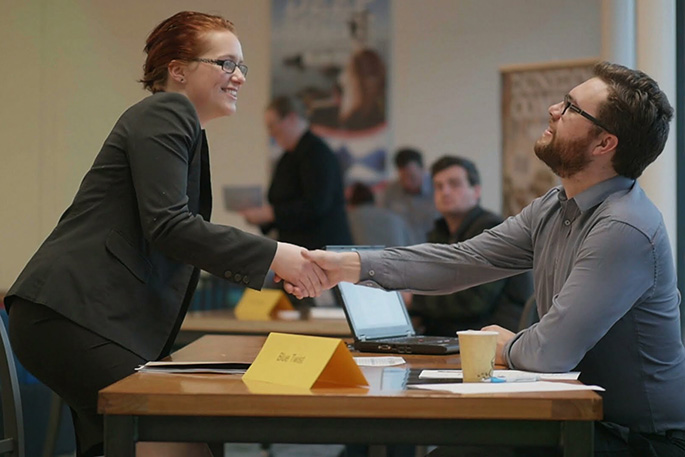 Job-seeking secondary students will link with employers to explore careers in trades and services at Tauranga's first Upgrade with a Trade today at Atrium Cafe.
Students participate in a 'speedmeet' where they sit down with a range of local and national employers for five-minute mini-interviews.
Work experience, on-the-job training, an apprenticeship or employment may be offered to successful candidates.
This event follows the Katikati and Rotorua speedmeets that were held in 27 August and 18 September, respectively.
The Katikati event resulted in more than 100 matches, meaning employers will be linked with these students to progress conversations on potential opportunities in their industry.
Tauranga Girls College Year 12 student Paris Robertson says the speedmeet will enable her to gain experience in being interviewed.
"I'm going to learn about different jobs, hopefully one that I will like and an employer who wants to offer me a job. If the right match is there for me or if there is someone there who inspires me then it could impact my career pathway plans," says Paris.
"A successful day for me would be, the offer of a job that I'm excited for."
Eurofins is one of the employers that participated in Katikati and will also come to Tauranga. It provides scientific testing and support services across a broad range of industries including food, pharmaceutical, environmental and agriscience sectors.
Eurofins' Donald Meikle-Cameron says, "positive engagement with our community is one our core values. The speedmeet events involve our youth, the one thing our company is passionate about. We find it as an efficient way of meeting a number of candidates already interested in finding work quickly."
This event has come about through community collaboration between CATE Tauranga & Priority, the Ministry of Education, Got a Trade? Got it Made!, employers and industry training organisations.
For more information about Upgrade with a Trade, go to www.gotatrade.co.nz/events.
More on SunLive...