Celebrating autumn in spring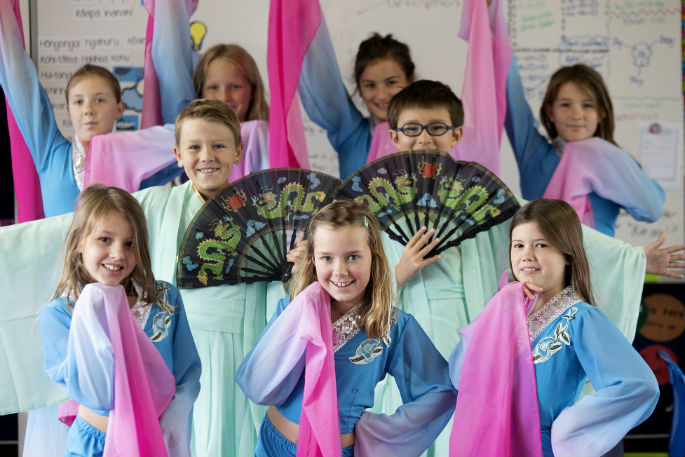 It's called cai wei - a traditional Chinese dance, with its vibrant long-sleeved costumes, slow elegant stylised movements imitating the movements of fairies and the ripples of water and air, telling stories of China's people and its past.
And they're learning cai wei at Oropi – a rural school 23 kilometers out of Tauranga.
"The principal loves the Chinese culture," says Tina Zhwang, president of the New Zealand China Friendship Society.
"He loves his children to learn Chinese culture and performance. He even takes pupils to China and has return visits."
Children like Chloe. She's in the school cai wei dance troupe and went to China last year for 10 days.
"It's much different to New Zealand, is really, really big, has lots of people and lots of trains. It was a very worthwhile experience." And she admits she is still dining out on the trip."
In the meantime, the cai wei troupe, under the instruction of Chinese tutor Jane Mason, is just a fortnight out from performing in the 800-seat Holy Trinity Cathedral at the Chinese Mid-Autumn Festival.
A huge event in China, the local festival on September 28 will feature qipao, the body-hugging dress with distinctive Chinese features, Beijing opera, Chinese instruments, kung fu and the Oropi pupils with their traditional dances.
"It's important for kids to learn about other cultures," says Jane Mason. "And because I am Chinese I appreciate the opportunity to sow that seed. The kids like to learn these things, and it's very good for them."
Nine-year-old Savarhna says cai wei is "kind of relaxing – not slow, not fast, kind of in between".
And yes it's very graceful, very elegant. They do know some Chinese like "ni jhao" or hello and everyone loves dumplings – especially the vegetarian ones they made for "From Garden to table" where kids learn about gardening and cooking.
Seats for the festival are available at: cllcnz@outlook.com
More on SunLive...