Gumboots, embroidery and Dracula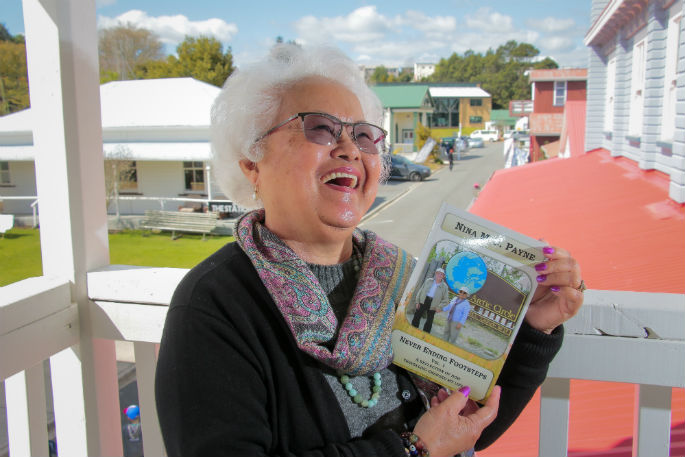 Bran Castle - not everyone's destination of choice – home of the fanged vampire, Transylvanian Count Dracula, in the cold brooding Carpathian Mountains of Romania.
It's generally accepted as magical, mystical and mythical, but even Dracula's creator wanted us to 'believe in things we cannot believe'.
That doesn't satisfy the curiosity of Nina Mariana Carpeso-Payne, or just Nina, the Greerton Justice of the Peace, author, long-time giver to the community and matriarch.
Dracula, to Nina, is a horrible and complicated story. And one deserving of some personal, on-the-ground investigation.
"Was 15th century Romanian Prince Vlad Draculea really killing people and drinking their blood? My understanding is it was a story to ward off invaders. I don't believe stories that easily and I just want to know the truth."
So at 79, knocking 80 and after nearly 20 years of globe-trotting, "hundreds of airports", more than 60 countries and a couple of personal and published travelogues, Nina has an eye to Romania and an assignation with the spirit of the Count. She's been to Romania but hasn't seen Dracula's castle.
"One day," says Nina. "One day."
All this comes on the back of her newly published travel book – "Never Ending Footsteps" – a reflection of how travelling changed her life.
"The wish to travel is human nature, the desire to progress, to satisfy curiosity, to change our life's circumstances, to see and experienced new places and to risk the unknown, accept the challenges."
And if someone thumbs through her latest – and probably not last book – and is inspired to pack a bag, then at least some of Nina's work is done.
She quotes Bill Bryson in her book – "I can't think of anything that excites a greater sense of childlike wonder than to be in a country or place where you are ignorant of almost everything."
And that's how Nina, the Manila bank teller, must have felt when Colin Payne, a Kiwi steam train driver on holiday in the Philippines, wooed her across the bank counter and carried her off to live in Taihape.
It was a railway house built in 1908, coal range and a copper boiler.
"Initially no, I didn't like Taihape because the phone was a party line – everyone could listen."
Nina was the first Filipino in the Whanganui district.
"People didn't think she could speak English."
She would politely educate those cynics to the fact the Philippines had been thoroughly colonised, and apart from her native Filipino, she also had English and Spanish at her disposal.
She also didn't like wringer washing machines - they popped buttons off clothes. But Nina was a strong, resilient and educated woman – she adapted. She bought herself some gumboots, dress shoes in Taihape, toasted those toes accustomed to a tropical monsoon climate in the Taihape coal range oven and immersed herself in the community.
Get known, get understood, get useful, get appreciated. It was strategy that would serve her well when she and Alan arrived in Tauranga.
"Tauranga was a little bit cliquey."
But only until she set about cracking those cliques. The woman with the commerce degree loaned her skills to the Railway Superannuitants Association. In a desire to fit in and be accepted, this migrant formed the Bay of Plenty Ethnic Council, now the Multi-Cultural Society which is thriving down at the Historic Village. She also formed the Filipino Society.
"Then people started to know me. I was on this committee, I was that secretary, I was everywhere. People could not ignore me."
This after raising a family of three, being secretary of the Tauranga Embroidery Guild for three years. And tutoring embroidery. There was also her church. No point having spare time if you don't use it.
"You have to do things that are close to your heart – service and travel are close to my heart. My university degree is nothing compared to what I have learned travelling."
And she met and married a man who had boyhood dreams of being a locomotive engineer and going places. They have simply graduated from free passes on a steam train to wandering the Balkans, Slovenia, Croatia, Serbia, Bulgaria and Turkey. And perhaps dropping by 'Castelul Bran' for an encounter with the spirit of the sultry blood sucker.
More on SunLive...