Billy Stairmand secures slot for Tokyo 2020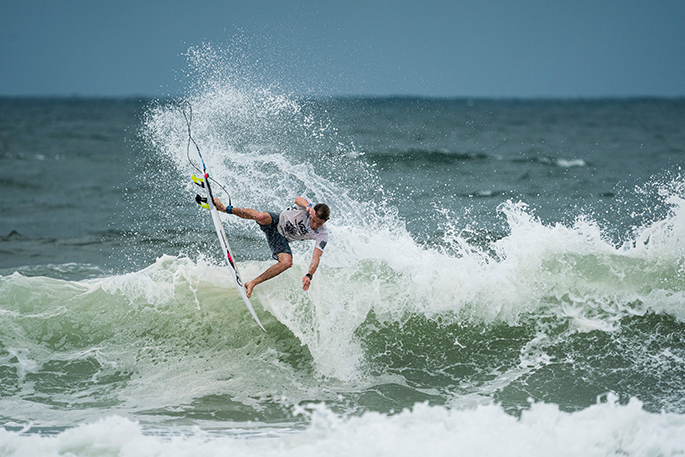 Billy Stairmand is the second Kiwi surfer to claim an Oceania slot for the Tokyo 2020 Olympics after a colossal day of surfing at the ISA World Surfing Games pres by Vans on Friday September 13.

Billy joins Ella Williams who earlier in the week claimed the women's Oceania slot.

Yesterday Billy successfully surfed through five rounds of competition to remain alive in the event amongst the final 16 surfers. The performance of the three Kiwi males lifted the team to sixth equal overall and within reach of a podium finish.

"I didn't want to know about the Olympics stuff, and I didn't go on the internet or anything," says Billy. "I just wanted to keep making heats and worry about it later. People were asking and interviewers were saying things but I just had my head down and did my job.
"But now I am pretty freaking stoked aye. I honestly can't believe it. It's been a huge day and I'm still trying to wind down. But man-o-man, this is a dream come true and I cannot wait for the future. But, I still have a job to do and that is finish this competition strong."

Billy started the day with teammates Ricardo Christie from Gisborne, and Kehu Butler from Mount Maunganui, alive in the event as they went about their work progressing through the early rounds. Ricardo was the first to succumb to opposition losing the closest of heats by 0.07 in Repechage Round 4 finishing 37th overall.

Kehu went round-for-round with Billy with the two surfers knocking off the first goal of reaching the top 30 and cut off for Tokyo 2020. It wasn't until the last three heats of the day where Kehu fell short of advancing, finishing the event in 19th overall and relinquishing the top Oceania slot to Billy.

Billy stormed his way through the final round and will meet Brazilian superstar Filipe Toledo in his next round alongside Cody Young (CAN) and Angelo Bonnomelli (ITA).

"Oh bro, I'm so tuckered out. A long day at the beach and I surfed five heats, giving it my all in every single one," says Billy.

"I knew it was gonna be a big day so I was prepared with food and lots of water. Every heat I'd make I'd have to forget about it then focus on the next one.
"To be honest it's all kind of a blur except for the last heat. That one was the one I really wanted to win. I was telling myself, one more, just one more, and it happened."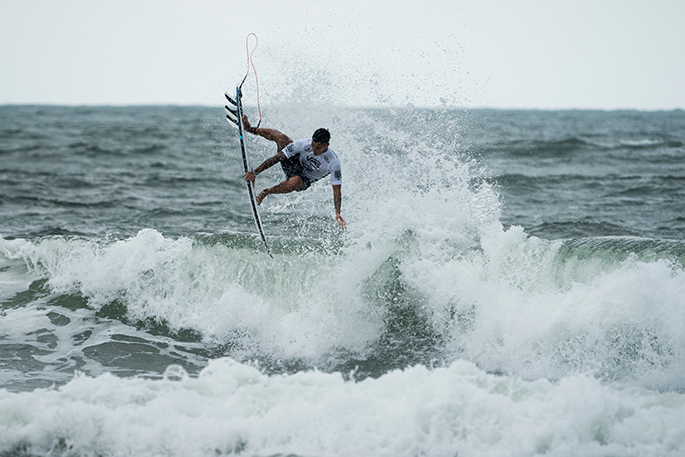 Kehu Butler. Image courtesy of ISA / Reed

Kehu had a tough loss in the final round of the day, a heat that he was in contention to advance out of right up until the final hooter where he dipped out to Vicente Romero from Spain and Santiago Muniz from Argentina.
"Competing five times today was full-on and pretty hectic. Body is definitely feeling it this arvo but that is just the way the cookie crumbles," says Kehu, the youngest surfer in the team at 19 years of age.

"I was just wanting to make heats and make my family and friends proud back home. But it was cool to have me and Bill make heaps, Ricardo and Billy are always pushing my surfing, so being here it's been awesome."

"I'll be taking away a lot of positives from the event, learning heaps off the boys and my performance in my last heat. I'll definitely try and come back next year and go for it again. I love wearing the black jersey and representing my country. And I know the whanau are always proud every time I do the haka too."

Brazil leads the team rankings over the 55 nations competing. The final day of the event is scheduled for Sunday but with another typhoon looming, organisers may complete the event today, Saturday before the weather deteriorates further.

The event is being webcast live. Japan is three hours behind New Zealand. Action takes place on Sunday from 8.30am or 9.30am NZ time.

The International Surfing Association (ISA) World Surfing Games presented by Vans is being held at Miyazaki from September 7 - 15. A total of 55 nations and 240 surfers are competing at the event this week.

Results for the Kiwi men after day seven of action at the 2019 ISA World Surfing Games presented by Vans held at Miyazaki, Japan on Friday September 13:

Team Rankings
1, Brazil
2, USA
3, Japan
4, Spain
5, Costa Rica
6, Canada
6, New Zealand
8, Peru
9, South Africa
10, Portugal

Men's Round 3
Heat 3
Kanoa Igarashi (JPN), 13.23, 1, Ramzi Boukhiam (MOR), 12.9, Billy Stairmand (NZL), 9.8, 3, Yoni Klein (ISR), 7.26, 4

Men's Repechage Round 3
Heat 5
Michel Bourez (FRA), 14.2, 1, Kehu Butler (NZL), 10.63, 2, Kaspar Hamminga (NED), 8.24, 3, Perry Siganos (GRE), 7.77, 4
Heat 7
Ricardo Christie (NZL), 12.4, 1, John Mark Tokong (PHI), 12.23, 2, Gonzalo Zubizarreta (ESP), 11.8, 3, Roberto D'Amico (ITA), 8.63, 4

Men's Repechage Round 4
Heat 3
Vicente Romero (ESP), 14.14, 1, Billy Stairmand (NZL), 11.43, 2, Conner Coffin (USA), 10.47, 3, Lenni Jensen (GER), 8.13, 4
Heat 6
Jair Perez (CRC), 13.47, 1, Kehu Butler (NZL)13.2, 2, Gearoid McDaid (IRL), 11.57, 3, Swen Zaugg (SUI), 9.3, 4
Heat 7
Beyrick de Vries (ZAF), 13.0, 1, Jonathan Zambrano (ECU), 10.77, 2, Ricardo Christie (NZL), 10.70, 3, Manuel Selman (CHI), 8.53, 4

Men's Repechage Round 5
Heat 2
Billy Stairmand (NZL), 14.27, 1, Roberto Araki (CHI), 12.16, 2, Edito Alcala Jnr (PHI), 10.3, 3
Heat 4
Kehu Butler (NZL), 15.34, 1, Ketut Agus, Aditya (INA), 12.4, 2, Aritz Aranburu (ESP), 8.8, 3

Men's Repechage Round 6
Heat 2
Billy Stairmand (NZL), 14.33, 1, Vicente Romero (ESP)13.53, 2, Ryan Callinan (AUS), 12.94, 3
Heat 4
Hiroto Ohhara (JPN), 14.17, 1, Kehu Butler (NZL), 12.53, 2, Bryan Perez (ESA), 9.53, 3

Men's Repechage Round 7
Heat 1
Vicente Romero (ESP), 14.44, 1, Santiago Muniz (ARG), 12.23, 2, Kehu Butler (NZL), 11.34, 3, Jay Quinn (GBR), 10.5, 4
Heat 2
Billy Stairmand (NZL), 14.67, 1, Shun Murakami (JPN), 11.33, 2, Roberto Araki (CHI), 10.24, 3, Michael February (FAF), 9.8, 4

Day 8 Schedule (Saturday September 14) – live webcast
12:10pm – Billy Stairmand, Repechage Round 8

Further heats subject to progressions. The event may finish today, Saturday subject to weather and wave conditions.

World Surfing Games Schedule
September 11 – 14 – Open Men's continues and potentially finishes with closing ceremony

Olympic Qualification
The Olympic qualification process starts with the World Surf League (WSL) where ten males and eight females on the 2019 World Tour will directly qualify for Tokyo 2020. No more than two athletes per nation can qualify via this process.

The top ranked male and female from the Oceania Region at this year's event will qualify for Tokyo 2020. The selections will then need to be ratified by the New Zealand Olympic Committee before being confirmed.

Athletes have a further chance to qualify for the Olympics at the 2020 ISA World Surfing Games where the final four males and six females in each division will be determined by the top placing athletes at that event.

View the full Olympic qualification system.
More on SunLive...