Rugby World Cup looms for Te Puna star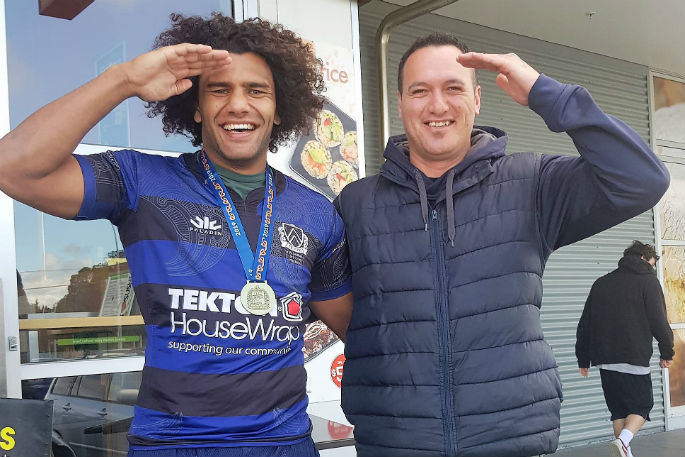 Zane Kapeli did not forget about his club when he played against the mighty All Blacks in Hamilton on Saturday.
The 26-year-old blindside flanker ran out as a second half substitute for Tonga proudly wearing his blue and black Te Puna headgear.
But the relentless attack from the All Blacks in their 92-7 demolition of Tonga proved too much for Zane's beloved protective cap.
"I have been wearing it ever since I started playing for Te Puna. Unfortunately, it blew out on me today so I have had to let her go and will have to get a new one," he laughed.
Even though Zane has only played two seasons with Te Puna since joining from Waikato he says the whole community around the Wairoa River has made a huge impact on him.
"I am a passionate Te Puna man and very grateful to be involved in the club especially in their centennial year. I just absolutely love it. It is the best club I have ever been involved with. They do the community so well."
His one regret this season is missing the Baywide Premiership grand final when Te Puna defeated Tauranga Sports to win their first championship.
"I had to go to a training camp for Tonga in Auckland for a week. I was absolutely gutted to miss the final but so glad the boys got the W and created a legacy that will live forever."
Zane is the son of former Auckland and Tonga prop Rudi Kapeli. He made his debut for Tonga in November last year against Georgia in Tbilisi. He impressed with his defensive strength in last week's test against Fiji at Eden Park and continued that form against the All Blacks.
Zane has played Mitre 10 Cup rugby for Waikato and Bay of Plenty.
He says it was an amazing experience to play against a team you have been watching your whole life.
"To test yourself against a team like that is something I will never forget. When you are out there you realise they play with so much skill and it is easy to get done by their footwork and their passing.
"I had not experienced speed like that before ever. That could explain the defensive missed tackles by our boys."
Tonga are up against England, France, Argentina and USA in Pool C at the Rugby World Cup in Japan.
"For me I try to treat every game as if it is my last. I know I am one of the less experienced guys in the Ikale Tahi side so I am just trying to make the most of it and take my opportunities when they come."
More on SunLive...