Growing the perfect gift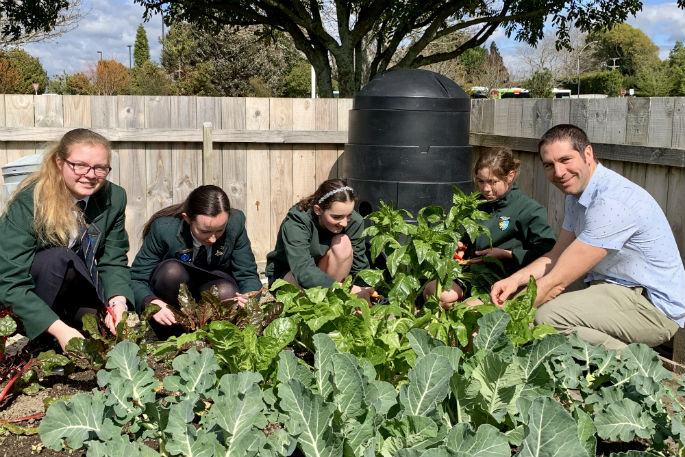 Aquinas College students aren't afraid of getting their hands dirty, digging up vegetables to donate to a local initiative that helps feeds hungry stomachs in Tauranga.
The school group has been growing vegetables to distribute for two months now, and this week they harvested them to give to Under The Stars.
Fifteen heads of broccoli and several bags of spinach and silverbeet were included in the donation.
Under The Stars is a charity that provides vulnerable community members with a free home-cooked meal on Thursday and Saturday each week.
Aquinas College teacher and group leader Mat Synge says it's important students are an active part of the community, helping those in less fortunate situations.
Year 12 student Emma Wilson agrees saying she gets involved in the gardening project to give back to the community.
"We know there are people who need food and the organisations that help them are mostly run by volunteers. They are providing the food, but if we can help them by giving them the vegetables that we grow, that still counts for something."
The idea was born after several students decided to put the unkempt school garden to good use earlier this year.
"Last year the garden was overgrown, so we cleared it out and wanted to keep going from there," says year 12 student Emma Wilson.
"This is the second donation we have done, and we are hoping to keep them regular."
The group maintain the plot of land each Monday lunchtime helping the garden thrive.
"They plant seeds, weed the garden and harvest the vegetables regularly. The plan is to be able to start composting, and get a good rotation of vegetables going," says Mat.
Under The Stars secretary Laura Wood is delighted the school has started donating fresh produce to the volunteer-run initiative.
"It's so important to get fresh vegetables to the people who need it. It gives them a healthy option, and it can be hard to come by so it is greatly appreciated.
"There are so many different ways people can help us. Volunteers are so important behind the scenes – growing and distributing food from their garden or community garden."
More on SunLive...