Kiwi surfers set up big Black Friday competition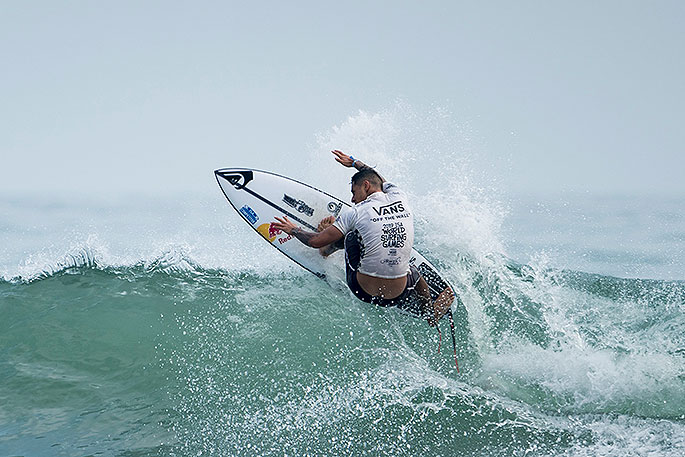 The New Zealand Surfing Team has set up a big Black Friday of competition at the ISA World Surfing Games presented by Vans today.
A good day of competition in small conditions under the 1.0m mark has seen Raglan's Billy Stairmand advance to the third round of the Men's Division at the event being held in Miyazaki, Japan.
Another progression for Stairmand puts him inside the top 30 surfers at the event and a chance of claiming the Oceania slot for Tokyo 2020.
On a day that saw several event favourites drop to the repechage rounds and some out of the event entirely, Stairmand surfed to a second-place progression behind Fredrico Morais in one of the heats of the day.
In doing so, Stairmand relegated World Tour surfer Conner Coffin (USA) and Peru's Cristobal de Col to the repechage rounds.
"Yeah that heat was a tough one," says Stairmand.
"I knew it was gonna be hard when I saw who was in my heat. But I was up for the challenge.
"These little waves are suiting me pretty well so I'm comfortable and my board feels amazing. It was pretty scary at the end of the heat as everyone got really good scores. But happy to make it."
Despite saying that he was "pretty nervous", Stairmand looked comfortable in posting a 14.0 point heat total, 0.07 behind Morais.
"I've been working on the mental stuff all year with a friend of mine at home so I just stuck to what I do and my game plan and it paid off. I'm feeling good and confident and just want to keep making heats. So every heat I get I'm giving it my all, no matter what."
After Kehu Butler (Mnt) and Ricardo Christie (Gis), dropped back to the repechage rounds, they now have to surf a further three rounds to advance inside the top 30 and challenge Stairmand for the Oceania slot.
No other Oceania surfers remain in the event.
Butler found himself up against 11x World Champion Kelly Slater in the second round today where he dipped to third place, Slater blitzing his opponents in the small surf.
Butler bounced back in the repechage round where he changed up his strategy slightly.
"In the second heat I just wanted to get busy and show some more intent because the waves were small and weak. So yeah, was stoked to get the heat win in that second heat today as conditions were tough," says Butler.
The temperature and humidity have been taking its toll on a number of surfers at the event and Butler says it's having an impact on the Kiwi team also as they found every way possible to mitigate the impact
"It has been super-hot and muggy, we've just been drinking heaps of water and spending a lot of time back at the hotel to relax and conserve energy for our heats."
And it will be a major challenge today if the Kiwi's advance deep into the event with up to four heats being contested by Butler and Christie.
Like Butler, Christie came up short in his first heat of the day but bounced back in the repechage round with a heat win late in the afternoon posting a 12.13 point heat total to advance.
While the small conditions may have impacted on a number of the top seeds, the surf is expected to build from tomorrow afternoon and into the weekend.
The competition at the event has simply been a step above any other World Surfing Games with Stairmand summing it up well.
"Yeah, it's crazy seeing all the CT surfers around. But it's cool. I was saying to the team before, this is probably the hardest comp ever as you have the top CT surfers from each country, then the top QS surfers from each country then if they are not competing in any of those you have the best surfers from each country. So there are some crazy heats. But I'm ready for whatever tomorrow brings."
The New Zealand Team sits in seventh overall. Brazil leads the team rankings over the 55 nations competing.
The final day of the event is scheduled for Sunday where the Men's medallists will be confirmed along with the champion team.
The event is being webcast live. Japan is three hours behind New Zealand. Action takes place from as early as 7:30am each day (10:30am NZT).
The International Surfing Association (ISA) World Surfing Games presented by Vans is being held at Miyazaki from 7-15 September. A total of 55 nations and 240 surfers are competing at the event this week.
More on SunLive...