BOP Volcanix captain steaming for success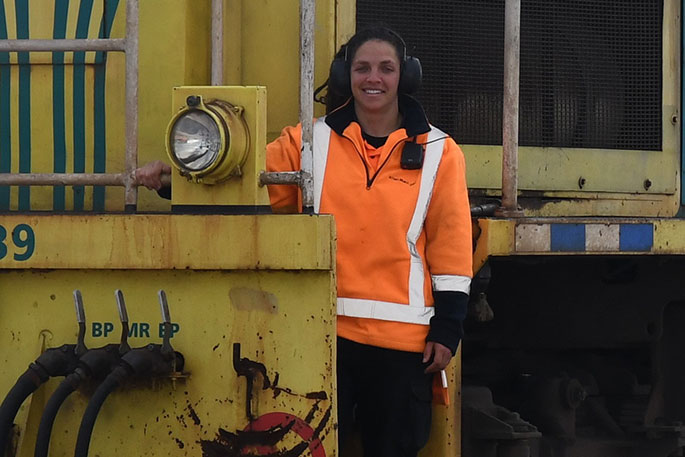 What does the Volcanix, trains, and rugby have in common? Christie Yule.
Getting tackled by the Volcanix captain is like getting hit by a runaway freight train, but also, she is the first female, rail operator for KiwiRail in Mount Maunganui.
Yule's job is to organise what cargo is loaded or unloaded on to the train, when they arrive at the terminal.
The job can be physically demanding, but she loves it, says the captain.
"It's definitely physical connecting and disconnecting wagons. On average I'm walking about 11km, throughout the 8-hour shift. I'm also getting on and off moving vehicles and you're outside exposed to the elements. So, it adds up."
Yule says she advocates for women to try jobs that would normally be perceived as a man's role.
"It's so important to have diversity in the work environment. Women have many skills that go untapped because of our own self-doubts, or our society telling us that it's not the right thing for a woman to do.
"I think, take a gamble and you will rediscover who you are, and what makes you tick. It might not be a doctor, a lawyer or a nurse, it can be more practical, like a trade or IT. But today, a woman can do anything."
Despite a narrow 32-29 loss to Te Whanganui-a-Tara (Wellington) at the weekend, Yule says the side still felt they weren't too far from showing their real potential.
"The loss was disappointing. What did go well was we has some fantastic set-piece play. We were obviously scoring the tries and executing them well. The structures we've been working on for the last few months have been finally coming off, and we've got the confidence to try them out in pressure situations."
Yule says the big difference on the weekend was Te Whanganui-a-Tara showed more intent at the collision and the clean out, something the side has been focusing on this week.
"We've looked back on it now and asked ourselves, did we go in with that intent and confidence to know that we were in a battle, and we needed to win every single ruck?
"There was time throughout the game when we were dominant in that area. But we didn't have that over the whole 80 minutes."
The Volcanix take on Tāmaki Makaurau (Auckland) at Rugby Park in Whakatane on Saturday at 2.30pm, and Yule says, the side has prepared well this week.
"Getting the confidence that we can do this, it keeps growing each and every game. This weekend against Auckland, I have no doubt, the girls are going to turn it around and we will look to improve this week."
Yule says the side always looks forward to getting out into the region, to play and put on a good display for their supporters.
"It's always been a special part of the women's Bay of Plenty team. We have always said, we wanted to continue playing games in places like Whakatane, because Bay of Plenty is a massive region.
"We get players from all over, and it's great to show our support and respect back to those that have given us such great players over the years. It's amazing playing in Whakatane. It's always beautiful there and we are looking forward to it."
Entry into the Double Header at Rugby Park is free, and the action gets underway with the Bay Ngāwha taking on their Auckland counterparts at 1pm.
Three Volcanix players reach special milestones this Saturday. Reserve player Amanda Aldridge will play her blazer game if they take to the field, and Nadia Flavell and Tahlia Brody will make their debut from the bench.
The Ngāwha team is expected to be announced today.
Bay of Plenty Volcanix
• Angel Mulu (8)

• Luka Connor (27)

• Janina Khan (33)

• Karli Faneva (2)

• Kelsie Wills (2)

• Christie Yule (C) (21)

• Kendra Reynolds (27)

• Natalie Delamere (9)

• Jade Tuilaepa (12)

• Mystery McLean Kora (15)

• Autumn-Rain Stephens-Daly (18)

• Renee Wickliffe (VC) (7)

• Danielle Paenga (2)

• Natalie Walford (2)

• Sapphire Tapsell (22)

• Lily Florence (22)

• Baye Jacob (20)

• Amanda Aldridge ** (14)

• Tynealle Fitzgerald (6)

• Tania-Rose Raharuhi (16)

• Tahlia Brody * (0)

• Nadia Flavell * (0)
* Denotes debut
** Denotes blazer game – 15 games
() Denotes games played

Team subject to change

Game Details:
Bay of Plenty Double Header
Saturday 14 September
Rugby Park, Whakatane
Curtain Raiser Double Header: Bay Ngāwhā v Auckland, field two, kick-off 1pm

Farah Palmer Cup:
Bay of Plenty Volcanix v Auckland, field one
Kick-off 2.30pm
More on SunLive...