Council discusses future of parking in Tauranga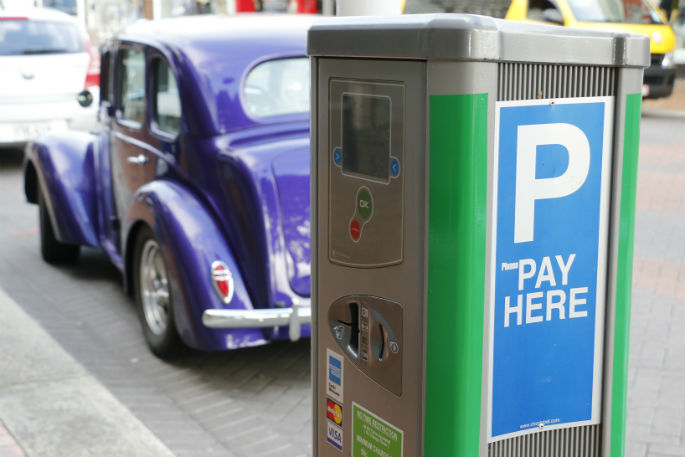 To ensure that parking in Tauranga is managed effectively Tauranga City Council has been investigating the parking issues and challenges facing Tauranga.
Yesterday, an open workshop was held as a next step in developing this work. During the workshop, council staff and consultants presented the initial draft findings involving research into national and international best practice and surveys.
"This provided the Mayor and Councillors the opportunity to give staff feedback on the issues and challenges," says a council spokesperson.
"The work will now be referred to the Urban Form and Transport Initiative (UFTI) team to review as it considers the strategic direction for urban form and transport."
The focus of the workshop was on the medium to longer-term (3-10+ years) management of public parking in Tauranga's centres: Tauranga city centre, Mount Maunganui's centre and Greerton's centre.
"Our city is growing rapidly and it will not be possible to grow parking supply proportionally. This would lead to the undesirable situation that parking would take up a disproportionate amount of our space and this would negatively affect the attractiveness of our centres," says Christine Jones, General Manager: Strategy & Growth.
"Therefore, it is key to understand what could work for the centres and set out a strategy to deal with parking matters in the future."

Why do we need a Parking Strategy?
Managing parking is not a goal on its own; rather it is one of the potential tools that can be used to contribute to how the wider urban form, land use and transport planning system operates and how communities develop. It is important that parking is managed well to ensure that sufficient parking is available in the right place at the right time. In achieving this, parking can contribute to social, economic and environmental benefits, including well-planned and thriving compact centres, quality development including intensification and a multi-modal transport system.

Other parking-related topics
Besides parking in centres, the workshop touched on other topics that are connected to parking, such as the role parking can play in influencing the uptake of public transport, walking and cycling. For example to under-price parking would result in the discouragement of walking and cycling, and consequently undermines investment in public transport and active mode infrastructure. Additionally, the topic Park & Ride was discussed as a tool to stimulate public transport patronage and to reduce parking pressure at major centres. However, this tool needs to be delicately balanced as it could also contribute to for example a reduction of walking and cycling uptake, when people drive to the Park & Ride to take the bus instead of walking or biking to their destination as they might have previously done.

Next steps
The work undertaken to date, including the insights provided through the workshop, will be referred to the UFTI project team to inform their work and ensure alignment. Once this is understood further work on the Parking Strategy, with a likely focus on key areas like the centres, will be done. This would include stakeholder and community engagement.
Survey results
A survey that was commissioned by Tauranga City Council and undertaken in the Tauranga City Centre and Mount Maunganui Mainstreet indicates that:
• The main reason people visited the centre was due to the shops available. Transport or car parking were not mentioned as reasons to visit the centres (although car parking featured heavily in the things people want improved).

• 75% of respondents arrived in a private motor vehicle, however 61% of all respondents were willing to consider a mode of transport other than the private motor vehicle. This shows that if the right improvements to bus, bike and walking infrastructure were made then it is possible to attract a much greater amount of people to these centres by transport modes other than the private motor vehicle. This would take pressure off the car parking resource and increase the centres overall capacity for visitors (which can be hindered if car-parking capacity is regularly reached).

Parking right in front of shops does not appear to be an important factor in attracting retail customers or encouraging greater levels of spending:

• If a car park was guaranteed, only 0%-1% of respondents expect to park right outside their destination and 83%-90% of respondents are willing to walk 100m or more to their destination.

• People who parked right outside their destination were more likely to spend nothing and less likely to spend $50 or more.

• This indicates that reallocating car parking spaces immediately outside shops to wider footpaths, dining areas, cycleways, cycle parking, gardens and trees is unlikely to discourage people from visiting. Such improvements would also likely increase the attractiveness of the centre as a destination.

• Between 42%-48% of people were willing to pay for parking at Mount Maunganui if finding a parking space was guaranteed. Also 83%-90% of respondents were willing to walk more than 100m to their destination if finding a car park was guaranteed. This also means that more parking on the streets surrounding the Mt Maunganui main street can be better managed as short stay parking (e.g. via time limits) to cater for those customers willing to walk from farther away.
Car parking was top suggested improvement for both centres. Also less traffic and more seating/greenery/shade were popular suggestions.
More on SunLive...