Home to mushy peas and Brexit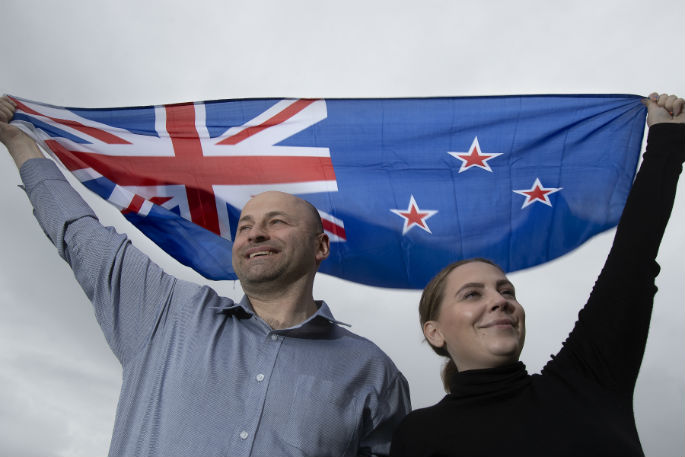 "They shouldn't have made the news." That's Jen Swallow, the Sun's tame but delightfully stroppy 568 ml imperial pint-sized Pom.
She is quite dismissive and taking a poke at her compatriots. "Their complaints don't deserve the breath of life."
It usually takes a spreadsheet to get our Jen – Jennifer Swallow accounts manager – all worked up. But news that Poms were fleeing New Zealand blaming terrible public transport, unfriendly Kiwi cliques, rents and heavy traffic have rankled her English niceness.
"They're being greedy and spoilt," says Jen. "I don't like tuna, I don't eat tuna, but I don't alert the media and demand we stop selling tuna."
To be fair, the anti-NZ sentiment was lifted from a Facebook group where like-minded, disgruntled migrants of an English persuasion share advice, support and moans. There's that reputation.
"Yes, we are complainers," volunteers Jen. "We are a very polite nation, but we do like to complain."
And also to be fair – Jen wasn't also seizing the moment for some complain therapy of her own. The Weekend Sun asked her for her thoughts.
The stat's side with the complainers, because UK migrants make up the third largest departure group in New Zealand – 6000, or six A380 planeloads, packed their misery and disappointment and headed home in the 12 months to June, up 200 on the previous year. Arrivals were down 3000 or 25 per cent.
"First I thought they must have all been on working visas. Then perhaps they've been getting together to have a collective moan. But about what? New Zealand is lovely, a really nice country."
Jen spoke with her partner Adam. "He was shocked because he absolutely loves it here. So what are Jen and Adam seeing that the rest of Little England can't.
"Everyone at home is trying to earn the most money, drive the flashest car and live in the biggest house.
"But everyone here is for the lifestyle, the country is relaxed, and we love that. I wake up every morning by the beach, what else do I need?"
Jen comes from a Hamilton-sized Hull in the east of England – go to Manchester or Liverpool and turn right. She doesn't like big and for that reason didn't like Auckland. She suspects migrants expect a little England when they arrive in Auckland. "It's not, and they're disappointed.
"Well, I am sorry. Go somewhere else. There are two islands and there is somewhere for everyone. If you don't like the sun, go and sit in the snow on a mountain." 'Cos you can do that New Zealand.
Alan Goodwin is 187cm of quiet, smiling, English IT expertise – he's the Sun's digital go to man. He and his family did the ultimate due diligence before what Alan calls 'relocating'. He was on a BBC programme called "Wanted Down Under" where British families are given a sneak peek at life in New Zealand ahead of possible migration.
Alan tells us what we probably already know about Auckland, and why so many Aucklanders have sought economic asylum in the Bay. "No matter which side of the city - north, south, east or west - you cannot get into Auckland without a hellacious commute."
Then there are crippling parking prices and getting stuck in traffic. And out of three properties the BBC showed Alan, two were horrendous for the price. Then there are new laws preventing foreign buy-ups which means Alan can't buy a house so is shelling out on expensive rentals when he can afford to buy.
Jen's intrigued that all the concerns expressed by the re-exported English could have been eliminated with due diligence. You would have discovered houses in Auckland are expensive, that there's no underground and wages aren't brilliant.
"But they're two different countries, Auckland is not London. And making comparisons is pointless.
"But it's not the stone-age in New Zealand, you don't get on your horse and ride into town." Well, you do in Murupara, Jen. But she's right, you can get a train and you can get a bus, sometimes.
But New Zealand is not all about smelling agapanthus and Rugby World Cups, although Jen says the negatives aren't really negatives.
"Food is more expensive in New Zealand, we thought wages would be higher. And you are crap drivers."
For any Kiwi who has driven in the UK, you would have to agree. Crap roads, crap cars and crap drivers.
Jen and Adam didn't do any due diligence before arriving on our doorstep. "We just turned up, liked it and stayed." Two fine imports and nary a whinge. Even the unique Hull accent is kind of infectious albeit unfathomable at times.
Alan et al are holed up in Tauranga too and says: "there's nothing that makes me want to get out of Dodge anytime soon." He's a Pom with no attachment to any English Premier League club side so he's kind of unique and a keeper too.
More on SunLive...