Rocky start to world surfing games for Kiwi girls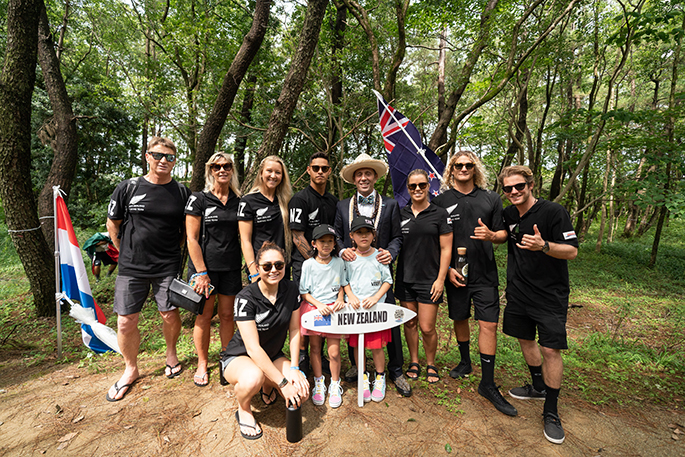 The New Zealand Surfing Team had a rocky start to their World Surfing Games campaign late on day one of the event when Raiha Ensor from Mount Maunganui and Ella Williams from Whangamata were relegated to the repechage rounds after their first foray into the water.

After a long day participating in the opening ceremony, the two Kiwis were the only surfers to compete on day one with Paige Hareb from Taranaki having a lay day.

In small 1.0m waves, the two surfers struggled to find waves with good scoring potential and finished fourth in their heats chasing five point rides.

Mount Maunganui's Raiha Ensor gave herself a chance to progress on the final wave of the heat but after a big first turn, she fell on her last turn quashing a chance of progression with Great Britain's Elli Turner taking the win over Chelsea Tuach from Barbados.

"Conditions were so tricky this arvo" says Raiha post heat. "From the beach it looked like there were a few runners but once I was out there the waves were pretty gutless and hard to find a good one" she added of the conditions noting that the long day in the heat had been taxing.

"I'm looking forward to a fresh one tomorrow and turning the focus to repos" added Raiha as she eyed day two of the event.

Whangamata's Ella Williams found herself in a similar position to Raiha a few heats later when she was chasing a mid-range 5.0 point ride to advance. However the waves conspired against her leaving her stranded in fourth with the advancing surfers being Taina Hinckel from Brazil and Tia Blanco from Puerto Rica.

"Unfortunately that heat didn't go my way. It was great to get a surf on the contest site and get a feel for what the ocean is doing out there but I now have to focus on my next heat tomorrow and getting a win" says Ella.

Day two of the event will see both Raiha and Ella surf twice and Paige Hareb potentially surfing three heats as she gets her campaign underway.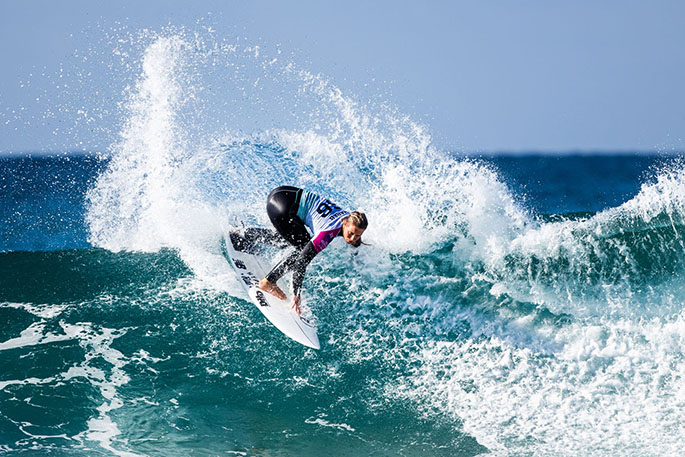 Olympic Qualification Looms for Kiwi Surfers at the Vans World Surfing Games. Photo: Ben Kennings

The Men's Division will commence on Tuesday September 10.

The International Surfing Association (ISA) World Surfing Games presented by Vans will be held at Miyazaki from 7-15 September. A total of 55 nations and 2540 surfers are competing at the event this week.

Please see results below for the Kiwi surfers on day one plus pending heats at the 2019 ISA World Surfing Games presented by Vans being held at Miyazaki, Japan from September 7-15.

Womens Division Round 1
Heat 6
Ellie Turner (GBR), 12.0, 1, Chelsea Tuach (BAR), 9.13, 2, Annissa Tita Flynn (THA), 8.36, 3, Raiha Ensor (NZL), 7.3, 4
Heat 11
Taina Hinckel (BRA), 8.5, 1, Tia Blanco (PUR), 8.3, 2, Kitty Brewer (GBR), 7.54, 3, Ella Williams (NZL), 5.23, 4
Heat 23
Paige Hareb (NZL), Taina Angel Izquierdo (INA), Silvana Lima (BRA)

Women's Repechage Round 1
Heat 3
Sanna Horvallius (SWE), Raiha Ensor (NZL), Soojeong Lim (KOR)
Heat 6
Jee Eum Kim (KOR), Emmy Louise Wilen (SWE), Ella Williams (NZL)

Men's Division Round 1 (Begins Tuesday)
Heat 10
Billy Stairmand (NZL), Ramon Taliani (ITA), Cristian Calderon (GUA), Jared Gogue (GUM)
Heat 18
Kehu Butler (NZL), Angelo Bonomelli (ITA), Amos Rivera (GUA), Oliver Hartkopp DEN)
Heat 26
Ricardo Christie (NZL), Roberto D'Amico (ITA), Efren Aguilar (GUA), Shane Pier (GUM)

Day 2 Schedule (Sunday 8th September)
11:40am – Paige Hareb (Women's Round 1)
4:20pm – Raiha Ensor (Women's Repechage Round 1)
4:40pm – Ella Williams (Women's Repechage Round 1)

Further heats for all three surfers subject to progression.

The event is being webcast live. Japan is three hours behind New Zealand. Action will take place at from approximately 8am each morning of the event.

World Surfing Games Schedule
September 8-9 – Women's Division continues
September 10 – Open Men commence plus Open Women and Aloha Cup
September 11 – Open Women's Final plus Open Men's continues
September 12-14 – Open Men's continues
September 15 Open Men's Final and Closing Ceremony

Olympic Qualification
The Olympic qualification process starts with the World Surf League – WSL- where ten males and eight females on the 2019 World Tour will directly qualify for Tokyo 2020. No more than two athletes per nation can qualify via this process.

The top ranked male and female from the Oceania Region at this year's event will qualify for Tokyo 2020. The selections will then need to be ratified by the New Zealand Olympic Committee before being confirmed.

Athletes have a further chance to qualify for the Olympics at the 2020 ISA World Surfing Games where the final four males and six females in each division will be determined by the top placing athletes at that event.

View the full Olympic qualification system.

About International Surfing Association (ISA)
The International Surfing Association (ISA) is recognised by the International Olympic Committee (IOC) as the World Governing Authority for surfing, bodyboarding, SUP and surfriding. It was originally founded as the International Surfing Federation in 1964 and has been running world championships since 1964, and the Junior World Championships since 1980.

More on SunLive...