Walking for hope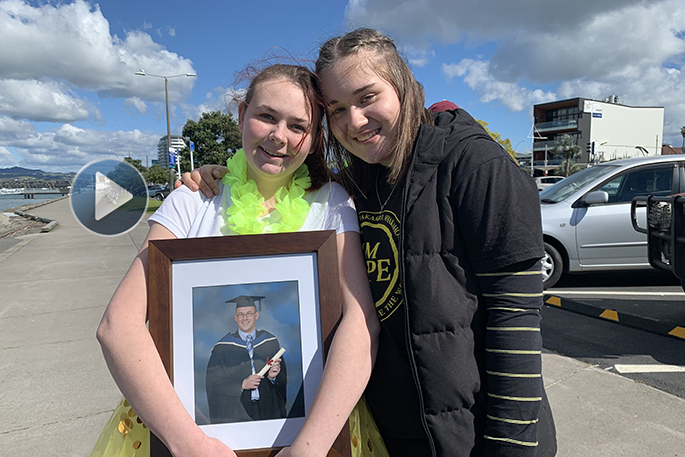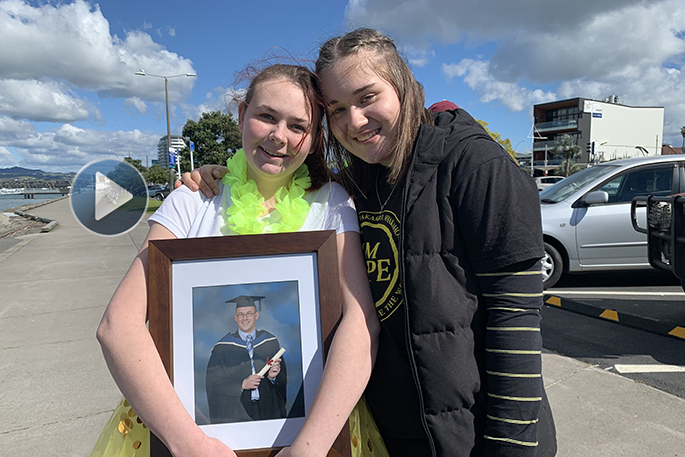 Click the image above to watch the video
Many people wearing yellow turned out in the chilly breeze and sunshine today to come together in a public walk of hope and remembrance and to help raise awareness about suicide prevention.
"It's a beautiful day to take a walk in remembrance of our loved ones we've lost," says Dj-Mickel Arataki.
The HopeWalk Tauranga event started this morning at 11am at Memorial Park with a fundraising sausage sizzle run by Rapid Relief Team and supported by Mai FM.
The 3.8km walk started at 1pm, with participants dressed in yellow walking from Memorial Park, along the Tauranga waterfront and ending up at Tauranga Fish & Dive at Marine Park where more food and drinks were available.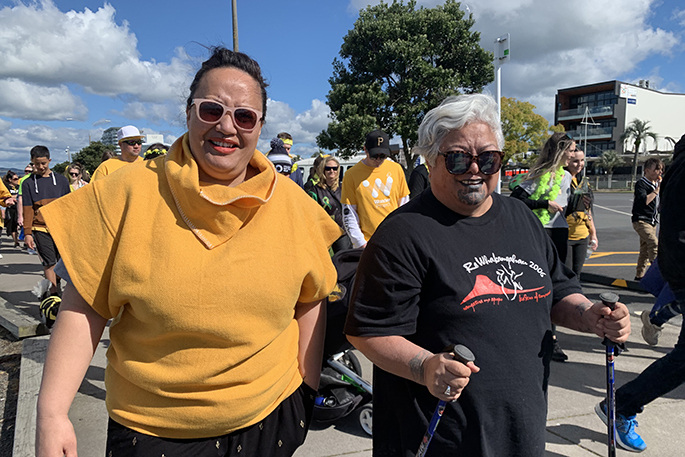 Pare Taikato with her aunt BOP Regional Councillor Matemoana McDonald.
"I'm here today with my niece Pare Taikato, and I've got other members of my family who are at the starting line," says BOP Regional Councillor Matemoana McDonald. "I'm waiting for them next to Bobby's fish shop and we're going to join the walk.
"We've come here to support the kaupapa because many of our family have been impacted by this. And so we are fully behind this kaupapa."
Her niece Pare agrees.
"We have personal experience of whanau members, family members impacted directly or who have died by suicide, and really the statistics are impacting young Maori youth in a big way, so we want to join in and be here in support of the kaupapa," says Pare.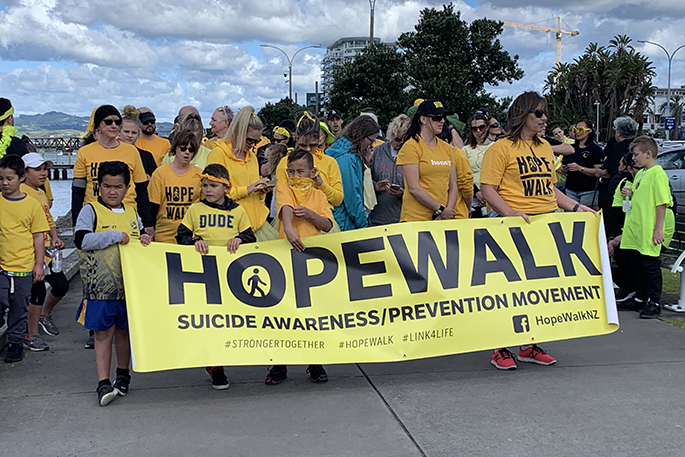 In the 2018/19 period, the number of suicides in New Zealand has reached its highest-ever level, with 685 people dying in the year to June 30, a record number since reporting began in July 2007.
Compare this to the 2018 road roll, of 377 lives lost.
Chief Coroner Judge Deborah Marshall released the provisional suicide statistics in August, showing there were 17 more deaths than in the previous year - an increase of 2.5 per cent.
There has also been an increase in the numbers of young people dying by suicide, particularly those in the 15 to 19 year age group, where numbers rose from 53 to 73 over the same period.
In the 20 to 24 year age group, the numbers of people who took their own lives grew from 76 to 91.
In the past decade, the number of suicides has risen 29 per cent, from 531 deaths in 2008/09, compared to 685 in 2018/19. In the same period the rate of suicides per 100,000 people went from 12.04 to 13.93 - up 15.7 per cent.
Men continue to be more at risk, with 68 per cent of the deaths this year men.
There was also an increase in suicide statistics amongst Maori and Pacific Islanders.
The Maori rate rose from 142 to 169 deaths, whilst the Pacific Island figures rose from 23 to 34 deaths.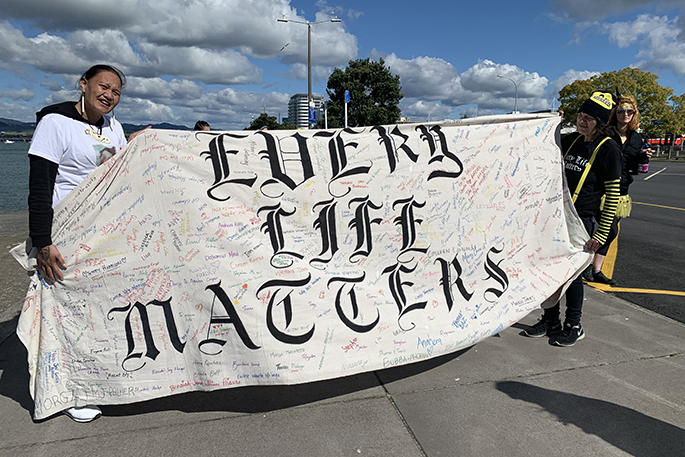 This is the third HopeWalk for Tauranga and was organised and led by local youth group Young Connex with Waipu Hauora. HopeWalk is a movement to bring greater awareness around the issue of suicide and promote suicide prevention. Yellow is the international colour for suicide awareness.
Sophie Moore was walking with her friend Morgan O'Keefe and carrying a framed photograph of her father Scott Peter Moore.
"He passed in 2013," says Sophie. "I was 13 at the time."
Leading up to the event, walkers were able to purchase official HopeWalk tee-shirts and caps from Phreaze Factory where all proceeds go towards making the event happen. Any remaining funds are donated to the HopeWalk Charitable Trust.
September 10 is World Suicide Prevention Day.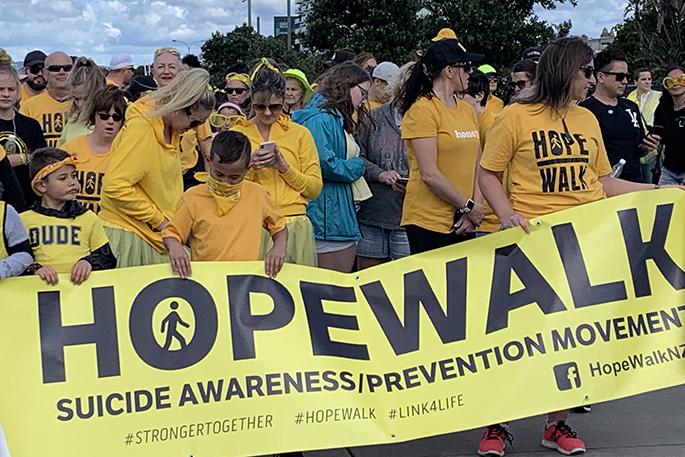 Where to get help:
1737, Need to talk? Free call or text 1737 any time for support from a trained counsellor
Lifeline – 0800 543 354 or (09) 5222 999 within Auckland
Youthline – 0800 376 633, free text 234 or email talk@youthline.co.nz or online chat
Samaritans – 0800 726 666
Suicide Crisis Helpline – 0508 828 865 (0508 TAUTOKO)
What's Up – 0800 942 8787 (for 5–18 year olds). Phone counselling is available Monday to Friday, midday–11pm and weekends, 3pm–11pm. Online chat is available 7pm–10pm daily.
Kidsline – 0800 54 37 54 (0800 kidsline) for young people up to 18 years of age. Open 24/7.
thelowdown.co.nz – or email team@thelowdown.co.nz or free text 5626
Anxiety New Zealand - 0800 ANXIETY (0800 269 4389)
Rural Support Trust - 0800 787 254 (0800 RURAL HELP)
Supporting Families in Mental Illness - 0800 732 825
More on SunLive...