Luuka Jones on form in final World Cup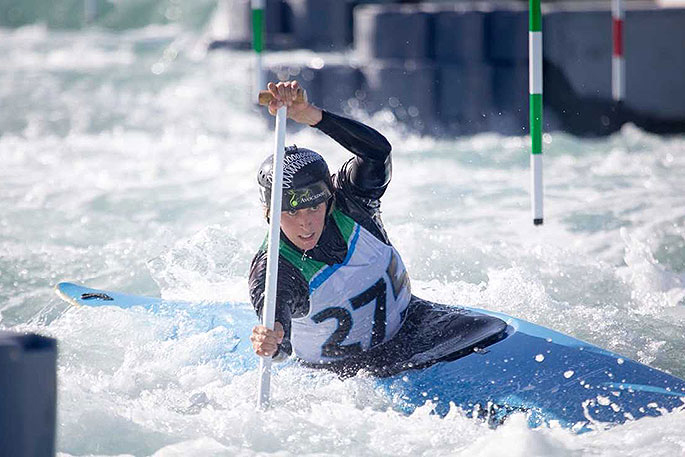 Kiwi kayaker Luuka Jones has tapped into some rich paddling form, with Olympic qualifications on the horizon.
The Olympic silver medalist was one of three New Zealanders to make semifinals of the final ICF canoe slalom World Cup of the season in Prague last night, joining K1 men Finn Butcher and Callum Gilbert in progressing. It's the final event before the world championships in Spain at the end of the month, which doubles as the main Olympic qualifier.
Luuka made it through in both her K1 and C1 heats. She was 13th in the K1 first round, posting a time of 106.56secs, which included a 2sec penalty for touching Gate 8. Even with the touch, she was just 4.72secs behind Czech paddler Katerina Kudova and just in front of world champion Australian Jess Fox.
Luuka also qualified in 14th in her C1 run, although her 120.04sec time left her 9.11secs off the pace set by Austria's Nadine Weratschnig.
Alexandra's Finn Butcher, meanwhile, made it through the first round in 30th spot, just 0.20secs inside automatic qualification for the semifinals. He picked up a touch in his 96.14sec run, leaving him 7.01secs behind Slovakia's Jakub Grigar.
Tauranga's Callum Gilbert picked up two touches in his first run, which left him in 45th, though he made amends in the repechage round with a clean 93.39 run, the third-fastest of the 10 paddlers who made it through.
Fellow Kiwi Jack Dangen struggled with touches in his first run, finishing 62nd, though he improved to 27th in his second run. Auckland teenager Hannah Thomas also missed qualifying in both her C1 and K1 heats, as did Ben Gibb in the men's C1.
Racing continues tonight with Luuka Jones in the women's K1 semifinal, with the men's K1 and women's C1 tomorrow night.
More on SunLive...