Saturday's national forecast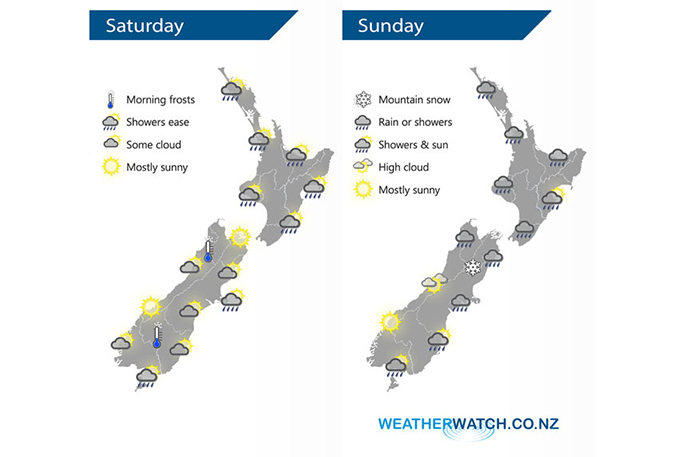 WeatherWatch reports that cold southwesterlies will be easing over New Zealand today.
Overnight a low pressure system and front are expected to charge in from the Tasman Sea towards and over the upper North Island, with southerlies for the South Island on Sunday.
Showers for the upper and western North Island will ease during Saturday with sunny spells gradually increasing, and southwesterlies easing in the evening.
Morning showers will clear on the east coast and then sunny areas increasing. Overnight a front will moved in from the west bringing rain to most of the western and upper North Island.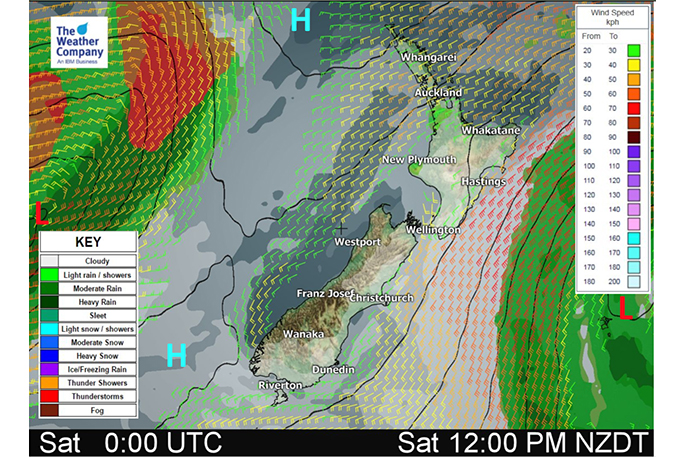 The South Island will have a few showers around the edges otherwise expect areas of cloud to break to some sun as the day moves along. There will be a frosty start about Central Otago and inland Buller.
On Sunday there will be morning rain for most of the western North Island which will then ease to showers and a few sunny spells, with winds from the west or northwest.
Along the east coast and about Wellington conditions may be dry to start with, then rain or showers developing during the afternoon. Rain will moved into Nelson and Marlborough on Sunday morning, with maybe a few heavy falls but then easing from the afternoon. Snow will lower to 500m, perhaps 400m for Marlborough.
Canterbury will be cloudy and cold, with patchy rain or drizzle, with southerly winds. Snow flurries will lower to 300m in the afternoon, perhaps lowering to 100m by evening but by then shower activity will have eased and any flurries will be minimal.
For Southland and Otago, there will be a few light morning showers and possible low level snow flurries (100 to 200m) on Sunday, then drying out, with conditions staying fairly cloudy and cold with southerly winds.
The West Coast's forecast is for a mainly sunny day on Sunday however north of about Greymouth we can expect some rain with easterly winds, but this should ease in the evening.
Northland, Auckland, Waikato & Bay Of Plenty
Morning showers, possibly heavy then easing, clearing Northland in the afternoon then elsewhere in the evening. The Bay Of Plenty is mainly dry but a shower or two may come over from the west in the afternoon. Overnight rain moves back in from the west. Southwesterly winds die out in the evening.
Highs: 14-15
Western North Island (including Central North Island)
Morning cloud breaks to some sun, southwesterlies ease. Taranaki has showers, chance of an isolated heavy fall then easing and clearing in the afternoon.
Highs: 11-14
Eastern North Island
Morning cloud breaks then sunny areas increase, becoming mostly sunny in the afternoon. Southwesterlies ease dying out in the evening.
Highs: 13-15
Wellington
Any morning showers clear, mostly cloudy. Fresh southerlies gradually ease.
High: 11
Marlborough & Nelson
Mostly cloudy, some sun may break through at times from afternoon. Southwesterly winds tend east to northeast after midday.
Highs: 13-14
Canterbury
Cloud breaks to some sun from afternoon, southwesterly winds die out in the evening. A few light showers about Banks Peninsula clear after midday.
Highs: 8-10
West Coast
Mostly sunny, light winds. Some cloud north of Westport may bring a light shower or two in the afternoon.
Highs: 13-14
Southland & Otago
Some cloud about Southland, risk of shower or two otherwise mainly dry. Otago has a mix of sun and cloud, sunny spells more likely / longer about northern Otago. Westerlies for Southland, light winds elsewhere.
Highs: 10-12
(Weather Analyst Aaron Wilkinson/WeatherWatch.co.nz)
More on SunLive...