Steamers' centre blazes to glory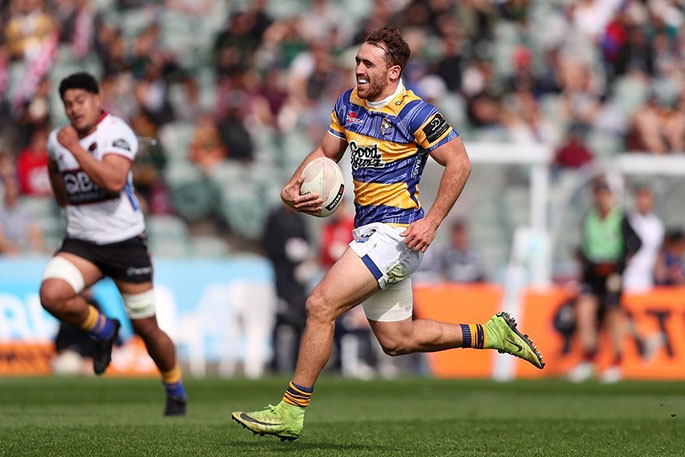 It will be a special game for Bay of Plenty Steamers' centre Joe Webber when he steps out on the field for his side's game against Wellington on Saturday.
Webber will play his blazer game (15) for the Steamers at the Rotorua International Stadium, a moment he says is a proud achievement.
"It's a real special game for me. A lot of people think I'm from Hamilton, but I grew up here in Te Puke and went to primary school there. We moved to Hamilton when I was at intermediate, because mum wanted to go to university over there.
"I love it here and love the little town of Maketu. When I got the chance to move back here from Hamilton I jumped at the opportunity. So, I won't be moving from here anytime soon."
Webber has had a brilliant start to the 2019 Mitre 10 Cup season, playing in the not too familiar role of centre.
"I haven't played centre since I left school. So, when Marty Bourke gave me the opportunity to play centre, I was pretty keen."
Due to injury, Webber has not played the 15-a-side game since 2017, and moving from the wing to the mid-field has had its challenges, but it's been an enjoyable adjustment.
"It was a bit different. But I've just started to be comfortable in the position and I've learnt the role a bit more. Knowing when to have a go and when to have that link play and feed the outside backs.
"I guess the hardest thing was the defence, especially around the set-piece and getting that good combination with Matty (Skipwith-Garland) and Lalamilo (Lalamilo). It's only week four, but we are starting to gel well. So, I'm looking forward to continuing in the role."
Webber thought moving into centre would give him a bit more ball to show off his line-breaking skills. But that hasn't been the case.
"I've found out my role is a bit more around being a link player. Being able to link 10 and 12 up with our outside and more just organising the forwards and getting that ball wide when it's on."
The Steamers have speed to burn out wide, with the likes of Fa'asiu Fuatai and Emoni Narawa who have been named on the wing for Saturday.
Webber enjoys giving the wingers the space to do their magic.
"It's bloody exciting to be playing with Emoni and Fa'asiu, and I know I still have to use them more and give them that opportunity to shine. I'll be working really hard to try and give them more ball."
During the North Harbour game at the weekend, Webber took a solid hit to his head, as he went into a tackle that saw the 94kg centre laying prone for several minutes. But he says he has taken the appropriate measures and come through the week feeling ready for the clash with Wellington.
"We have proper protocols during the week, and I've followed them exactly. As long as there is no headaches or symptoms, I should be sweet to go."
Webber is expecting a physical encounter when his side take on Wellington. But says his team is feeling confident.
"They have been performing really well in the last four weeks. We are expecting a real physical game from them, real upfront big ball runners. It's going to be a huge test for us this weekend. But we are ready for it."
As part of recognising some of the special roles people play in the community. Bay of Plenty Rugby have invited the nurses and their partners from the Oncology Ward at the Rotorua Hospital.
Bay of Plenty Rugby chief executive Mike Rogers says the nurses care for hundreds of men, women and children from throughout the community, and inviting them to the match was a way to show the Union's appreciation of their work.
The curtain raiser will be a tight battle between Bay of Plenty Under-18 Boys and King Country Under-18. Kick-off is at 5pm, followed by the Steamers at 7.35pm.
More on SunLive...