11,500 athletes in town for Anchor AIMS Games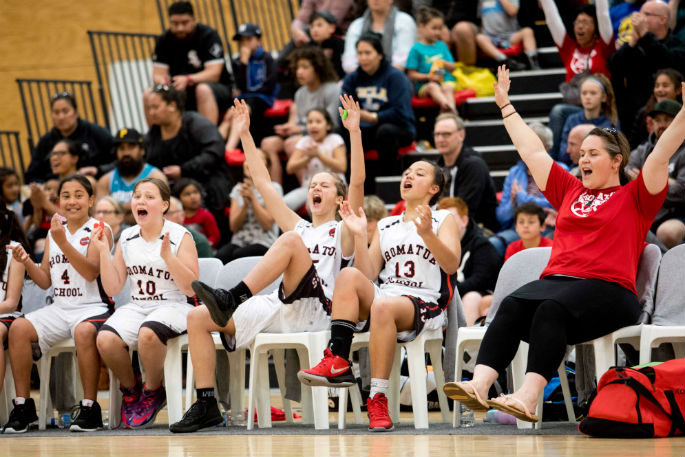 Mountain biking is just one of several fresh codes at the Aims games this year; rugby entries have exploded this year with the introduction of a mixed QuickRip division, canoe sprint's debut alongside canoe slalom has drawn 78 competitors and golf numbers have also grown with a 9-hole division for the first time.
A new Bic sailing division and 3x3 basketball have been added, while rock climbing has gone from strength to strength after making its debut last year.
"While the overall numbers are quite simply staggering, it's the dramatic surge in the mixed, non-traditional codes that's really exciting for us," Anchor AIMS tournament director Vicki Semple says. "These new sports have made a massive difference to the smaller schools that don't have the numbers to form full single-sex teams. It means they too get to experience all the incredible things a week-long tournament with their mates can provide. It also means the Anchor AIMS Games is even more inclusive, more accessible and is well on its way to becoming an exemplar event on the New Zealand sporting landscape."
In its first year, Quick Rip - the non-contact, New Zealand Rugby-supported version of Rippa Rugby - has drawn an impressive 30 teams from all over the North Island, while the 57 boys' and 16 girls' sevens teams are also tournament records. It means total rugby playing numbers have nearly doubled, from 684 players last year to 1176 players this year.
Hockey's continued rise in popularity is evident, with the six-aside competition exploding from 56 teams last year to 85 teams this year, following the introduction of boys' and girls' six-aside divisions. With another 31 11-a-side teams, hockey's 116 teams overall makes it one of the biggest sports, joining netball (126 teams), football and futsal (162 teams in both codes) and basketball (108 teams).
And it's not just the sports that have grown; the effect on the Tauranga business community has too, with 'no vacancy signs' swinging from Waihi Beach to Rotorua and everywhere in between.
Tourism Bay of Plenty's head of destination marketing Kath Low says the games provide a significant, week-long tourist boom at what is traditionally a quiet time of year.
A Tauranga City Council-commissioned study will measure the economic impact of the 2019 event later this year.
"In the meantime, we can make some educated guesses," she says. "Based on the games' growth, we'd expect that visitor spend will sit close to $3m. And they'll likely generate more than 50,000 visitor nights."
The last council survey, commissioned following the 2016 AIMS games, showed 9200 athletes and their entourages of coaches and managers and supporters spent $2.5m in this region and generated 47,500 visitor nights. Since then, athlete entries have increased by 25 per cent, to 11,500 athletes for this year's games.
"The flow-on effects are felt right through the community as these people fill all our motels and hotels and holiday parks and a lot of private homes, they buy lots of food and coffee and take the team to the movies or out to explore our beautiful region."
She says hundreds of thousands more were spent in this region to stage the event. "On top of that, there is absolutely no doubt this event brings people back to our area from around New Zealand and overseas."
More on SunLive...