Volcanix have the skills to beat the bigger teams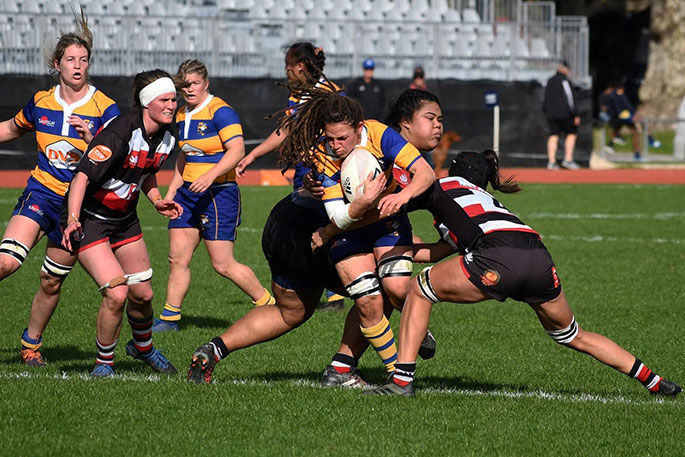 "We know we can play, but what we need to do is have the confidence in ourselves to win."
That's the call for Bay of Plenty Volcanix coach Rodney Gibbs as his side is set to take on Wellington in the capital on Saturday.
His side went down 37-24, to a Counties Manukau's front row that was almost twice the size in stature compared with the Volcanix.
The Volcanix face a similar disproportionately sized opponent in their second game of the Farrah Palmer Cup competition.
Gibbs says his girls have the skills and ability to beat their bigger opponents.
"It's a little bit around our mindset to be fair. Getting a little bit more enthusiasm about ourselves and supporting each other. We know we can play. What we need to do is have an air of confidence about ourselves to win."
Hhis side will need to get into the game earlier if they want to succeed, says the coach.
"As coaches you are always looking for more, but we can't be slow out of the blocks, like we have been for the last two weeks. We can't wait for them to make the first move.
"It's an issue we have tried to address this week. We just can't afford to give teams that much of a lead before we get going. But other than that, I'm reasonably happy that we've got something to build on."
Gibbs wants to see his team, work with confidence and have faith in one another.
"We've got some good players. I think the better sides are going to be the ones that can operate as a team and are really cohesive in what they're trying to do.
"It's still the same old rules of the game; you've got to do a bit of the grunt work and get a bit of go forward, and away you go."
The coach has retained the bulk of the side from their last game. In the forwards, Tynealle Fitzgerald gets the start ahead of Natalie Delamere who moves to the bench.
However, Gibbs has moved his loose forward trio around with Fitzgerald moving to the openside, Kendra Reynolds moving to the blindside and captain Christie Yule moving to No.8.
The backline gets one change with vice-captain Renee Wickliffe making a welcome return to the midfield, Azalleyah Maaka moves to the bench and Autumn-Rain Stephens Daly will come on to the left wing.
First Five-eight, Mystery McLean Kora celebrates her blazer game (15) for the Volcanix when she takes to the field.
Bay of Plenty Volcanix
• Angel Mulu (7)

• Luka Connor (26)

• Baye Jacob (13)

• Karli Faneva (1)

• Kelsie Wills (1)

• Kendra Reynolds (26)

• Tynealle Fitzgerald (5)

• Christie Yule (C) (20)

• Jade Tuilaepa (11)

• Mystery McLean Kora** (14)

• Autumn-Rain Stephens Daly (17)

• Renee Wickliffe (VC) (6)

• Danielle Paenga (1)

• Natalie Walford (1)

• Sapphire Tapsell (21)
Reserves:
• Lily Florence (21)

• Janina Kahn (32)

• Amanda Aldridge (13)

• Natalie Delamere (8)

• Arorangi Tauranga (1)

• Tania-Rose Raharuhi (15)

• Azalleyah Maaka (1)
** Denotes blazer game – 15 games
() Denotes games played

Farrah Palmer Cup:
Bay of Plenty vs Wellington
Kick-off 1pm

Game Details;
Saturday September, 7
Wellington

More on SunLive...