Hang on a minute, mate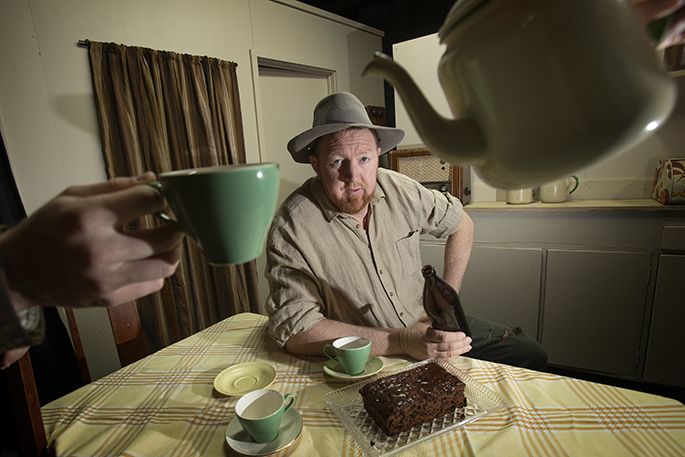 People love what happens at Litt Park Theatre in Te Puke.
In October, a couple of shows will be staged there as part of the Tauranga Arts Festival, and early next year Te Puke Repertory will be staging ten minute short plays submitted by budding and established playwrights.
I popped in to this hidden gem to see the cast of Te Puke Rep's next play which opens in September. Litt Park Theatre is their permanent and much-loved home.
"Hang on a minute mate," was the reply when I asked over the phone about what was coming up. I hung on, phone to ear, waiting. "No – the play is 'Hang on a minute, mate'."
A wee chuckle on the phone as I realise I'm being mildly pranked. Shenanigans and laughter - I remember actors from past theatre shows in Tauranga I've played piano for, always generating a huge lot of fun, with often more hilarity behind the scenes than on stage.
The cast are dressed in costume and are in character when I arrive at Litt Park with our photographer John Borren. John roams the stage setting up some photos while I chat with the director Michelle Cliff and some of the crew.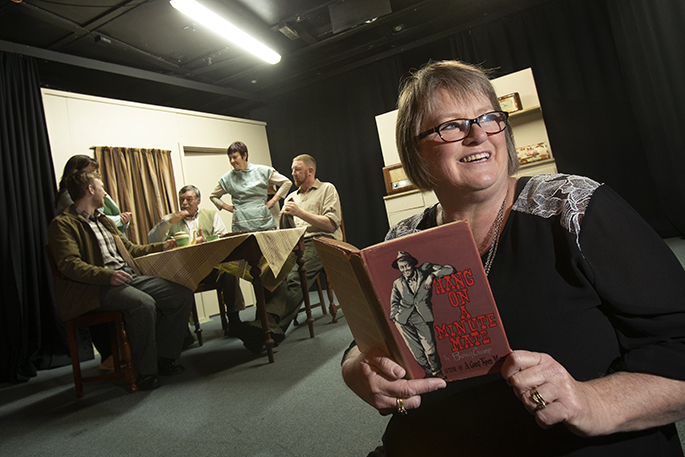 Director Michelle Cliff. Photo: John Borren.
The story has been adapted by NZ writer Anthony McCarten from two of Barry Crump's books 'Hang on a Minute Mate' and 'There and Back' which features Kiwi larrikin Sam Cash. Sam goes on a road trip with his mate young Jack Lilburn, with Sam 'helping' other characters along the way. The pair go from one job to another – timber felling, horse-breaking, mustering, and farming. There's plenty of blokey banter, tall tales, humour and very Kiwi characters.
Michelle, who has previously directed 'Pack of Girls' and 'Calendar Girls' for Te Puke Repertory, chose the Anthony McCarten play to put on, shortlisting a few first before settling on it.
"This is an intimate theatre," says Michelle, as we look up at the stage. "I wanted this be a good experience for all involved. Everyone's really enjoying it, it's a wonderful atmosphere. Rehearsals are as much fun as the show."
"I've been given the title of camp mother," says Norma Carney, who has been involved in theatre for about 15 years. Usually appearing on stage, for this show Norma is enjoying being backstage.
"I'm behind scenes looking after them all, making sure none of them are anxious and they've all got tea and coffee.
"Sometimes actors can think they're not doing well, but they're really doing famously, so I'm just there for them."
Maggie Marriner is the prompt during rehearsals. Recently retired from her head of drama position at Aquinas College, she joined the theatre group last year.
"Usually I'm acting, so this is different for me," says Maggie. "I'm prompting because there were so many male roles in this play but there weren't too many female roles. So I'm on the other side this time, not up there acting."
With nearly 50 years of acting experience, Maggie brings a wealth of knowledge, having taught at Aquinas for 12 years, and before that, teaching in Auckland.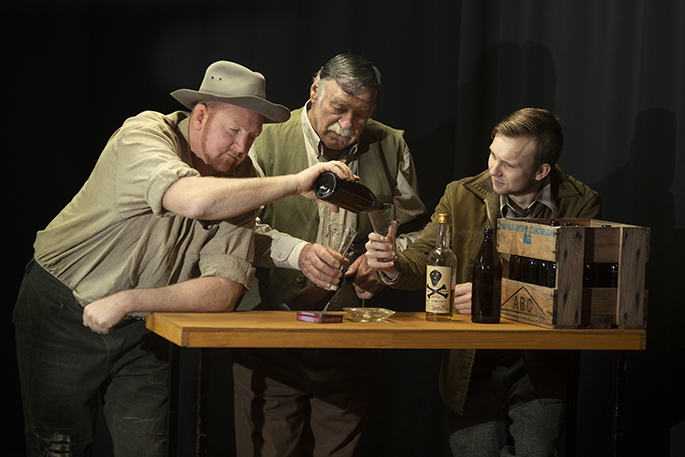 Glenn Ward, John Pryde and Jack Brawn. Photo: John Borren.
Lynne Avery is also one of the behind-the-scenes team, working on costumes and many of the props. She loves Te Puke and has worked in the theatre's costume department for more than 20 years.
"On and off," says Lynne.
For this play Michelle and Lynne collaborated using the internet to research costume ideas.
"We beg, borrow and steal, and of course we have a very well-formed and supplied wardrobe here," says Lynne. "We riffle through the hangers, and adapt, tweak and make to fit.
"For this show we also utilised some stuff from Te Puke High School, which is really nice."
They have 12 male characters to clothe, as well as a handful of women appearing on stage. The costumes have to appear to belong to 1958.
"1958, give or take some poetic licence," says Lynne, who relishes a good challenge.
"We have nice supplies here."
The clothing colour palette from that time in history was predominantly browns and greys.
"We have tried to inject some colour into the women," says Lynne," because the blokes are bland and brown. Shoes are always a challenge. Most people don't hang onto their old shoes, they get thrown out."
"We are endeavouring to be as authentic as we can with the props, images, set and costumes," says Michelle, who plans an audience surprise with Jack and Sam's mode of transport, provided by the Te Puke members of the BOP Vintage Car Club. I had a wee peek at it, and it's definitely worth the ticket price to see this cut-down Model A truck glide onto stage.
The tickets are selling very fast, and Lynne is full of praise for the director.
"When Michelle directs shows they tend to sell out before opening night," says Lynne. "So that is true success. She comes with a history of being that kind of hugely motivational warm encompassing person. We are a team, but she deserves the flattery."
"The group of Te Puke Repertory stalwarts behind this makes it easy to put on these wonderful productions," says Michelle. "And a well-crafted script and the enthusiastic cast and crew make this show a pleasure to direct."
'Hang on a Minute, Mate' opens at the Litt Park Theatre on September 17, running to September 28. Tickets are available from Eventspronto.co.nz.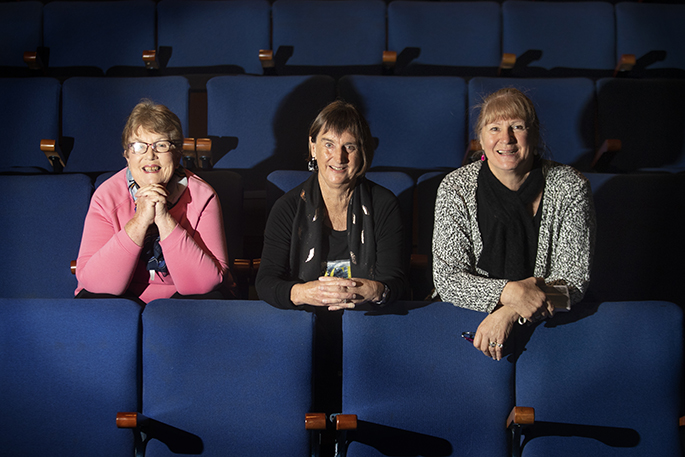 Norma Carney, Maggie Marriner and Lynne Avery. Photo: John Borren.
More on SunLive...