Wet, windy and wild weather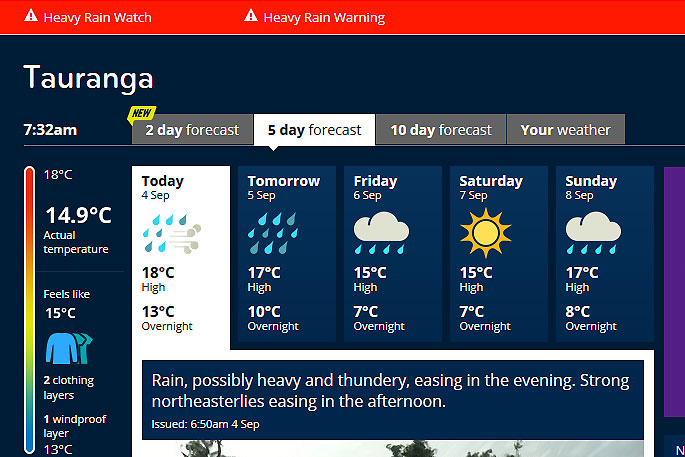 Rain, possibly heavy and thundery, easing in the evening. Strong northeasterlies easing in the afternoon.
This is the latest forecast for Tauranga today.
A heavy rain warning, which was issued by the MetService on Tuesday, remains in place today.
Tomorrow's looking a little better with the occasional rain, becoming heavy at times, but this is expected to ease later in the evening.
"A complex low and associated fronts are moving southeast across the North Island and the top of the South Island on Wednesday," says the MetService.
"These features should bring northeasterly gales and periods of heavy rain to northern parts of the North Island."
A heavy rain warning is in force for Western Bay of Plenty and Gisborne north of Ruatoria, and a heavy rain watch is in force for Eastern Bay of Plenty, Coromandel Peninsula and Auckland.
"Also note, due to higher than normal tides over the next few days, there is a possibility of coastal inundation in areas exposed to strong northeast winds.
"People are advised to keep up to date with the latest forecasts in case any updates are made to the Watches or Warnings, or further areas are added."
Area: Bay Of Plenty from Whakatane westwards, including Rotorua
Valid: 18 hours from 8pm Tuesday to 2pm Wednesday
Forecast: Periods of heavy rain. Expect 80 to 120 mm of rain to accumulate during this period. Peak rates of 10 to 20 mm/h, with heaviest falls expected overnight Tuesday and Wednesday morning, and thunderstorms possible. Please note, further heavy showers are expected during Thursday morning.
More on SunLive...