New World Westend takes out BOP regional win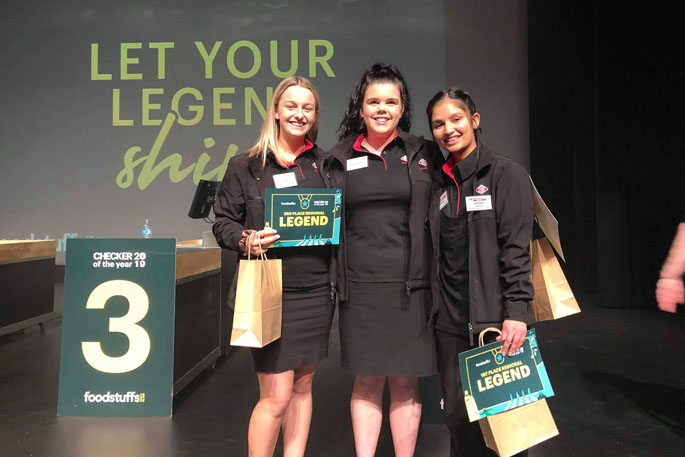 Foodstuffs North Island has begun its quest to find this year's Checker of the Year with nine regional tournaments to narrow down top contenders.
It was the Bay of Plenty's turn on Wednesday August 28, with first place being taken out by Eshini Gunarathna from New World Westend.
Second and third place was taken out by New World Gate Pa, by Mackenzie Robertson and Sammie Ford respectively.
Now in its 71st year, Foodstuffs North Island CEO Chris Quin says the annual competition is a much-loved tradition that recognises the customer service 'legends' of Foodstuff New World, PAK'nSAVE and Four Square stores.
"Checker of the Year is a brilliant way to recognise our wonderful checkout operators and their multi-tasking skills. The ideal Checker of the Year does it all, from providing exceptional customer service to ensuring all items are carefully handled and quickly scanned.
"These are the skills that keep our valued customers coming back for more, time and time again.
"While the smiles will remain friendly, the competition is set to be fiercer than ever with checkout operators from over 100 stores across the North Island competing at the nine regional events."
The winners of each regional event will then go forward into the North Island final. This will be decided by mystery shoppers, who will visit each regional winner in their home store to determine the overall North Island Checker of the Year champion, to be announced at the Foodstuffs North Island Excellence Awards in March 2020.
Bay of Plenty overall placings:
1st place – Eshini Gunarathna - New World Westend.
2nd place – Mackenzie Robertson – New World Gate Pa.
3rd place – Sammie Ford – New World Gate Pa.
4th place - Grace Gill – New World Gate Pa.
5th place – Aimee Van Den Heuvel – Four Square The Lakes.
6th place – Joe Beazley-Comber – New World Gate Pa.
7th place – Fiona Looney – New World Opotiki.
8th place – Olive Maxwell – PAK'nSAVE Whakatane.
9th place – Jarrod Pinkerton – PAK'nSAVE Whakatane.
10th place – Kayla McDonnell – New World Westend.
More on SunLive...