Distinguished Gentlemen's Ride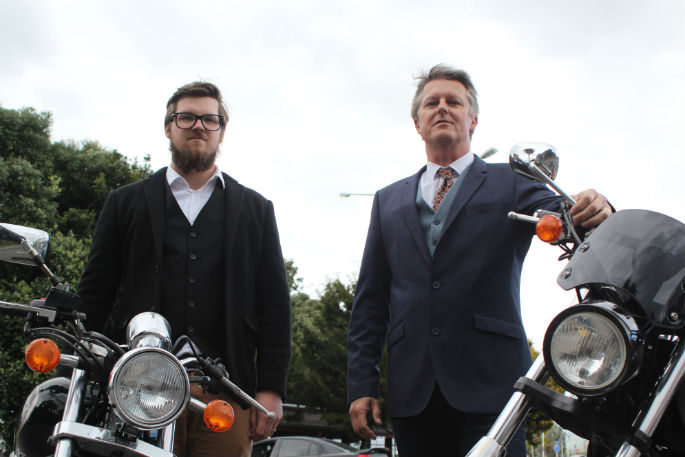 Tauranga father and son duo, Matt and Daniel Stubbins are planning to dress dapper and take to the road for their second year of participating in the Tauranga Distinguished Gentlemen's Ride.
Held globally on the same day, thousands of finely-attired motorcyclists become part of a motoring fundraiser that celebrates the art of being dapper while also fundraising for prostate cancer research and men's mental health.
"I'll be riding my wife Jacinda's Suzuki GZ 250 and I've changed a few things to fit the style guide a bit," says Daniel, who is an apprentice mechanic at Action Sports Direct.
Matt, an insurance assessor, will be riding his 2016 Triumph Speedmaster.
"We don't have anyone in our close family that has lost their life through or has had prostate cancer, but my stepfather passed away from cancer last year," says Matt. "Also, I'm pretty big on if people have got mental health issues, then they need to talk about it."
The pair have set up their DGR fundraiser page under the title Stubbins Garage. Last year, Matt was the second-highest fundraiser in Tauranga raising about $1,200.
It's a day to don monocles, silk vests, crisp shirts and tailored suits; tweak jaunty, trimmed moustaches; and ride a classic or vintage motorcycles expressing fine manners and a sense of fun.
The ride was founded in Sydney, Australia by Mark Hawwa. It was inspired by a photo of Mad Men's Don Draper astride a classic bike and wearing his finest suit. Mark decided a themed ride would be a great way to combat the often-negative stereotype of men on motorcycles, while connecting niche motorcycle communities together.
That first ride in 2012 brought together more than 2500 riders across 64 cities. Since then, the event has grown annually. Last year, the ride raised over $5 million USD, with more than 100,000 riders registered.
Tauranga DGR organisers Damian Fleming from Bayride Motorcycles and Darren Leggatt says the Tauranga ride, which attracted 70 riders in 2016, and 140 in 2017, is essentially about men's mental health and prostate cancer research.
"In 2018, we had 173 riders register, and raised $13,850," says Damian.
This is the fifth year that the ride, on Sunday September 29, is being held in Tauranga.
"The DGR is as important as ever, it is a time when we open up and talk man to man about health and looking after each other," says Damian. "Male suicide isn't going away and if we can focus on supporting and encouraging frank discussions, then we are on the right track. The other touchy subject is prostate health, something we men tend to shy away from. It's a light-hearted event, so while we might joke about it, the message is still there - go and get checked.
"Bayride Motorcycles is committed to support the riding community and the DGR is a fantastic way to show that we care.
"We all love riding our bikes and we can get out there and raise money for a good cause as well," says Matt.
More on SunLive...