Spring Street intersection open to traffic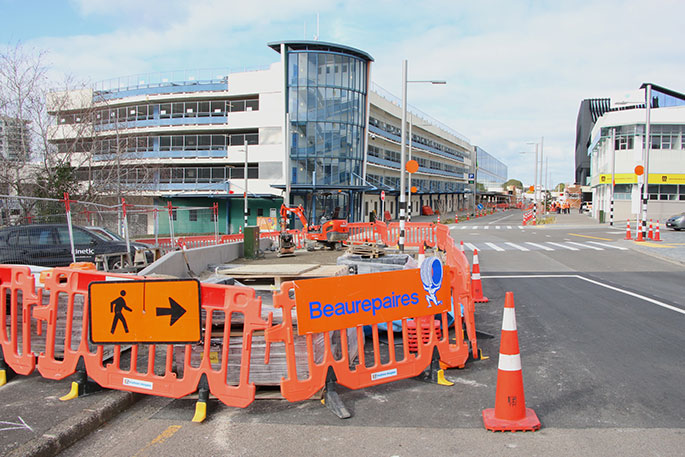 Traffic travelling through the Tauranga CBD can now access Durham Street via Spring Street.
The Spring Street intersection will be fully opened on Sunday night in readiness for Monday traffic.
"This means you will be able to drive from Cameron Road through to Grey Street on Spring Street," says a statement on the Tauranga City Council website.
"What an exciting milestone for the project. Pedestrians will be using the completed footpath in the intersection."
Durham Street will be two-way traffic from Spring Street to the carpark building entrance.
The second lane of the carpark building will be completed and open, as the temporary exit lane, on Sunday.
This will allow for the third and final lane to be constructed.
Highlights from the past week:
Completed the small retaining wall on the north east corner of Spring Street intersection.

Completed cobblestones and footpath asphalt on Spring Street intersection outside the carpark exit doorway.

Progressed cobblestone work on north east corner of Spring Street intersection.

Poured second section of parking bays on the east side of Durham Street.

Poured concrete footpath up to Folks Brewers.

Completed lane two of Carpark building entrance.

Completed all street light foundations.

Planted gardens up to the parking building entranceway. What a wonderful milestone for the project. We will provide more information on the planting next week.
Work happening next week includes:
Spring Street and Durham Street intersections
Complete the footpath cobblestone work on the north eastern side intersection.

Fully open the intersection and remove barriers.

Intersection complete!
Durham Street
Outside Carpark building.

Open lane two and use as exit lane for next month on Sunday.

Open footpath from Spring Street to carpark building entrance.

Open roadway to two way traffic from Spring Street to carpark building entrance.

Close lane three, excavate and pour footpath to Trustpower entrance.

Temporary detour for pedestrians from carpark building. Please take care.

Outside Trustpower and Beaurepaires

Complete cobblestones outside Trustpower.

Current access frm carpark building to Trustpower entrance will be closed to construct footpath. Please use detour.

From Beaurepaires to Elizabeth Street

Pouring concrete footpath from Folks Brewers to Elizabeth Street. This work will be done late afternoon to minimise disruption to businesses.

Continue preparing and laying concrete in the parking bays.

Please note that accesses to businesses, from Aspire to Elizabeth Street, may vary during the next week as work progresses on the laying of concrete on the footpath through this area. Access may be from one direction only during this time. We will provide appropriate signage and use our traffic controllers to assist the public in accessing the businesses.
Durham Lane
Preparing base metal and laying asphalt surface.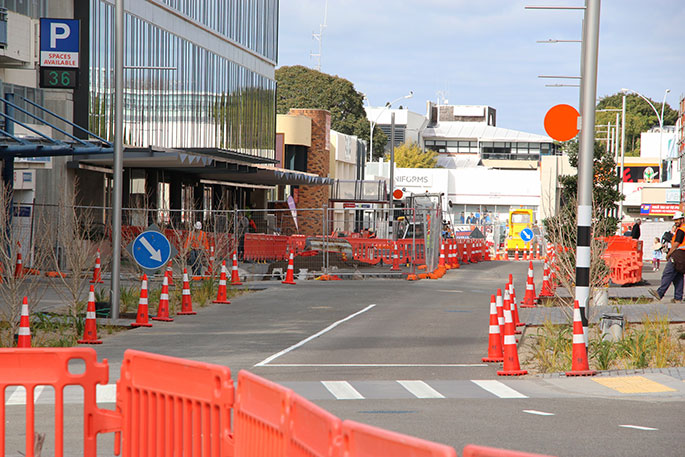 More on SunLive...