Best little foodie secret in town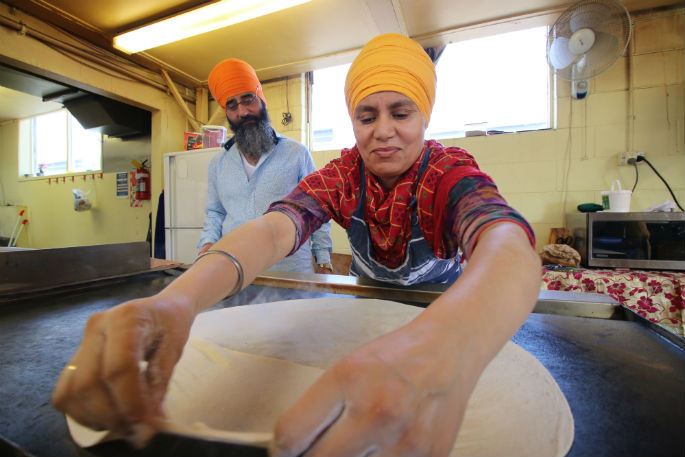 The roller door has been hoisted, and the mid-morning sun is fingering its way towards a huge cauldron simmering on a gas trivet in the kitchen at the back of the Sikh Temple.
There's the fragrance of a yellow chickpea and paneer curry on the air and it's winning over the light industrial smells of the neighbouring workplaces at the bottom of 15th Avenue.
Business is open at the Gurudwara Sikh Sangat Tauranga – a warehouse or factory by design, but one that has been consecrated and is now a place of worship and community. And food. Free food. From chai, sweets and biscuits before the sun comes up until the last vegetarian dahl curry well after the sun has gone down.
It's one of the best kept gastronomic secrets of Tauranga.
"Everyone is welcome," says Anoop Singh with his blazing blue turban and black beard with a mind of its own. All visitors, everyone, regardless of religion, caste, gender, economic status or ethnicity. No-one is turned away.
But what say this Weekend Sun story creates unprecedented demand – has the hungry beating at the temple gates for food. The young Sikh is unflustered.
"That's fine, no problem, not a big deal. There is food available and if we have more people that is fine."
In the kitchen, there's a production-line chapati operation. Sukhdev Kaur is up to her elbows blending wholemeal flour, salt and water. A flick of flour here, a flick of flour there. Surinder Kaur rolls the dough into fine sheets before spreading them on a ghee greased griddle. Then the priest, Malkit Singh, who was up at 5am offering prayers to his God, is flipping chapatis. It's about timing – bringing them to a crispness without shattering. The drill goes on for two and a half hours. And if hankering demands, the production line cranks up again. Chapatis for all.
The free food is called Langar - the term used for the community kitchen in a Gurdwara, a Sikh place of gathering and worship where a free meal is served to all, without distinction or prejudice. Accordingly, everyone at Langar will sit cross legged on a mat on the ground.
"When our religion began there was a caste system with poor people called untouchables. So it's not going to happen where some privileged person can sit in a chair and eat and someone from backward class sits on the floor."
Langar has its roots back in the mid-fifteenth century when the founder of Sikhism, Guru Nanak railed against empty ritual, saying one only needed to follow a path of honesty and hard work to obey God.
"Guru Nanak was a good guy," says Anoop. "Because he believed there were too many people who couldn't afford food. And he decided Langar shouldn't just be for Sikhs. He said anyone can come in."
And they do. Lots of international students – from India, Bangladesh, Sri Lanka and other parts.
"They go to school three or four days and work 20 hours, don't have time to cook, or know how."
Thirteen thousand kilometres from attentive mothers, so they come to the temple – firstly for prayer, then food and comfort.
"This is my family for now," says 29-year-old Punjabi Jagraj Singh.
He's studying horticultural production – avocado and kiwifruit. He came to pray for his future which he hopes lies in New Zealand. And the food, he suggests, is as good as his mother would make back in north-east India.
"But it is not just for us, not just our culture, it is for everyone."
Such is the spirit of Jagraj Singh and Langar.
The "free food" is available 24/7 - rumbling stomachs have no regard for public holidays. When The Weekend Sun visited there were just a handful a students at the temple. But by day's end more than 100 people would have passed through the temple.
"Not many homeless know about Langar," says Anoop. "But they would be welcome."
What about the drugged and the drunk?
"You can't come to the temple after taking drugs or alcohol. No alcohol, no drugs. But if they come back later when they are in order, of course they will be welcome."
Free food serves all purposes for all people.
In an age of inclusiveness, Sikhism is very inclusive. And helpful and giving. One night when a group of people were evicted, they rang the number on the hoarding on the Burrows Street temple.
"They needed food and somewhere to stay," says Anoop.
So at 11pm, when everyone else was asleep, Anoop's Dad was out of bed whipping up a curry and chapatis and organising beds in the temple because they had nowhere else to go. Quiet, good works that go on without acclaim or recognition.
"People don't know much about us – they know the turban but few know what we stand for," says the proud young Sikh Anoop. "Otherwise everyone would say good stuff."
But he doesn't need the accolades.
"It a lovely feeling because the religion was made to give and help."
After rising for prayers at 5am, priest Malkit Singh will lower the roller doors on his 17 hour day about 10pm.
"He stays open late because he knows people will come," says Anoop.
Who funds the rolling kitchen? Who pays? Offerings mainly when people can and want to give.
"People will come and ask Dad to pray for them and give him $20. It doesn't go into his pocket. It goes for the free food, the Langar."
Which starts all over again in just eight hours when Surinder Kaur, straight from prayer at 5.30am, brews up her first big pot of chai for the day. And the Indian sweets. And the biscuits.
More on SunLive...