Warning before tree killed BOP woman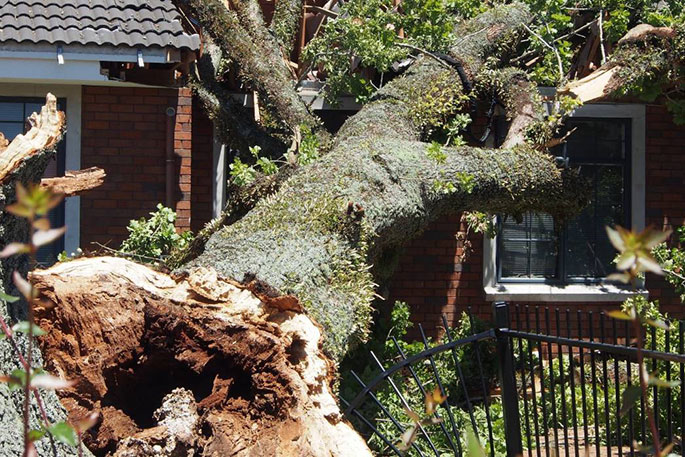 The husband of a woman killed when an oak tree fell on her has damned police and Rotorua Lakes Council from beyond the grave, claiming his wife's death was manslaughter.
At a Coroner's Court hearing into the death of Trisha Butterworth on Tuesday, the Butterworth's family lawyer James McDougall read an affidavit from her husband Keith, who died before the hearing could take place.
He said he was left with "no faith in police or council".
"[They] look me in the eye and say no one is at fault. In my eyes it's manslaughter. Charges should have been laid, people knew this tree was dangerous."
Trisha was killed when the large 150-year-old tree, known as Spencer's Oak, fell onto her car during the January 6 storm which battered the North Island.
Before reading the statement, James told the court it was written while he was still grieving.
"I just want justice for my wife.
"I can't accept this was just a freak accident, they didn't do their job."
He also revealed why he did not attend meetings with council staff in the wake of his wife's death as "I hated them so much".
Keith described his wife as "my everything" and revealed the hurt and disbelief when told by police about the accident that claimed her life.
"Very overwhelming, from one extreme to the next, I couldn't think straight. . . I see and feel Trish everywhere, I had no idea of the emptiness I'd feel without her."
The court also heard evidence from independent arborist Tom Rika - who had warned council about his concern about the tree before its collapse.
"Three years ago I noticed it was losing its vigour, it was plain. You could see a bit of die back. It just didn't look as vigorous as an oak tree should."
He had a warning too.
"There's already a number of trees I've spotted around town that are potentially dangerous," he said.
Tom says he contacted council open space operations adviser, Mark Paget, about his concerns in August 2017.
"The tree was plainly looking old and weathered to me, potentially there could have been better judgement."
The hearing heard that the tree was inspected in 2002 when fungus was noticed, but that information was not passed onto Arborcare's Phil Sale, who conducted a 2017 inspection.
He says his check on the oak didn't identify the trunk as likely to fail, but if he had been aware of the 2002 report he "definitely would have looked into that".
He described the tree as "the only tree I can recall that is this decayed inside that didn't have obvious symptoms of it."
At the start of the hearing, Coroner Wallace Bain referred to Detective Sergeant Herby Ngawhika's report into the accident, which he described as a thorough investigation into the circumstances around the death.
"You do not believe any one party or parties are to blame for the tree falling."
Wallace also says the report recommended no prosecutions should arise.
Rotorua Lakes Council lawyer Lachlan Muldowney​ says council manages 12,000 trees and is "eager to hear any recommendations from the Coroner".
Following Trisha's death, council revamped its tree management strategy, with 6000 trees having been inspected since, he says.
He also revealed council had appointed an arborist to supervise its Infracore unit, and developed an alert system with NIWA to signal high risk weather.
A number of witnesses also gave evidence that inspections of Spencer's Oak before its collapse had revealed no significant concerns.
"The tree was considered in reasonable health," says council's Rob Pitkethley.
Trisha's mother, Pauline White, was also addressed directly by council's operations manager Henry Weston.
"This is just another horrible day for you in this process and we're really sorry."
He says that on the day of the incident the extreme weather conditions were "the most damaging in at least the last 15 years".
He also revealed council staff had met the Butterworth family on three separate occasions.
"Emotions were raw on each occasion."
He says council's own review in the wake of the death had raised issues, particularly over whether tree maintenance work was too reactive.
"I don't think there's any value disputing that. We know our reporting systems weren't as good as they should have been. . . lacking a systematic approach and too reactionary, we accept that, we need to get onto the front foot."
Wallace addressed the Butterworth family directly at the end of the hearing, telling them he knew it would not have been easy to sit through the day.
He also addressed the witnesses from council.
"Not been easy for the council chaps to come here today and think they'll be roasted."
Wallace has reserved his findings.
More on SunLive...