$5.2m repair costs predicted for Mauao track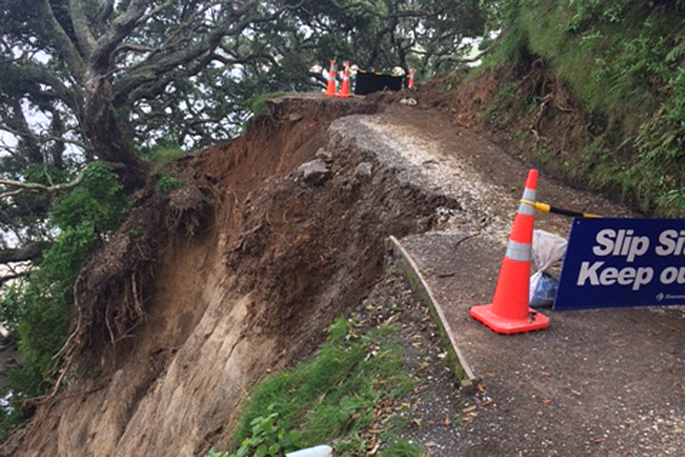 Repairs to Tauranga's iconic Mauao walking track are predicted to cost $5.2 million but locals say $60,000 and some shovels is all they need to fix it.
Tauranga City Council received submissions from the public, at their full council meeting on Tuesday, who had community-led ideas to repair the track which was damaged in April 2017 after Cyclone Debbie hit the Bay of Plenty.
Council received quotations from Tonkin and Taylor for remedial options which were estimated to cost $2.2 million which was approved in principle but two years later this option was predicted to cost an additional $3 million than first thought.
Michael O'Neill, presenting on behalf of mayoral candidate Andrew Hollis, says council needed to "keep it simple" and could have the track opened if they used community volunteers to complete the build.
Volunteers could simply dig into the slope of the track to allow access around the damaged area.
They would use local builders to complete the work and remove "less than a truck full of dirt" to allow the track to reopened.
A second option, submitted by local Trevor Clist, suggested building a bridge over the damaged pathway built into the slope itself.
Trevor says this approach would cost no more than $20,000 and could be done in a few weeks.
Both submitters showed dismay at the length of time repairs have taken and urged the council to consider a community-led solution to the issue.
Councillor Bill Grainger says they needed to ensure whatever options council took were safe for the one million-plus walkers per year.
"I hear cheaper. I hear keep it simple but it has to be safe," he says.
"First thing is if something happens on that track it will come back to us."
Michael says council would need to have its eye on the project and use consultants to approve designs but they have professional builders ready to start work.
"This is about the community coming together to do something as a group," he says.
Mayor Greg Brownless says the repairs to the base track had taken some time as all repairs needed to be approved by the mountain owners and The Historic Trust.
Council is still awaiting further information before making a final decision on which option will be used.
More on SunLive...