No backdown on Tauranga begging-ban bylaw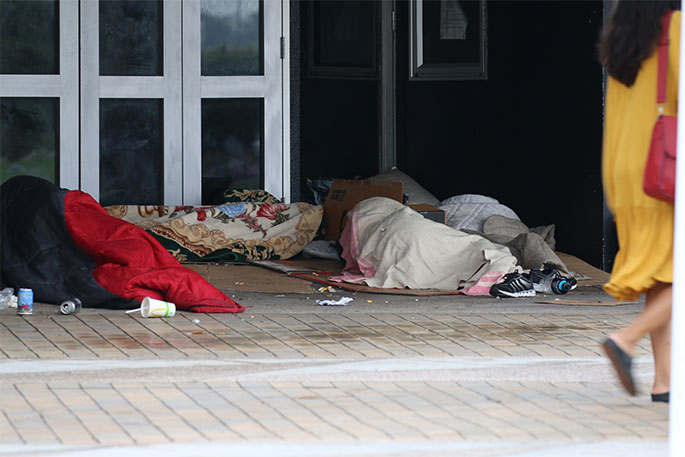 A potential $150,000 judicial review against Tauranga City Council's controversial begging ban by-law has done nothing to soften their stance on the issue.
Deputy Mayor Kelvin Clout says council needed to stick with the bylaw as it stood and do "New Zealand a service" by taking a stand against begging and rough sleeping.
The bylaw, passed in November 2018, made it an offence to rough sleep or beg within five metres of a public entrance in the CBD, Greerton and Mount Maunganui as a reaction to reports of reports of aggressive beggars using standover tactics to bully money.
The Housing Advocacy Trust filed proceedings in the High Court challenging the validity of the law as it breached New Zealand's Bill of Rights Act.
The bylaw polarised the community with some in full support and the Human Rights Commissioner Paul Hunt labelling it as unnecessary.
Council staff recommended the bylaw be put out to public consultation in the wake of the judicial review with the Trust agreeing to stay proceedings to allow this process to take place.
The Trust wanted the wording of the bylaw changed from "No person shall beg in a public place within 5 metres of a public entrance within a defined area of the CBD, Greerton and Mount Maunganui" to include a clarifying statement adding "in a manner that is likely to cause a nuisance, intimidation, harassment, alarm or any distress to any reasonable person".
Kelvin says this statement would "water down" the bylaw and the current law is clear.
"The current five-metre law is quite clear to the point some beggars have been seen with a tape measure measuring the distance," he says.
"We need to set a precedent with other cities around New Zealand."
Councillor Terry Molloy, who staked his job on the bylaw's success, says it was not until council stepped in with its bylaw that the standover tactics by beggars stopped.
"We had security guards out there [Greerton] and they felt intimidated and we needed to give them some backup," he says.
"Let alone a shopper or elderly person.
"I cannot support a watered-down bylaw."
Councillors Catherine Stewart, Steve Morris and Larry Baldock supported going out to community consultation whereas Greg Brownless, Max Mason, John Robson, Grainger and Molloy voted against the motion.
Leanne Brown abstained.
After the debate, chief executive Marty Grenfell was asked "what happens next?" to which he replied, "That would have been a good question to ask before making a decision," he says.
"I imagine they [Trust] will reignite their judicial review."
A legal representative for the trust says they were "surprised" at the council decision and were meeting to discuss their next move.
More on SunLive...