The big weather picture for Saturday and Sunday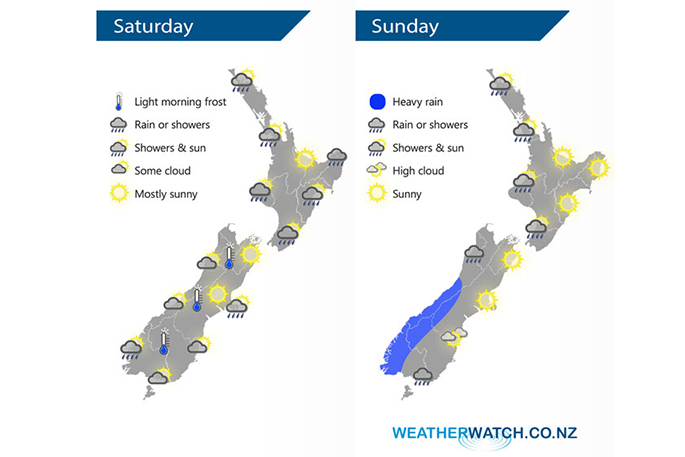 Weather Analyst Aaron Wilkinson at WeatherWatch.co.nz says that a southwesterly airflow lies over New Zealand today, moving around a large high in the Tasman Sea.
In the Bay of Plenty, it will be a mostly sunny day.
For Northland, Auckland, Waikato & Bay Of Plenty there will be a mix of sun and cloud, may be a shower at times especially in the west. Southwesterly winds will freshen from the afternoon with a high of around 16 degrees.
Aaron's national forecast for Saturday for the rest of the country:
Western North Island (including Central North Island)
Cloudy areas, sun becoming a little more frequent from afternoon. There may be a shower or two at times. Southwesterlies die out in the evening.
Highs: 10–14
Eastern North Island
Cloudy areas and a few showers, clearing late afternoon or evening. There may be some sun late in the day before dusk. Fresh southwesterly winds die away in the evening.
Highs: 12-14
Wellington
May be a morning shower then mostly sunny, southerlies tend northerly late afternoon.
High: 12
Marlborough & Nelson
Sunny with light winds tending north to northeast in the afternoon.
Highs: 13-14
Canterbury
Morning cloud then increasing sunny areas, light southwesterly winds tend northeast in the afternoon.
Highs: 11-12
West Coast
A mainly sunny morning then cloud develops in the afternoon, the odd light shower moves into Fiordland around midday then moving further north in the evening. Southwesterly winds.
Highs: 11-13
Southland & Otago
Morning cloud breaks to sunny spells about Southland. Mostly sunny for Otago with any morning cloud clearing. Northwesterly winds.
Highs: 12-13
More on SunLive...