Women's K4 crew spearheads Kiwi assault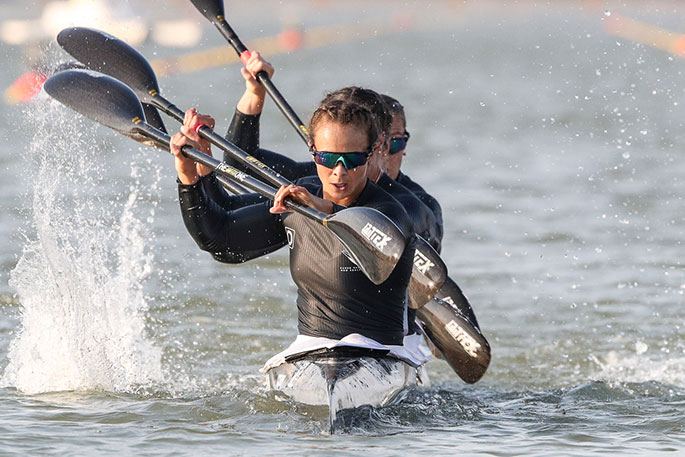 New Zealand enjoyed a successful day two of the 2019 ICF Canoe Sprint and Paracanoe World Championships in Szeged, Hungary with a series of impressive performances led by their top-quality women's K4 500m crew.
Lining up in the third and final heat – which provided the climax to the second day of action - the crew of Lisa Carrington, Kayla Imrie, Aimee Fisher and Caitlin Ryan were chasing top spot to secure an automatic spot to Sunday's A Final and bypass the need for a semi-final.
Dominant from the first few strokes, the Kiwis gradually built on their early advantage and claimed a comprehensive win in 1:29.00 - finishing 2.62 clear of second place France with China third in 1:32.14.
In what is likely to prove a mouth-watering final on Sunday night, Belarus were the fastest crew to advance to the A Final; winning heat one in 1:28.58.
Defending world champions Hungary – who pipped New Zealand to gold by just 0.01 in a rip-roaring battle at the 2018 World Championships – took out the second semi-final in 1:29.06.
The new Kiwi combination of Alicia Hoskin and Caitlin Ryan produced a fantastic display to advance to the A Final of the women's K2 500m.
Hoskin, 19, who was making her open World Championship debut was not fazed by the occasion, and competing alongside the experienced Ryan, who 12 months ago won a World Championship silver in this event, the pair proved a potent pairing.
In the morning heats, New Zealand placed third in 1:42.40 behind heat winners Russia in 1:40.84 and chasing one of the three automatic qualification spots for the A Final in the afternoon semi-finals the pair delivered on their ambition.
Making an aggressive start, the Kiwi K2 boat held a marginal advantage in the early stage and reached the halfway checkpoint in third.
Over the final 250m Hoskin and Ryan maintained their form and composure to bank that all important third spot in 1:38.93 – 2.15secs behind the world-class Belarus crew of Maryna Litvinchuk and Volha Khudzenka and Belgium (1:38.31).
The final will take place on Saturday night New Zealand time.
On day one Scott Martlew impressed to win his semi-final in his speciality KL2 200m event and today the Cantabrian also caught the eye in his secondary event – the VL3 200m, to place second in the B Final.
Earlier in the first semi-final, the Christchurch athlete had produced a gutsy paddle to take fifth in 51.00 – just two places and 0.28 behind a spot in the A Final.
Returning for the B Final, Martlew unleashed a devastating late burst of speed but could not quite overhaul the Pole Tomasz Mozdzierski – missing out in the top spot by just 0.03 in a time of 50.76.
Kiwi Pete Cowan placed eighth behind Martlew in 52.82 in that earlier semi-final and exited the competition.
There was also joy for Quaid Thompson (Poverty Bay), who navigated a successful route into the semi-finals of the men's K1 1000m.
The 21-year-old started with intent and hit the halfway mark in third - 2.87 seconds down on race leader and 2016 Olympic silver medallist Josef Dostal of the Czech Republic.
Thompson slipped back in the second half of the race but crossed the line in fifth to comfortably secure a semi-final berth.
The Gisborne-based paddler stopped the clock in a personal best time 3:32.52 – 5.74 seconds down on Dostal, the heat winner.
On day three, which begins this evening (NZ time), Lisa Carrington returns to the water in the heats of the K1 500m and also takes her place in the semi-finals of the K1 200m.
Max Brown (Whanganui) and Kurtis Imrie (Mana) make their open World Championship debuts in the heats of the men's K2 1000m and Thompson competes in his semi-final of the men's K1 1000m.
Day Three Kiwis in action
136: H1

K1 Women 500

9.00am

7.00pm

Lisa Carrington

1-5 + 2x6th best times to Semi, rest out

144: H4

K2 Men 1000

9.51am

7.51pm

Max Brown, Kurtis Imrie

1-5 + 2x6th best times to Semi, rest out

177-179:S

K1 Women 200

4.18pm

2.18am

Lisa Carrington

1-3 to final A, 4-6 to final B, 7-9 to final C

191-193:S

K1 Men 1000

6.07pm

4.07am

Quaid Thompson

1-2 + next best time to final A

3x 3rd + 4x4th + 2x5th best times to B

2x5th + 4x6th + 3x7th best times to C
Follow all the action on www.icfcanoe.com
More on SunLive...