NZ/DC to perform AC/DC experience show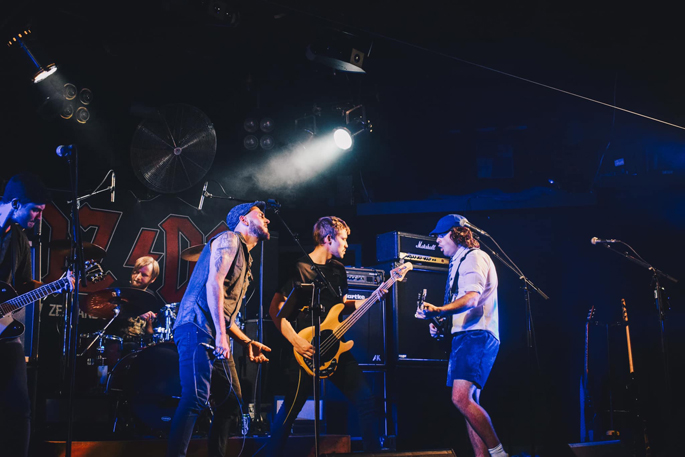 Fans and music lovers of the Australian rock band AC/DC will be in for a treat when NZ/DC an AC/DC experience show performs in Mount Maunganui later this month.
Band member Dan Cosgrove says the band has officially been together for about six months or so.
"I teach guitar at a primary school and I had this idea. AC/DC is a band that I teach quite a lot to different kids on guitar because for some reason kids just love AC/DC, it's just one of those rock bands that's loved at all ages.
"So I always start with a bit of AC/DC and I was playing it one days and I thought, man it would be cool to get a whole bunch of guys behind me and actually play the stuff and put on a real show.
"So I found a bunch of good mates and put together a band but we were together for about a year without a vocalist because to find someone to sing like Brian Johnson and Bon Scott was just a challenge in itself."
Dan says it took them about a year to find someone to fill those shoes but six months ago they found the right guy.
He says their performance on stage is a full-on experience.
"We try not to use the word tribute band too much because it's more of an experience.
"We play songs right from the first album to the latest album, and we dress the part.
"I'm Angus Young in the band, so I wear a school uniform and everything and use all of the same gear and we try to make it as authentic as we can, so it's a full-on experience show.
"It's so much fun being able to just put on this suit and act like a fool on stage. Angus has even said over the years that AC/DC is almost a comedy act as well. That's where the school uniform came from. So it's always fun just to put that one and go crazy on stage."
When the crowd is singing and dancing along, Dan says it is awesome feeling to have.
"We are playing tribute to the band AC/DC because we love the band. That's part of why we're doing this, because we're all really big fans of AC/DC ourselves.
"We are playing a tribute to them and to try to channel the real AC/DC through that is always a buzz and seeing people sing along and really enjoy it and trying to make them feel like they're at a real AC/DC concert and really getting into it, it's good."
The AC/DC experience also have a support act 'Colombo Massive' that will be opening the show for them.
"They'll be starting the show off and getting people into the groove of it," says Dan.
"And then we go on about 10pm and it's all go from there."
NZ/DC is performing in Mount Manganui at Totara Street on August 30.
Presale tickets are $20 or $25 on the door.
For more information, click here:
More on SunLive...