Me and my mate BJ Lochore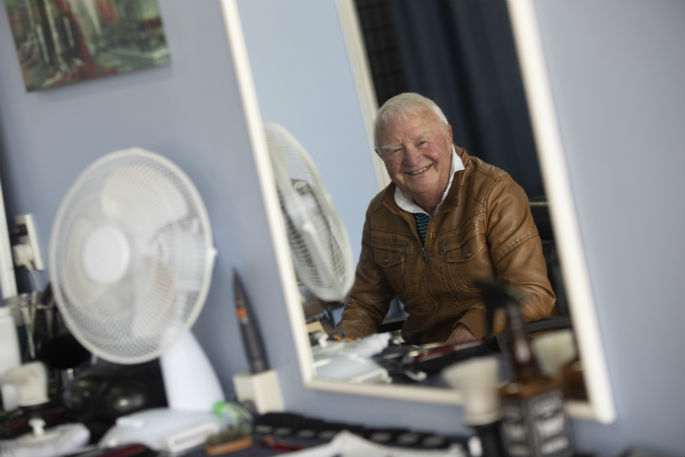 A rugby nation mourns the passing of a luminary, a great man.
And other men, rugby men, have been trading yarns how they played with BJ, played against BJ, how they met BJ and shook that huge calloused hand, or just saw him standing like a Kauri at an airport gateway one day, somewhere, and said gidday. BJ was like that.
Down at JDs neighbourhood bar in Bureta on a Friday evening, just as good responsible folk were headed home, Allan Pickard pulls a framed schoolboy rugby photo from a supermarket shopping bag.
He's about to do some serious, unabashed bragging. Of which, he has the right.
He points to a wide-eyed kid with a swept fringe sitting crossed legged in the front row of the photo – B.Lochore reads the caption. Then he points to a rosy-faced kid with a fixed grin in the next row.
He's holding a rugby ball. A.Pickard, captain, says the caption.
"That's me," says Allen. "I was the captain of Brian Lochore's rugby team."
Not only did Allen play with an All Black legend, he captained the team. No wonder he was the only kid smiling in the photo. And rugby intuition must have told him this photo would matter one day.
Because amongst all the rugby truths, half truths and stretched truths that have been uttered with reverence these last few days, not many can boast Allen's level of connection with the late great BJ Lochore – Sir Brian James Lochore ONZ KNZM OBE - All Black number 637, lock and number 8, 1.91 metres and 95 kg, 26 times All Black captain – now departed, aged 78.
Back in 1952 when that photo was taken, BJ Lochore was already tall and lanky for his age.
"And he must have been good just to make that rep team," says Allen. Although no-one was talking about him being a future All Black.
Then during that rep week, Allen stayed on the Lochore family farm, got indoctrinated in things rural.
"I helped put those little orange rings on the lambs' tail, and eventually they would fall off. Wouldn't be allowed to do that these days."
Then the mischievous country Lochore boy introduced the townie first five-eighth to sheep riding.
"He started it," says Allen.
It's convenient to blame the departed.
"Then he said get on, get on. So I did."
When Brian's old man arrived on the scene, that was the end of that.
"He gave us a right bloody old bollocking. 'Get off those bloody sheep, you'll break their legs'."
That took the smile off a little smiley face.
But boys who ride sheep together, stay together, even though they played against each other in the last game they were involved in – Allen for Whanganui and Brian for Wairarapa.
"He told me it was time to get back to Wairarapa and play there, and I had to tell him I was on my way to Tauranga."
Allen followed BJ Lochore's 68 match All Black career and it was the measure of Lochore that he knew what Allen was up to. Allen's career is not in the almanacs, but he was in the programmes of the day.
He played for Whanganui against Australia, played in a Ranfurly Shield match against Taranaki.
"We drew 15-all, the closest Whanganui has got to winning the shield," – so a sweet and sour career moment for Allen.
And as a 15-year-old he ran out onto McLean Park in the curtain-raiser to the 1965 Springboks versus Hawkes Bay. A young heart would have been beating a tattoo that day.
Lochore never forgot Allen Pickard.
"I would run into him after All Back games – like in a hotel in Auckland. He would always recognise me and have chat. Mates forever kind of thing, he always had time."
That registered deeply for Allen Pickard.
Allen, now 80, is sitting in his barber shop in Cameron Road reflecting on a great sportsman and a good human being.
"Lochore was a real farmer, down to earth, really just a good guy and that's why everyone liked him."
Probably why 5000 people, 20 per cent of Masterton's population, turned out to say goodbye to 78-year-old Brian James Lochore recently.
"When I heard the news I was very sad," says Allen. "He was such a nice guy, you never thought he would go. You thought he would always be there, be around forever."
The legend lives on though. And the memories. And the photo of the barber as a rugby captain and the All Black who then, and always, was just one of the boys. Allen Pickard should start dining out on that photo.
More on SunLive...