Kiwi flavour to Italian opera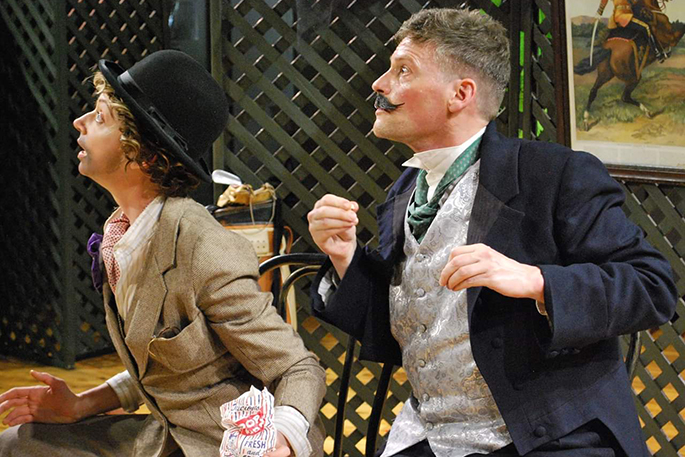 I phoned Georgia Jamieson Emms because she's in town with the rest of the Wanderlust Opera crew to perform Don Pasquale at Baycourt tonight. She's an unbelievably funny lady with a life attitude that's full of fun.
It's no surprise that she's translated one of the world's best comic operas from Italian into English, enhancing it with a Kiwi flavour. Of course she'd do this. She's got an incredibly infectious laugh, and a zany sense of humour.
"My five-year-old son has seen this opera twice and while we don't specifically write it for children that age, they still get something out of it and they're still experiencing opera for the first time which is just so amazing," says Georgia, musing on the universal appeal of Don Pasquale.
Georgia loves to write the English words to some of the world's most famous operas.
"That's kind of my thing," says Georgia. "I take these operas that are obviously written in their original language of Italian or German or whatever, and I write it in English.
"And it does have a very distinctive kiwi flavour to it, and we have a lot of fun with it. We definitely present a new take on these operas. While it's still all the original music - and we don't mess around with that aspect - we definitely make it more accessible and just a little bit quirkier.
"We focus on breaking down the barriers that a lot of people have in their minds, that the opera is stuffy, or opera is elitist, or it's boring - that sort of thing."
She laughs while telling me this, and I can't help but he drawn into a bit of FOMO – fear of missing out. I must go see this show!
"We just want to really kill all horrible stereotypes about opera and show people that it is a wonderful art form that can be enjoyed by anybody."
The original Don Pasquale was written by Italian composer Gaetano Donizetti in 1842. Along with Gioachino Rossini and Vincenzo Bellini, Donizetti was a leading composer of the bel canto opera style during the first half of the nineteenth century.
"It's 175 years old or something like that," says Georgia. "But here's the thing – it's kind of a timeless tale because you've got this old, rich guy who just has like zero idea about women and very little respect for them. And he's on the search for a wife who's going to just shut up and cook for him."
I reply – "errr so this is going to sort of push the buttons of a few anti-Trump people, #metoo people and ardent supporters of women standing up for themselves?"
She laughs again. "Probably!"
"What he gets is a very headstrong and clever, brilliant young woman who just turns his life upside down. So that really appealed to me as well."
Georgia says that with this particular opera having a confident modern woman as a central character, who she says is 'pulling all the strings', it was decided to make her a Suffragette.
"She's all 'vote for women!' and 'we have a voice!' and all this sort of thing," says Georgia. "She's a great character and as usual the poor men just don't really have a clue what's going on!
"I just think that really appeals to a modern audience."
Wanderlust Opera has been performing Don Pasquale to delighted audiences around NZ, with Jacqueline Coats as director and Bruce Greenfield as music director. Despite Georgia reworking the words into English and giving it a quirky kiwi flavour, there is still quite strict adherence to the music.
"Bruce has a great sense of humour and also a great reverence for the music," says Georgia. "So we don't mess around with the music. We are professional opera singers and highly trained and so there's no sort of being silly with that. But in terms of playing with the story, he is so supportive of that because he knows that we have to be reaching new audiences, and we have to be engaging with people, otherwise the art forms can just sort of shrivel up and die. We have to keep it relevant.
"But honestly, these composers – they had a sense of humour too! They were writing entertainment for the people of their time and so our sort of attitude is, well, they probably would have been fine with it."
It could be said that Gaetano Donizetti, Gioachino Rossini and Vincenzo Bellini were the 'rappers and DJs' of their time, writing music that the public liked to hear.
"We're keeping them relevant. We also do a lot of Mozart and the thing is, their music has stood the test of time, it is still so brilliant and you never get sick of singing it," says Georgia.
"We've been doing Don Pasquale now around the country since January. And going back to it now for Tauranga tonight, and Hamilton on Monday night, I'm not tired of it yet, the music is just so good."
This is Wanderlust Theatre's third opera. A Wellington-based production company, their aim is to make live performances of cabaret, musical theatre and opera accessible to people across New Zealand.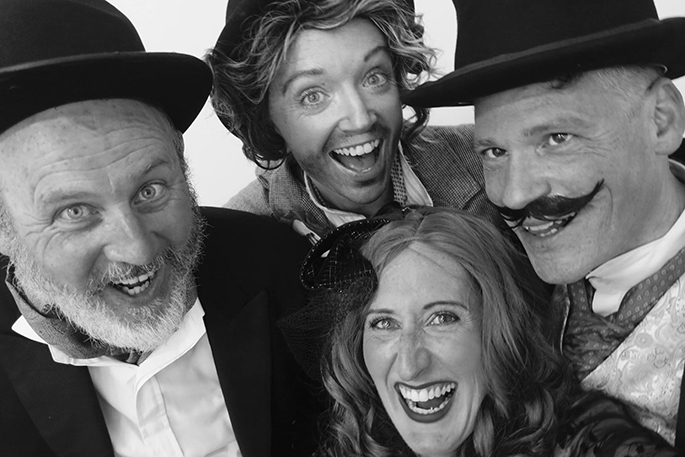 Past shows include 'Noel and Cole' - the songs of Noel Coward and Cole Porter; 'Happily Ever After' -songs of Stephen Sondheim; Mozart's 'Cosi fan tutte'; 'These Are A Few Of My Favourite Sings'- a Julie Andrews tribute; and Mozart's 'The Marriage of Figaro'.
"We now have quite a good following in Palmerston North and New Plymouth," says Georgia. "People are remembering us and saying 'we're really enjoying what you guys are doing, your spin on opera is so entertaining'.
"We hope to bring that more regularly to Tauranga now as well. Obviously, there is an amazing cultural thing going on here and people love their music and their entertainment, and I think that we could bring something a little bit different."
Georgia will be singing the lead female role of Norina. There are four in the cast, and Georgia confided that there will be a surprise walk-on role from a well-known local during the show.
At its premiere Don Pasquale was performed by four of the most celebrated singers of the day and was an immediate success. It was recognized at the time as Donizetti's comic masterpiece and, to this day, is still considered as such. Pasquale remains one of the most popular of his 66 operas, as well as being one of the three most popular Italian comic operas, the others being Rossini's The Barber of Seville and Donizetti's own L'elisir d'amore.
Don Pasquale is on at the Baycourt X Space tonight, August 17, starting at 7.30pm. Tickets can be purchased on line or at the door. To follow Wanderlust Opera and keep up with future planned shows click here.
More on SunLive...