Snow, frosts and a cold Sunday ahead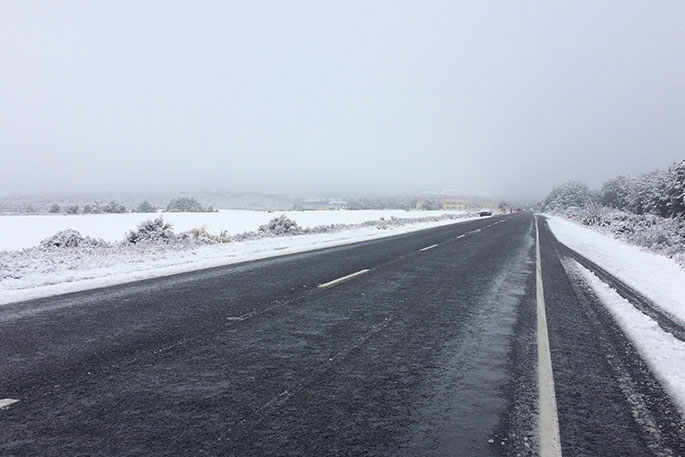 The Metservice has issued a snowfall warning for the Desert Road.
Snow is forecast to affect the road tonight and early Sunday morning. Between 7pm Saturday and 3am Sunday, 1 to 3cm of snow may settle on the road near the summit, with lesser amounts down to 700 metres.
WeatherWatch advise that heavy frosts down to -8C are in the forecast with potentially some of the heaviest of the year tonight and tomorrow night thanks to a cold southerly followed by a large high.
Cold southerlies will spread northwards over the South Island today, moving onto the lower North Island this afternoon and evening.
Overnight lows tonight may drop as low as -8C in alpine areas. Inland parts through Otago, Southland and Canterbury have the highest risk of frost tonight.
Currently WeatherWatch.co.nz is forecasting Queenstown will drop down to -5 tonight, while Tekapo has -6C. Alexandra and Cromwell look to drop to around -3. Tomorrow night more of Canterbury looks to be getting colder, for example tonight drops to around +1C in Darfield but -4C there tomorrow night. The frosty weather may not make it into coastal areas.
The North Island's cold change moves up the island across Saturday and tonight and over Sunday. The high pressure system expands and increases over the North Island on Sunday and by night time will bring lighter winds and lower temperatures.
Frosty weather is possible around some parts of Waikato on Monday morning. Rural parts of South Auckland are on the borderline where it lifts up to +3C. A slight breeze in the north may keep overnight lows up a few degrees.
Frosts overnight Sunday through to Monday morning will be possible in a number of inland, sheltered parts of both islands.
Warmer northerlies return on Monday to the South Island and across Tuesday in the North Island.
More on SunLive...