Let's make Kaiate Falls swimmable again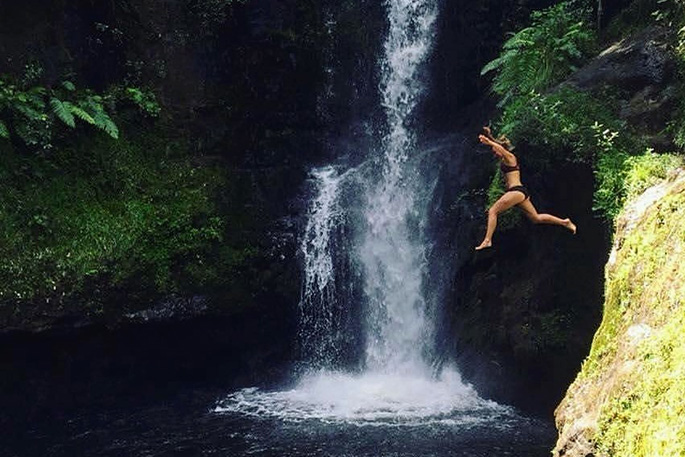 Kaiate Falls is going to be receiving a lot of love and care, as volunteers gather today to plant hundreds of native trees and plants.
The 'Let's Make Kaiate Falls Swimmable again' group aims to improve the water quality through a fencing and planting programme upstream from the falls so that everyone can one day enjoy swimming at the Kaiate Falls again.
This national treasure is a popular swimming hole amongst locals, but is currently deemed unsafe for swimming with a health warning due to faecal contamination. The falls has carried a health warning since 2017 due to high levels of E.Coli bacteria and faecal contamination.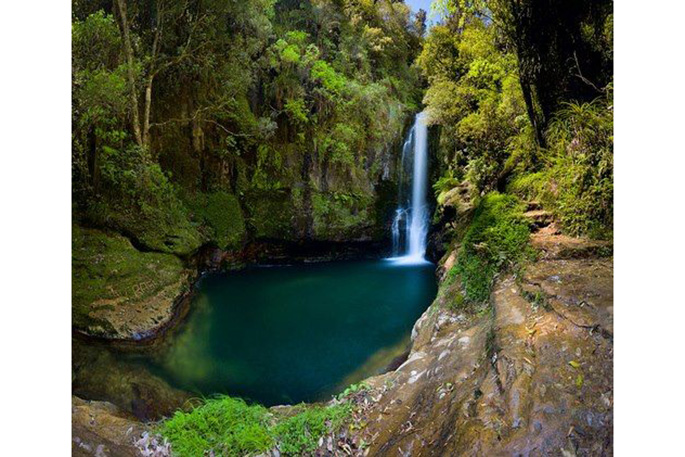 In January 2019, Toi Te Ora Medical Officer of Health Dr Jim Miller said that after rainfall, water going down into areas like the Kaiate Falls are likely to be contaminated with animal faeces from rural and urban run-off.
Crystal Jones, a local farmer in the area, is determined to reduce the E.coli contamination in the streams feeding into the Kaiate Falls by fencing streams and planting native trees and plants along the stream banks.
"We've fenced the stream and sourced the plants. We have a nice variety of plants from Naturally Native Nursery and the Waitao Landcare Group, and now we need the manpower and womanpower to help plant them," says Crystal.
Mega Pacific made a ute available for the plants to be collected from Naturally Native Nursery.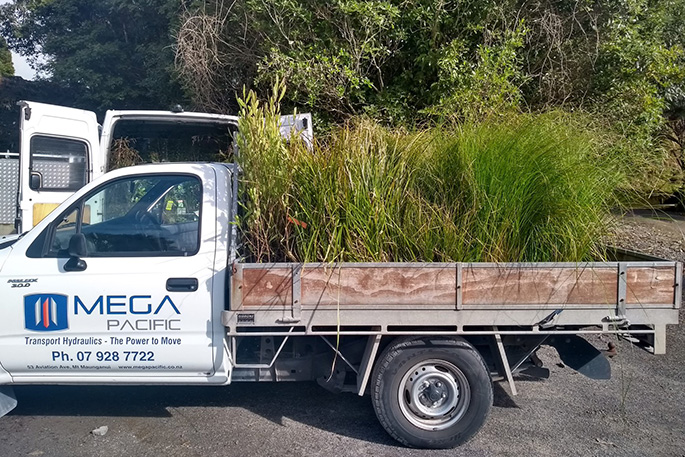 Plants from Naturally Native Nursery
"Together with the Bay of Plenty Regional Council and with support from the Waitao Landcare Group, we have a goal of reducing the E.coli contamination at Kaiate Falls," says Crystal.
The 'Let's Make Kaiate Falls Swimmable Again' group wants to make the river swimmable again by cleaning up the streams feeding Kaiate Falls with particular focus on the Jones' Family farm.
"We will achieve this by fencing off the stream tributaries and planting native trees along 3.5km of stream," says a group spokesperson. "This will require an estimated 20,000 native plants and will return around 14 hectares of farmland to native bush.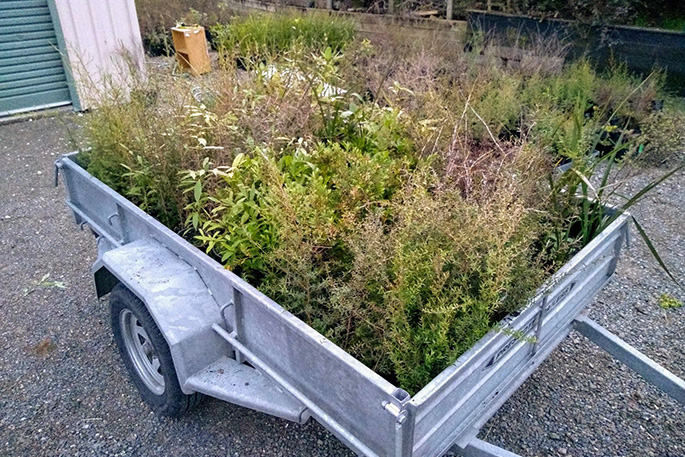 Waitao Landcare plants
"If you're keen to help or just want to see how we go, please follow our Facebook page and we'll keep you up to speed with progress, as well as sharing planting events where you can volunteer and other ways you can support our cause."
On February 16 2017, Bay of Plenty Regional Council and Toi Te Ora Public Health issued warnings about waterways and swimming holes which have recorded unsafe levels of bacteria. Welcome Bay's Kaiate Falls was recorded as having unsafe levels of faecal contamination and recreation was not advised. The falls still carries a permanent health warning due to elevated levels of faecal contamination.
"The Kaiate stream runs through my farm along with the Otawera stream," says Crystal. "We're working on an environmental plan between myself and Bay of Plenty Regional Council to fence off and reduce the E.Coli at Kaiate Falls. We haven't worked out all the details of all the plan yet, but I wanted to start this winter and get it under way, so we fenced off the Kaiate stream."
Crystal is passionate about the future of the streams and falls.
"Farmers love outdoors and nature and want to keep land in as good condition as we can and pass it on in a better state," says Crystal. "There will still be more work to be done after this. The rest of the project will take about three years.
"Waitao Landcare group have donated about 200-250 plants for planting today, and altogether we have about 750 plants to put into the ground. We expect this to take us a couple of hours, thanks to volunteers coming to help."
Anyone is welcome to come and help with planting, starting at 10am today, Saturday August 17. Come down the driveway and park in the paddock behind the sheds. Tea, coffee and a snack will be provided afterwards and volunteers are advised to wear gumboots, and bring a spade. There are no toilet facilities available.
To follow updates on the Let's Make Kaiate Falls Swimmable Again project click here.
Bay of Plenty rivers and lakes:
The Ministry for the Environment (MFE) has determined that 94.5 per cent of the Bay of Plenty's specified rivers and 85 per cent of our specified lakes are currently swimmable. Swimmability gradings are based on modelled and recorded levels of E.coli bacteria in rivers, and toxic algae (cyanobacteria) in lakes.
The MFE assessment shows that Bay of Plenty swimmability gradings are already better than the 2030 national target of 80 percent.
The Bay of Plenty Regional Council believes it can do better than that, so have now set a regional target that will see 95.7 per cent of Bay of Plenty rivers swimmable by 2030.
New research work to isolate the sources of bacterial contamination that frequently affects popular swim spots in the upper Wairoa River including McLaren Falls and the Waiteti Stream (near Ngongotaha) is starting this summer. And Regional Council staff are continuing to work with landowners to identify and mitigate E.Coli sources at hot spots such as Uretara Stream and Waiotahe, as well as Kaiate Falls.
The council also plans to keep exploring a range of innovative new solutions to bring Lakes Okaro and Rotoehu up to swimmable standards too. Interventions in those lakes to date have included land use change, wetland creation, weed harvesting, alum dosing, aeration treatment, riparian fencing, planting, and run-off detainment systems.
The council is also working with iwi and local communities to set region wide and catchment specific limits in the regional plan to manage freshwater quality, including swimmability and quantity.
More on SunLive...