Tauranga teen's race against time as muscles waste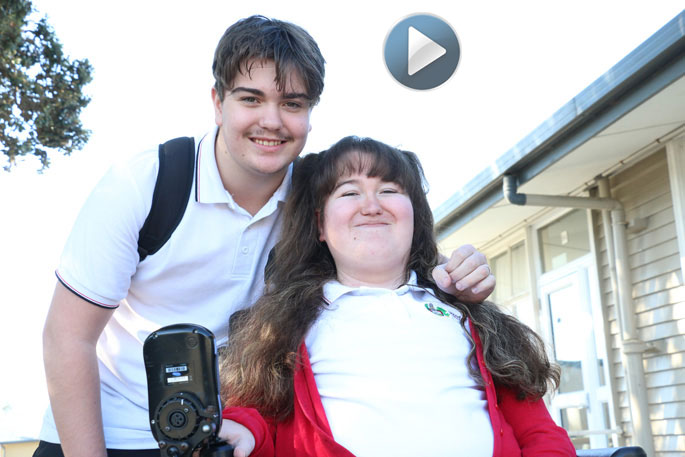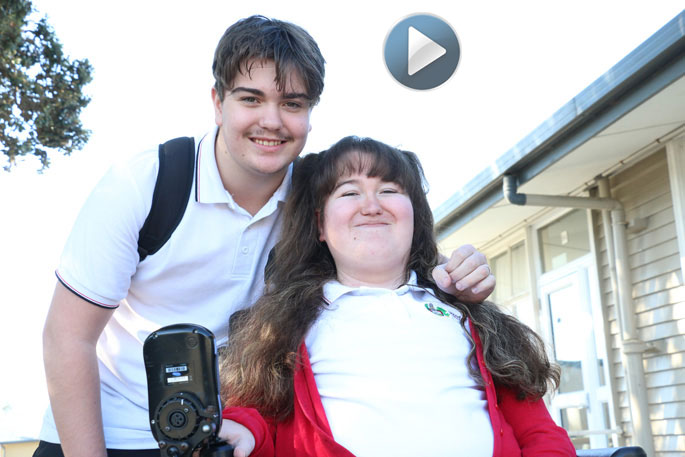 Click the image above to watch the video
Jessie Russell gave birth to her daughter in 2005, and 14 years later, she says it's still like she is caring for a newborn.
Her daughter Maija Fredrichberg, a year 10 student at Mount Maunganui College, has Spinal Muscular Atrophy or SMA.
At four and half months old, Maija's parents noticed she was reversing in her milestones, unable to roll over on to her stomach and to lift her head up when lying on the floor. After visiting a Plunket nurse and GP, Maija was referred to Starship at six and a half months old.
Maija's parents Jessie and Leon, as well as brother George, waited six long weeks for the test results to come back from the genetic testing facility in Melbourne, where Maija was diagnosed as a weak type two SMA sufferer.
"From that hospital appointment, everything changed," says Jessie.
SMA is a genetic motor neuron disease affecting the nervous system that controls voluntary muscle movement. Maija and many other SMA sufferers' SMN1 or Survival Motor Neuron 1 genes are either missing or mutated, causing their muscles to atrophy and weaken.
There is a silver lining for SMA sufferers – and it comes in the form of the drug Spinraza. When injected into the spine, Spinraza binds with SMN1 copy gene SMN2, increasing the SMN protein production.
Spinraza is currently not funded by Pharmac, making it unavailable to treat New Zealand SMA patients.
For Maija and her family, it's a race against the clock for Pharmac to fund the wonder drug.
New Zealand lead advocate for SMA Fiona Tolich says time is certainly not on Maija's side.
"The application to Pharmac was to fund those aged 18 years and under. If there continues to be delays then in this time, Maija might cross the age boundary and end up with no treatment option until we continue to lobby for adults.
"This is a motor neuron condition, every day could be another motor neuron lost. That could be her ability to swallow or even breathe on her own."
Jessie says if Spinraza was funded when Maija was two years old, she wouldn't be deteriorating at the rate she is now.
"From age one and a half until eight, she was in and out of Starship, and she had a lot of hospital admissions with pneumonia because she didn't have the strength to cough, her chest muscles hadn't developed normally.
"For the younger kids, Spinraza is an absolute game changer. Maija never walked, and possibly when she was diagnosed at six months old she could be walking now, it's just incredibly frustrating that it's not funded."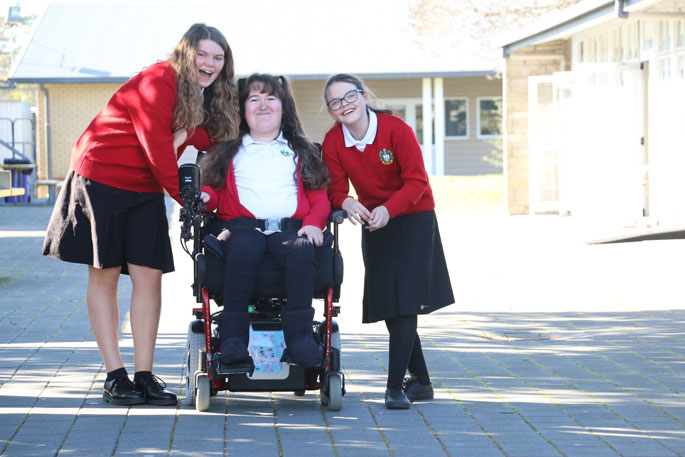 Maija with her friends Tasman Wilson, left, and Rose Tustin, right. Photo: Daniel Hines.
Jessie says the drug is going to change not only the lives of SMA sufferers, but also their family and friends.
"50 countries fund it, even Turkey, lots of countries who aren't developed or wealthy, they are funding this drug.
"I'm gob smacked that it isn't being funded, it's not the New Zealand I know and love.
"It's not what I thought New Zealand was about."
Every week is another week lost for Maija, losing strength, mobility, confidence and independence.
"It's not going to make her walk, but it's going to stop her from getting weaker, and it might give her a good chance of being able to feed herself again," says Jessie.
Fiona says Spinraza has revolutionised the treatment of SMA internationally, and children with SMA who would have once passed away before their second birthday, can now expect long lives.
"The treatment almost entirely eradicated the symptoms that come with this disorder.
"There are over 8400 people receiving treatment internationally, whilst New Zealanders suffer in the knowledge that their disease is progressing, and it doesn't need to."
Maija herself says living with SMA has been challenging on her family.
"We've tried to make this life as easy as possible."
The family moved to Tauranga in 2016 after 16 years on Waiheke Island, looking for a more appropriate place for Maija to get around, as well as a place that was more affordable, due to Waiheke being isolated and costly.
It was almost meant to be when Jessie and Leon began looking at places to live, finding a wheelchair friendly house in Bayfair Estate, not far from Mount Maunganui College, where Maija has thrived.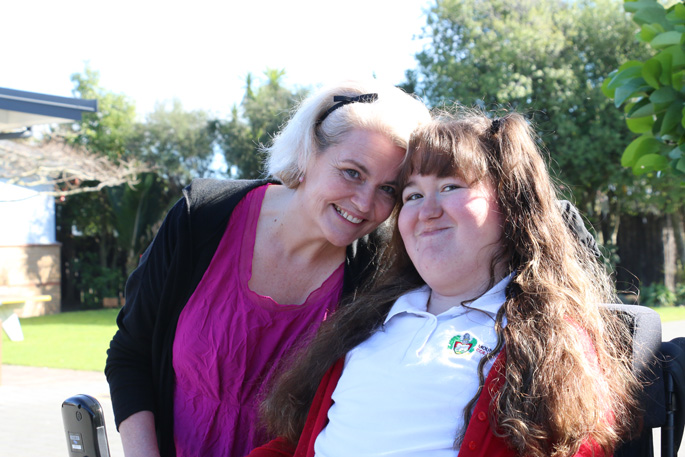 Maija and her mother Jessie. Photo: Daniel Hines.
"Waiheke wasn't very accessible for me, and the primary school life was a bit lonely because all of the teachers were my best friends and I guess everyone ran away from my chair," says Maija.
Maija struck gold on her first day in Tauranga when visiting the intermediate school, meeting her now best friends Rose Tustin and Tasman Wilson.
"We get along, and I found that really cool because I didn't have that many friends in primary."
For Maija, knowing there is a drug on the market available to treat SMA sufferers, and the fact it isn't being funded here in New Zealand, is frustrating.
"I think its unfair families are moving countries to get this drug.
"Pharmac is not funding it for people who really need it is really unfair, because some people can't move, they can't afford it."
Maija's condition has worsened as she has grown, leaving her now unable to move her arms.
"When I was younger I could feed myself, but I can't do that anymore because my arm strength has weakened.
"I just really wish I could do normal stuff like normal kids do without having this disease affect me and other people."
Pharmac Director of Operations Lisa Williams says in regard to Spinraza, Pharmac clinical advisors recommend the funding application be deferred until longer term follow up analyses are published from two clinical trials, however both Jessie and Maija are frustrated by this claim, as it has been proven effective in the countries it is available.
Lisa says Pharmac are in regular contact with the supplier and expect to receive updated data by the end of 2019, leaving Maija and other SMA sufferers waiting for an answer, while their muscles continue to weaken and waste away.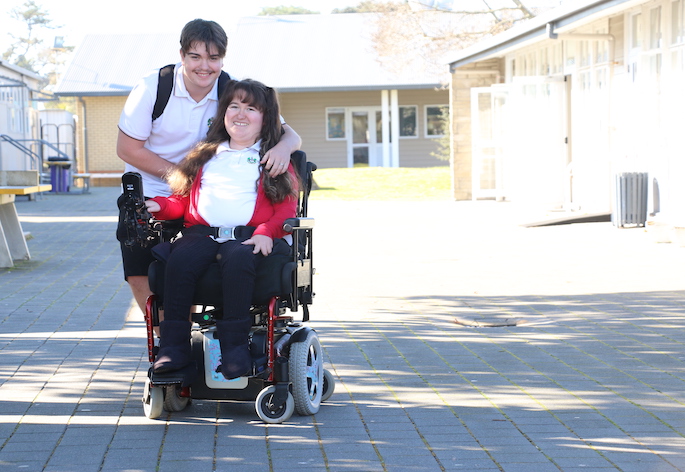 More on SunLive...