Holding fee at pump causes nightmare weekend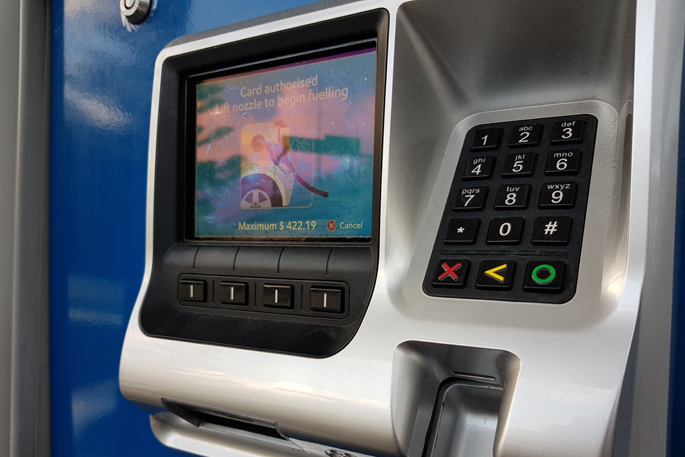 Tauranga resident Vanessa Campbell has spoken out about an issue at a petrol station that caused "a massive inconvenience" for her weekend.
Vanessa filled up her car at Mobil on 10th Ave, paying for $20 worth at the pump. She then continued on to Pak'n'Save where her card was declined due to insufficient funds.
This raised a red flag for Vanessa as she knew how much was in her account and she didn't go over that amount in groceries.
She then checked her online banking and noticed there was two payments to the petrol station. One was for $20 and the other was $150.
Vanessa was fuming when she saw this amount and was quick to jump on the phone to see what had happened.
"I was like have I paid for somebody else's gas, I don't know what's happening," says Vanessa.
She says the lady she spoke to on the phone told her that the $150 payment was because she paid at the pumps outside.
"She was like yeah so it takes $150 out of your account until your payment clears and it will be put back in once the payments are cleared."
The conversation on the phone continued with the lady saying they had been sent pamphlets to give to people.
"I was like then if you are well aware of it and you have had that much of a problem that they've sent you pamphlets. Why is it not stating that on the pump?"
Vanessa says there's absolutely no signage on the pump stating the holding fee.
"I was absolutely livid because we had plans and everything for the weekend, but they just took $150 out of my account and it's like well, what am I meant to do now?
"She fully admitted it, she was like yeah it does happen. And as soon as I said $150 had been taken, she goes oh that's because of this.
"I was like seriously you're even aware of it. I'm clearly not the only person that is having that issue if Mobil is sending down pamphlets, but they should be on the pumps. You should have a big sign stating a $150 surcharge could be charged."
According to Vanessa, the lady she spoke to doesn't not know why this issue occurs.
"She goes sometimes it depends on the time of day or it depends on the card. It happens to some ANZ cards and not others, it happens to some Kiwibanks and not others and we don't know why and I'm like, well clearly there must be an issue with your pump.
"And she was like no it's a bank thing, and I was like that doesn't sound right, like a bank thing to me because if it was a bank thing, it would happen to every card.
"I said you should at least take the pumps out of commission or to get them repaired. If you guys are aware that it's a problem, look into it. Don't sit there and rip people off all weekend.
"I was fuming, I only wanted to pay $20 in gas not $170.
"I said to her if I was aware that was going to happen, I would have taken the extra two minutes and come inside rather than paying at the pump.
"I'd just really like to see some signage or advertisements or something because I think that if they advertised that, those pumps wouldn't even be used. Nobody wants to pay an extra $150 for the gas."
Vanessa says she is lucky she has a savings account and was able to transfer more funds across. She says she was lucky but if it was anyone else, they may have not been so fortunate.
"In Tauranga at the moment people aren't doing so well. People are really struggling, imagine if they end up pay money like that for gas."
A spokesperson for Mobil Oil New Zealand Limited confirmed to SunLive that 'all transactions processed using contactless payment at Mobil Pay-at-Pump systems complete a pre-authorisations from the card issuer'.
The spokesperson says the pre-authorisation process is managed by third-party banking service providers.
"This process includes a 'credit-hold', which ensures there is a sufficient balance in the account to successfully complete the transaction. As part of the process, banks place a hold on a certain balance at the beginning of the transaction, for instance with some banks the amount is $150.
"This limits the fuel pump from dispensing more than pre-authorised amount of fuel into the vehicle.
"The release of the credit-hold is determined by the card issuer. The balance is held by the customer's bank, not by Mobil.
"Once the transaction is completed, an instruction is send electronically to our merchant bank to release the credit-hold. Our merchant bank then communicates with the customer's card issuing bank to release the credit-hold.
"The final processing time for the removal of the credit-hold is subject to the banks' internal processes, however Mobil understands this can take up to five working days in some instances. It may take longer for an overseas card."
The spokesperson says Mobil has no control over the process, and the release of the credit-hold is determined by the card issuer.
"Information about pre-authorisation is usually included in the Conditions of Use for a bank's credit card products, and information regarding pre-authorisation is also included on Pay-at-Pump transaction screens.
"Mobil apologises for any inconvenience caused and recommends any impacted customers contact their bank to discuss the matter directly."
As of Monday morning, the $150 had been transferred back into Vanessa's account.
More on SunLive...