Tauranga man set to glide off Kilimanjaro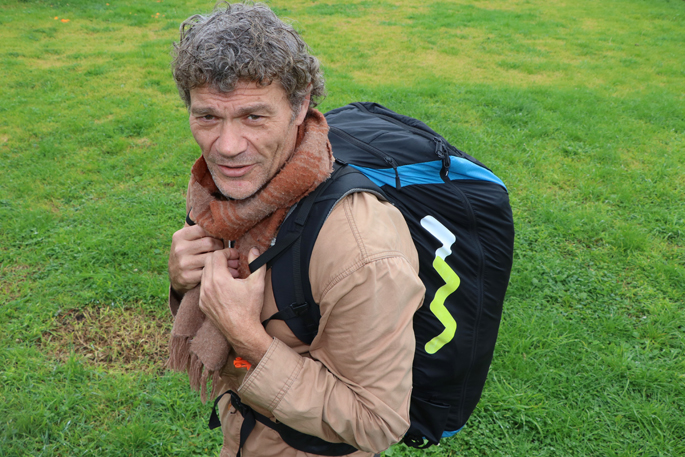 When Hugh Robb turned up to Fergusson Park for a land based skydiving session, little did he know two years later he would be packing his parachute to paraglide off Africa's tallest mountain.
In September, Hugh and 200 other gliders are climbing to the top of Mount Kilimanjaro, then paragliding down the 5895 metre mountain.
The Tauranga man has always loved flying, and he admits after seeing people paraglide off the Mount, he thought he would like to try it one day.
"I met with a tandem skydiving instructor to do what they call ground handling, and I looked at all the lines and said there is no way I'm going to be able to do it," says Hugh.
"But I thought I would give it a go, I had a really good instructor and he just kept with it."
In the early stages, Hugh would practice paragliding in Raglan. He says it is still dangerous, however it's not as daunting as jumping off a 2000 foot cliff.
Despite jumping and gliding off high platforms, Hugh doesn't describe himself as an 'adrenalin junkie'; he says he loves the peacefulness of paragliding.
"To be honest, the first few times I wasn't scared or anything, I was actually a little bit later on, maybe my sixth and seventh flight, because you start to realise what can go wrong.
"I can still be quite nervous but you've got to make sure all the checks are done."
Safety is the number one precaution in the sport, and Hugh says it is important the glider is well and fit.
"You know, making sure you didn't get drunk last night, and that the conditions are right, that you have your helmet on, your harness is fully secured, you have a radio, your lines are up the right way. Then, you check your launch site, and away you go."
When Hugh first heard about paragliding off the top of Mount Kilimanjaro, he thought he would give it a go and apply, however he was told he hadn't had enough experience.
"I didn't think I'd be good enough because we had seven months off because of bad weather, and over winter it's pretty hard, I had only done about 20 flights at that stage."
Like other extraordinary kiwi's, Hugh took it upon himself to improve and to achieve a goal.
"I did probably 60 to 70 flights in about three months, I was doing it almost every day, so they accepted me."
Hugh says an Australian man started the phenomenal feat, trekking up Kilimanjaro in the 80s, and hang gliding off the top.
"He was the first guy to do it. He loved it so much that he started up a school for the locals, and now it is called Wings of Kilimanjaro, which is a fundraiser.
"I have to raise funds for the school, you pay for everything yourself."
The biggest glide Hugh has completed to date is around 3000 feet, which is nothing compared to Kilimanjaro.
When it comes to paragliding, Hugh says height is your friend.
"If anything goes wrong, you've got time, so it's not really the height that bothers me.
"Up there, it's just a straight flight down to the landing site, it's a pretty straight forward flight."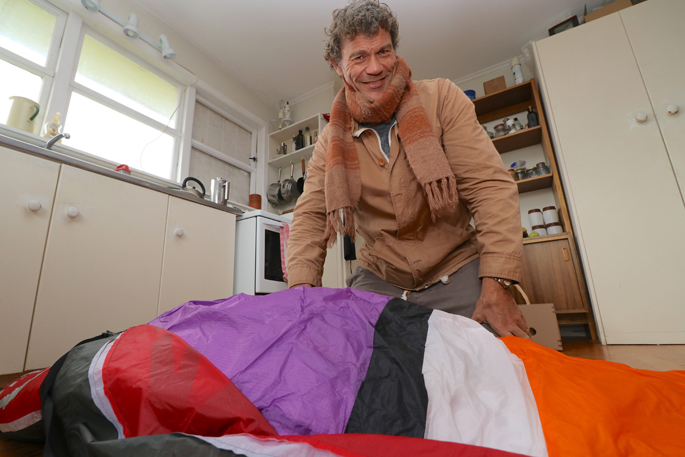 Hugh with his 'baby', his parachute. Photo: Daniel Hines/SunLive.
Although there is a possibility something may go wrong on the descent, Hugh has full confidence in the instructors and support team.
"We stay up the top for three days waiting, if the conditions are right, we go, but if they are not, we have to come back down again. They don't risk it, it has to be good.
"That's why it's in September because that's the perfect timing."
Hugh is well aware there is a chance he may not be able to paraglide if conditions are not safe.
"There are things like altitude sickness, and the only cure is to go down, but I mean I'm going to Africa, I'll get half way up Kilimanjaro and see the Serengeti, so it's a cool thing to do."
Hugh and the other gliders arrive in Tanzania on September 18, where they will be briefed and they pack their gear, before setting off on a five day climb to the summit.
"When we arrive at the top it will be dawn coming up over the Serengeti, and that's going to be pretty cool."
Another goal Hugh is set out to achieve is raising $5000 for the Wings of Kilimanjaro charity, and he says he wouldn't have applied for the challenge if there was no giving back aspect.
To make a donation to Hugh's Wings of Kilimanjaro page, click the link here.
More on SunLive...