Strong Steamers Sunday line up against Otago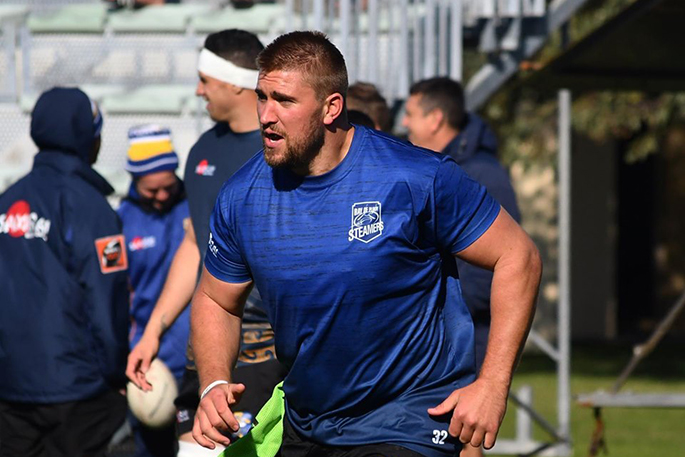 Five players will make their Steamers debut when the side take on Otago at Tauranga Domain on Sunday.

Tom McHugh, Kurt Eklund, Tavita Mafileo, Abraham Papali'i and Pryor Collier will make their first start in a Steamers jersey.
However, only Mafileo and Papali'i will be making their Mitre 10 Cup debut.
Mafileo was in the Steamers last year but didn't play a game. He is one of only a few players who has played Super Rugby (with the Chiefs) before playing Mitre 10 Cup and Papali'i played NRL. McHugh, Eklund and Collier have previously played for Auckland in the Mitre 10 Cup.

Steamers coach, Clayton McMillan has named a strong side for their first game of the 2019, Mitre 10 Cup season.

Clayton says the debut group had no pre-match nerves leading into this weekend's game.

"While they might be running out for the first time in the Bay of Plenty team, they are certainly not rookies to this level. I wouldn't imagine they would be anything other than excited about playing the first game."

The coach says it wasn't easy selecting his playing 23 for the game.

"They really acquitted themselves well," says Clayton. "There wasn't anybody that played poorly over the last few weeks. Everybody worked hard and they had a lot of fun and narrowing the fit and available ones down to the 23, was actually pretty difficult. That's a good place to be in, from a coaching perspective."

Despite having a great build-up for the game, Clayton is under no illusions his side will have a tough battle on their hands against Otago.

"Otago is always tough. They are quite an innovative team. They've got some X factor and are a hard-working team. They are a risk and rewards team. They are dangerous for a whole number of reasons. So, we certainly are going to have to work hard to get a positive outcome for the weekend."

Clayton says his side is prepared for the onslaught of pressure Otago are known to bring to every game they play.

The game kicks-off at 2.05pm and Clayton says having a strong vocal crowd will help lift the side.

"Everyone loves to play at home. We get a lot of energy off our supporters and it's a huge advantage to be playing at home and to have that advantage in our first game, will be pretty critical to our chances on the weekend. Your home games, those are the ones you really want to bank and it certainly helps when our supporters turn up in force to get behind us."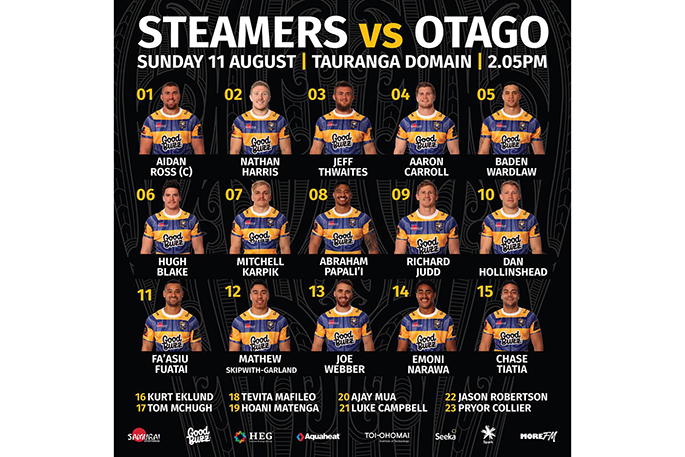 Bay of Plenty Steamers:
1. Aidan Ross (24)
2. Nathan Harris (29)
3. Jeff Thwaites (31)
4. Aaron Carroll (9)
5. Baden Wardlaw (8)
6. Hugh Blake (24)
7. Mitch Karpik (16)
8. Abraham Papali'i* (0)
9. Richard Judd (17)
10. Dan Hollinshead (27)
11. Fa'asiu Fuatai (10)
12. Mathew Skipwith-Garland (8)
13. Joe Webber (11)
14. Emoni Narawa (1)
15. Chase Tiatia (35)

Reserves:
16. Kurt Eklund* (0)
17. Tom McHugh* (0)
18. Tevita Mafileo* (0)
19. Hoani Matenga (9)
20. Ajay Mua (5)
21. Luke Campbell (26)
22. Jason Robertson (5)
23. Pryor Collier* (0)

* Denotes debut
** Denotes blazer game – 15 games
() Denotes number of games

Game Details:
Sunday August 11
Tauranga Domain
Gates Open at 11.30am
Curtain Raiser: FMG Rural XV vs Thames Valley U16 Selection kick-off 12.00pm

Mitre 10 Cup:
Bay of Plenty Steamers vs. Otago
Kick-off 2.05pm


More on SunLive...