Northern teams prevail at squash championships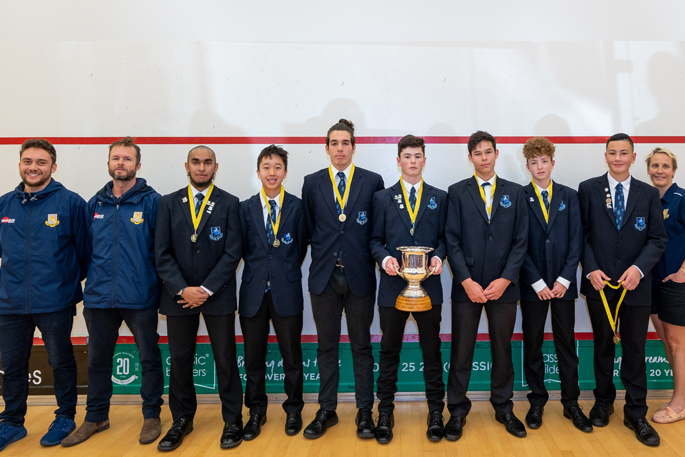 The 35th New Zealand Secondary Schools squash championships held here in Tauranga wrapped up on Sunday after a great three days of competition.
The Tauranga Boys College A team lived up to their high expectations, finishing as runners up in the final behind winners Mount Albert Grammar School from Auckland.
Devoy Squash and Fitness Centre president Michelle Oldfield says both the boys and girls finals were very exciting.
"It was nail biting final for the boys.
"Tauranga Boys College student Benjamin Adams took the court for the first match going down 3-0 against Mount Albert Grammar School student Jack Conder. Logan Brill was next on the court and he kept the Tauranga Boys team in the running with a 3-0 win against Jaeswan Kwan, followed by an extremely close match between Taylor Bettelheim and Arnd Arelmann with Arnd taking the win 11-9 in the 5th game.
"Ben McCurran was next on the court with the pressure of needing a win to keep Tauranga Boys in the game for winning the title, but unfortunately we down 3-0. Joe Smythe did not take to the court for the 5th match."
Michelle says the girls final on the court next door was equally as exciting, with Whangarei Girls' High School taking out the title 3-2 over runners up Havelock North Girls' High School.
Other competing Bay of Plenty schools were the Tauranga Boys College B team who finished 6th, Aquinas College finished 32nd, and in the girls draw, Tauranga Girls College finished 7th, Katikati College finished 12th, Papamoa College finished 15th and the Tauranga Girls College B team finished 14th.
Michelle says over the weekend the sportsmanship and attitude both on and off the court was fantastic.
"With 52 teams competing it was a busy weekend for all players, coaches and club volunteers but the event ran like clockwork at all venues.
"The feedback from players was also very positive with all players enjoying their games, the atmosphere created with such a large event was lively and the fair play of all their opponents meant that winning or losing did not matter, participation was the winner of the weekend."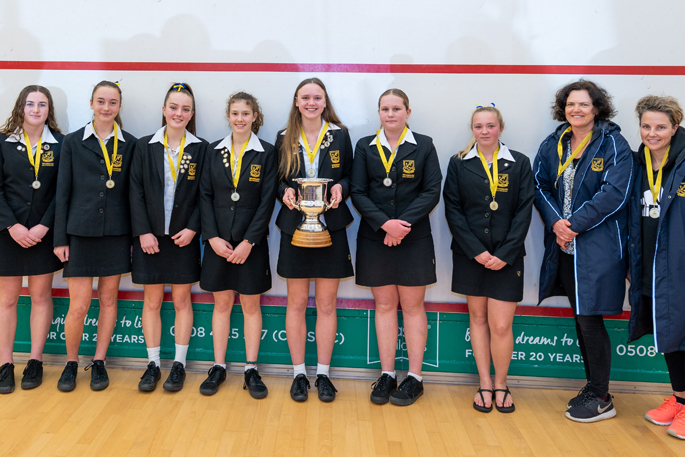 Girls' competition winners, Whangarei Girls' High School. Image: Supplied.
The championships were completed with prize giving held at the Devoy Squash and fitness Centre followed by the announcement of the New Zealand Secondary Schools Trans-Tasman team selected to compete against Australia in that series, also being held at Devoy Squash and Fitness Centre from Monday, August 19 which includes individuals and doubles matches.
Devoy Squash and Fitness Centre members selected for the New Zealand side include Taylor Bettelheim and Joe Smythe both from Tauranga Boys College, and Katie Templeton from Katikati College.
More on SunLive...