New option for permanent bus facility in Arataki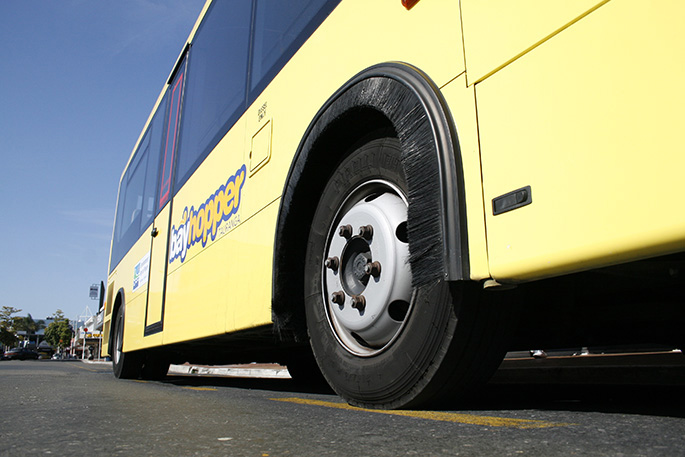 Tauranga City Council are asking staff to look into the option of placing the permanent Arataki bus facility on council-owned reserve land on Girven Road.
This will be added to the other two options that are currently under investigation: a facility in the Bayfair site; and in the driving range area, which is council-owned land on the west side of Maunganui Road.
"During the meeting, preliminary findings on the feasibility of these options were shared with councillors," says a Tauranga City Council spokesperson following the Urban Form and Transport Development committee meeting.
"These indicate that the driving range site is not attractive from a user perspective. Additionally, the recent decision by NZ Transport Agency not to proceed with a pedestrian underpass significantly affects the accessibility of that site."
On Thursday July 18, a drop-in session for Arataki residents was held to share their thoughts/and or concerns about: the permanent bus facility options in the general Arataki area and the temporary bus facility on Farm Street, and what council could do to improve it.
Sixty residents attended and provided suggestions and feedback.
Links Avenue:
A post-construction road safety audit is currently being undertaken on the Links Ave bus lanes, the pedestrian crossing, and the shared path.
"We expect that the road safety audit will check road widths, pinch points, and how people are using the environment, both during the peak hours and off peak.
"Any safety improvement recommendations arising from the audit will then be considered by council.
"These may involve changes to the physical environment and/or recommendations addressing the ways people use these spaces. We will let you know the outcome of the audit recommendations."
Art in the Alleyways:
A new initiative to provide safe alternate routes to school through the alleyways in the Arataki area is gaining momentum.
"Our focus is on the upgrade of the Berwick to Compton and Solway to Berescourt alleyways.
"We have received valuable feedback from residents living near the alleyways. Resene has sponsored the paint for Mount Intermediate art students to paint their panels. In addition, Resene has also offered paint for the alleyway fences, which means we can have a community working bee to get this work done.
"Resene will provide enough paint to allow some to be set aside for the future, in case fences need repainting. We'd like to thank Resene for their sponsorship. We really appreciate their support and help."
More on SunLive...