Sundowner of the Skies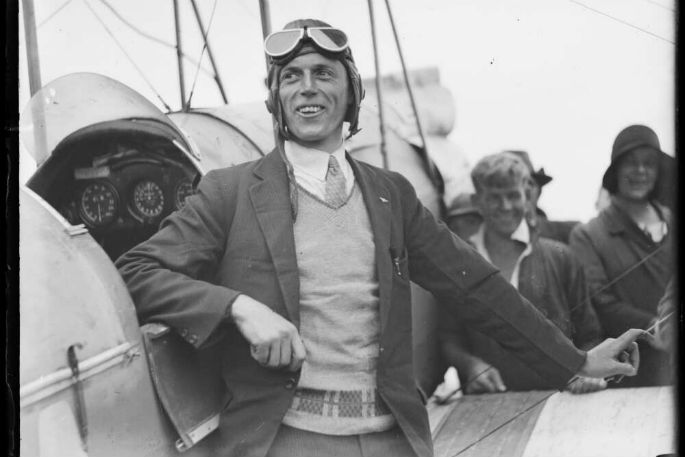 When Oscar Garden landed his Gipsy Moth plane Kia Ora in Australia on November 4 1930 after flying solo from England, there were no welcoming crowds as no-one was expecting him. The Sydney Sun dubbed him Sundowner of the Skies.
A sundowner is an Australian swagman who arrives unexpectedly out of nowhere on sundown and disappears the next morning. Oscar became the youngest and most inexperienced pilot to fly solo from England to Australia.
When he had set off from England about two-and-a-half weeks earlier in his second-hand, open-cockpit plane, he was wearing carpet slippers and had half a dozen sandwiches on his lap. He was 27, had just learnt to fly, and had only 39 flying hours behind him. His 18-day-flight was the third fastest after Bert Hinkler and Charles Kingsford Smith.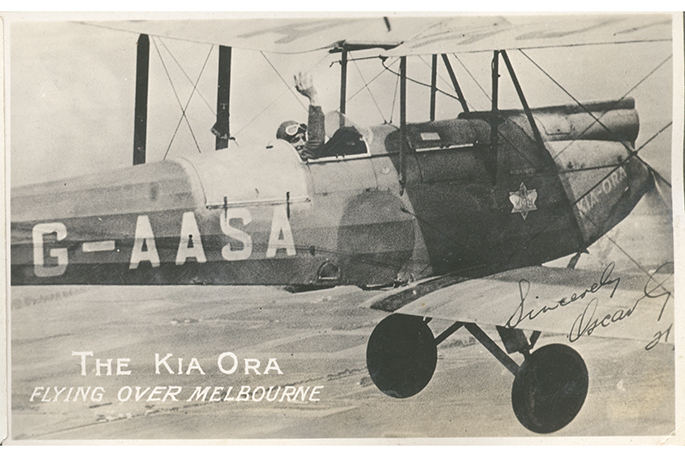 "I felt I couldn't get on with my life if I didn't write his story," says Mary Garden, Oscar's daughter. "The story was there pushing me and I had to write it.
"Oscar had thought 'I'm going to be the first to fly solo to New Zealand' but when he got to Sydney he realised that his plane didn't have the range to fly over the Tasman Sea."
Mary says Oscar's plane was less powerful than most modern motorcycles.
"He was just chugging along for 12 hours a day with no radio. He was very determined. When he landed at the various stops along the way, he often found no one spoke English, he had to find food and sometimes slept under the wing of the plane."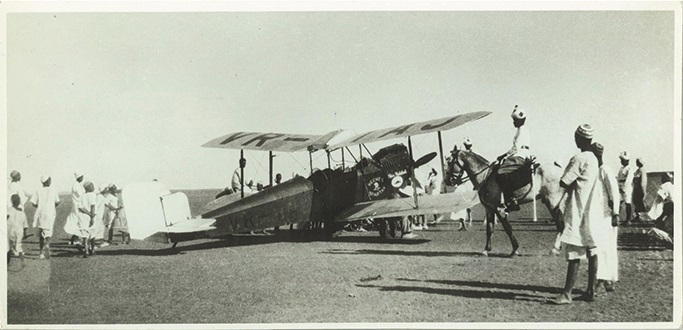 Omdurman, January 1933
Oscar had planned his stops, taking a route that landed him in places that included Munich, Baghdad, Karachi and on to India and Singapore, and finally Australia.
"The Air Ministry in England told him where he could land but they gave him the wrong directions on two occasions which is why he crash landed in India."
It was one day of repairs before Oscar set off again to fly to the next place.
"What set my father apart was that he was such a perfectionist, so would do his own engine maintenance. Even here in Tauranga he was known as the best tomato grower. Most of the early aviators died in crashes, but he did that flight and then he did so much more."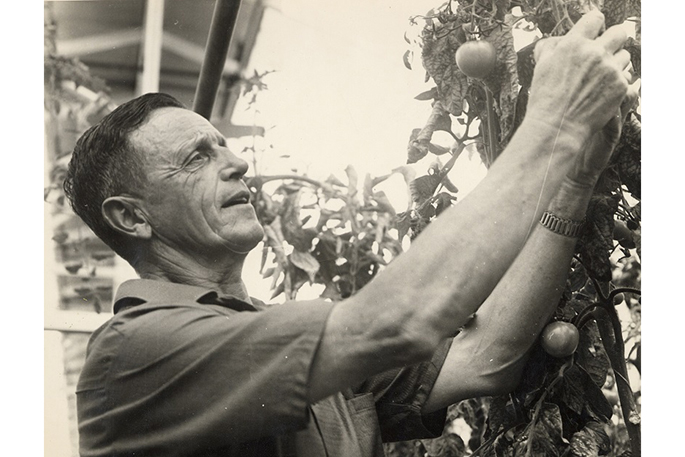 Oscar Garden working in his glass house
Oscar went on to fly for British Airways, Imperial Airways and then for Tasman Empire Airways Limited (TEAL), the forerunner of Air New Zealand. In 1943 he became TEAL's Chief Pilot and Operations Manager; as the 'Boss' of this fledgling company, he steered it through its formative years.
"The pilots called him the Father of Air New Zealand," says Mary. "He left suddenly in 1947, three years before I was born, and became a tomato grower in Tauranga. He never flew a plane again."
She started to piece together his story, first as feature articles about his flying adventures, then, as she discovered more about him, she wondered, if he had been so famous, why was he forgotten?
"I keep stumbling on more information."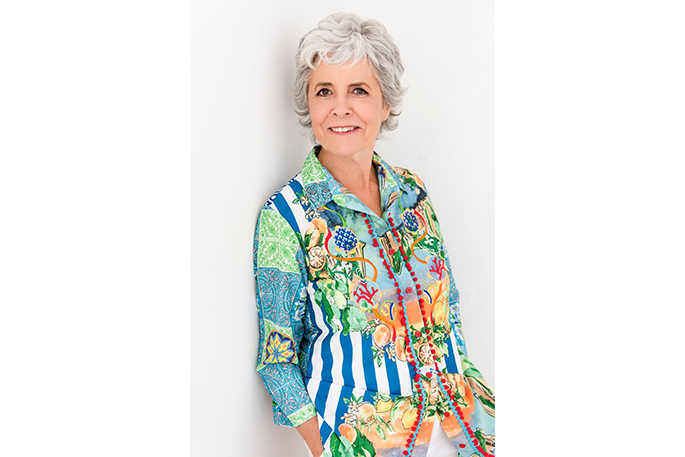 Author Mary Garden
She found an early account of him escaping death.
"When he was 11, his uncle paid him to go for a joyride, but his mother wouldn't allow it and on the next flight the plane crashed and everyone died.
"For a long time, I really had no interest in my father's story because I was trying to recover from him," says Mary. "I had a lot of therapy. He did a lot of damage, not deliberately but because he was so damaged himself, and he inflicted it on others."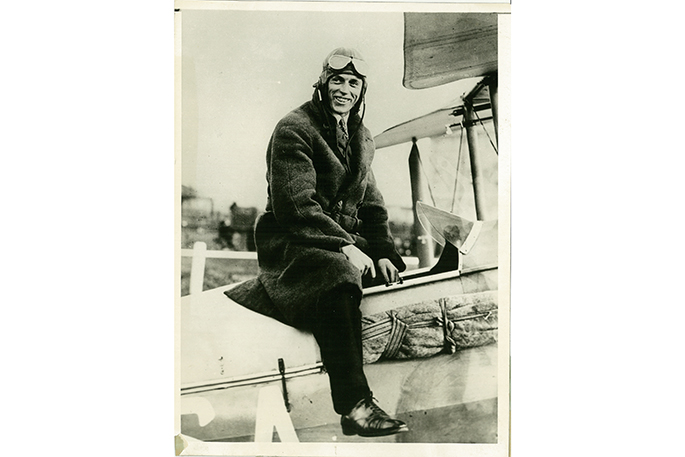 Oscar Garden at Croydon Aerodrome October 16 1930
On completing her PhD, Mary realised that she needed to not just write an account of her father's life but infuse her own voice and story through the book. This has given Sundowner of the Skies a wider appeal beyond just aviation enthusiasts.
"Air NZ paid for me to go to Auckland and interview pilots Dad trained to fly the flying boats in the 1940s. Thank God, because they're all dead now. They just worshipped him.
"But he disappeared, became a hermit, hated socialising and never went on holiday with us. I think that was his past catching up with him and him not being able to deal with it."
"Growing up we were told to keep out of Dad's way. I knew very little except that his father died of a heart attack which is not true - he died of chronic alcoholism which is on the death certificate. I read all the court documents about how his grandfather was an abusive alcoholic."
She is astonished with how much she has found out about Oscar's life.
"It was very healing for my mum and me, and we realised why he turned out so damaged."
Maurice Gee, who is married to Margareta, Oscar Garden's eldest daughter and Mary's half-sister has written of Mary's book: "This book is beautifully told and bravely too, and the width of research is astonishing."
Mary's book 'Sundowner of the Skies – The story of Oscar Garden the Forgotten Aviator' will be launched at Classic Flyers on Sunday August 11 at 2pm. There is no cost but bookings are essential. RSVP to Gillian McColl on 027 524 1008 / gillian.maccoll@gmail.com or Mary Garden +61 488410016 / marygarden@bigpond.com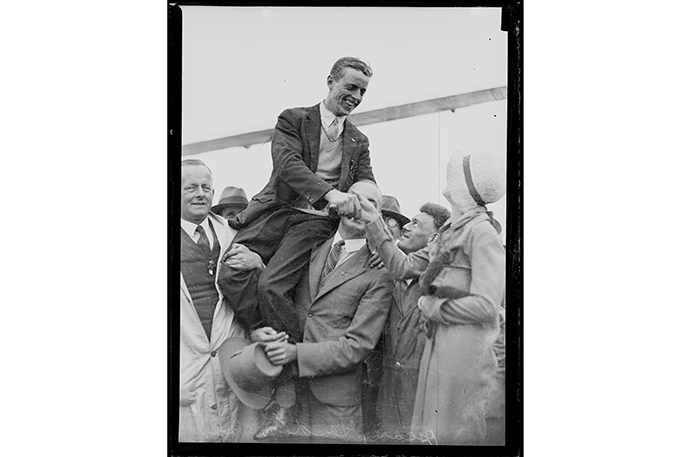 Oscar Garden being greeted by Betty Whye. Photo: National Library of Australia.
More on SunLive...