No bad hair days during her 100 years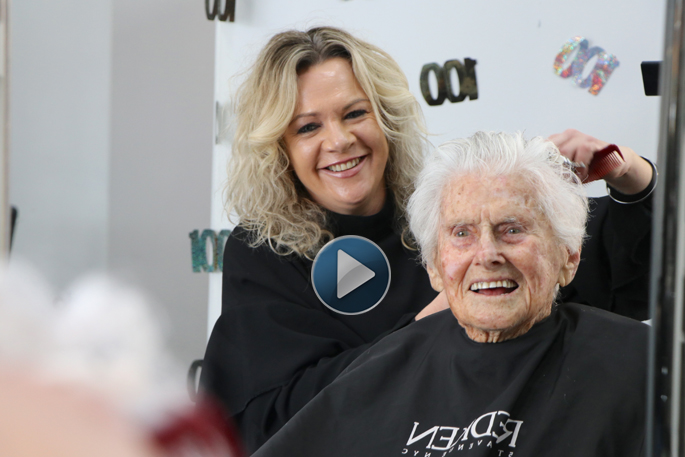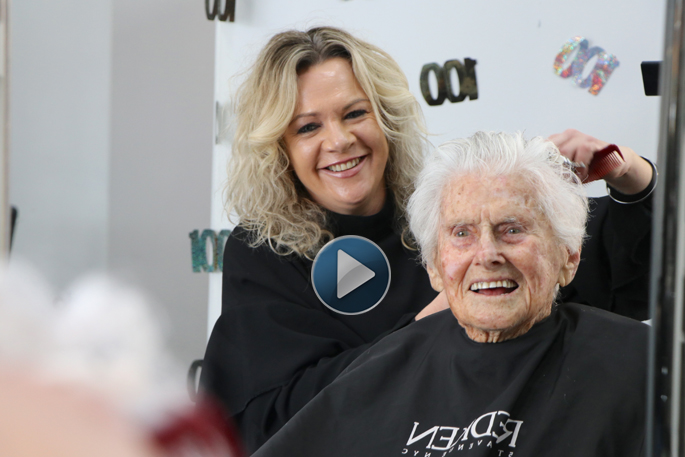 Click the image above to watch the video
Ever since Margaret Dean was a little girl, she always strived to look great, and her hair was always perfect. Now, on her 100th birthday, it seems as though nothing has changed.
With the help of her daughter Shelley, Margaret is wheeled into Salon One in Fraser Cove for her 100th birthday blow wave and cut.
Upon Margaret's arrival, she is welcomed by her hairdresser of four years, Lesley Boylen, who has set up her chair with a giant confetti balloon, banners showing the number '100', and a precious birthday cupcake and cookie.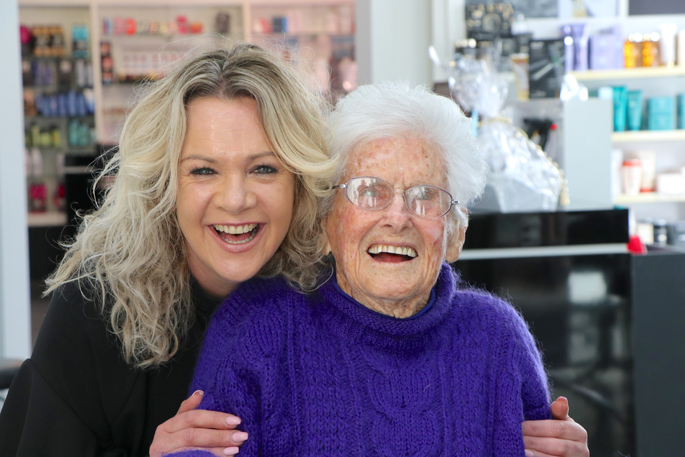 Lesley Boylen and Margaret Dean. Photo: Daniel Hines/SunLive.
Over 100 years, Shelley says Margaret has always made sure she looks great. But there is one question she always asks before leaving the house – 'does my hair look okay?'
"Her favourite place is the hair dressing salon," says Shelley.
"When she was a child she was one of eight children in the family, and their father would not let any of the children go out until their hair was done and they were all sort of smartly dressed, and if anyone forgot, there would be a glare from the table.
"Ever since then, she's always made sure at breakfast time she's always got her hair done."
Shelley says the secret to her mother's long life is simple; being happy and positive.
"She does have some bad days, but she's not on any medication at all, so that's a good point for us as well.
"She's always got a smile on her face. Bad things do happen in life, but she always looks on the bright side.
"She likes to make people happy, and that makes her happy too."
It is clear Lesley and Margaret have an incredible friendship, and Shelley says the two met after she and her mother walked past a salon a few years ago, where they saw an 'oldies' hair deal – and the rest is history.
"She's always laughing, and smiling, she cracks jokes. It's been an interesting four years," says Lesley.
"I've always looked forward to her visits."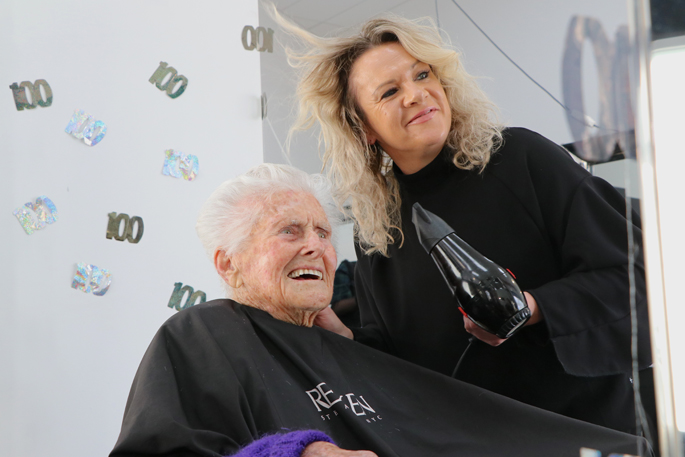 The blow-dry process. Photo: Daniel Hines/SunLive.
Lesley treasures every moment with Margaret, and their friendship has grown beyond salon visits.
While Margaret was in hospital for an extended period, Lesley visited Margaret to do her hair.
"She was baking cookies, and I had gotten a call saying she's fallen over and hurt herself. She was in hospital for quite a while, and she needed a haircut.
"I went up and cut her hair, so it was cool.
"If I can help in any way, it's what I'm here for.
Margaret is celebrating her 100th year in style, with 150 of her friends and family gathering at the Ohauiti Hall.
"She has already got letters from the Queen, the Governor General and Jacinda Ardern," says Shelley.
Perhaps the secret to a long and happy life isn't so complicated after all.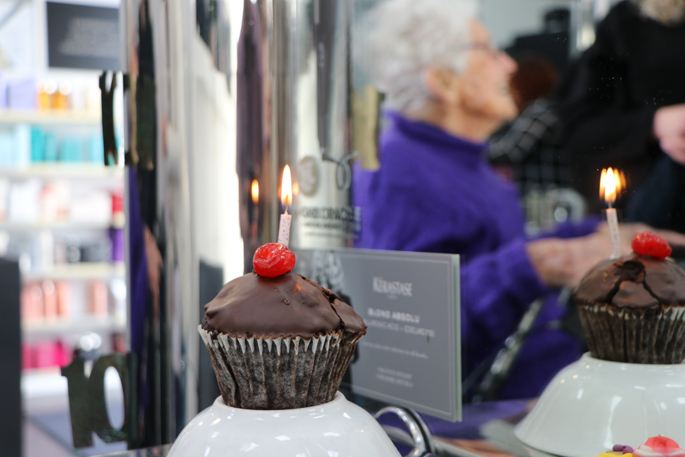 Lesley treated Margaret to a special birthday cupcake. Photo: Daniel Hines/SunLive
More on SunLive...