15m waves, severe gales and squally rain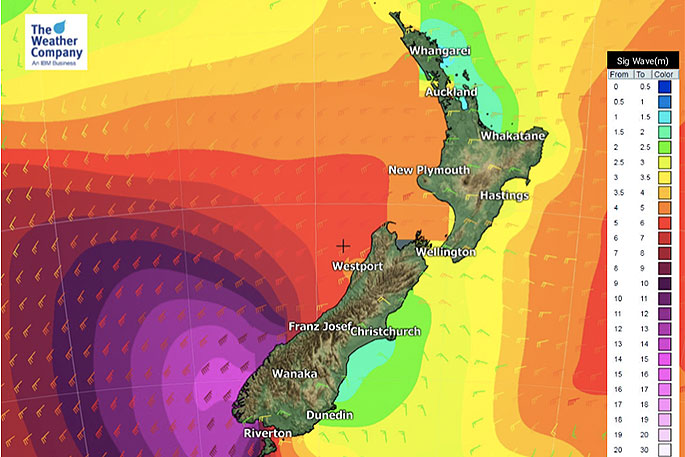 A Southern Ocean storm is pouncing on the South Island today bringing 15 metre waves to the remote south west corner along with severe gales, heavy snow and squally downpours with hail and isolated thunder spreading elsewhere across New Zealand.
"We also have some large areas of dry and sunny weather, thanks to our mountains and ranges," says WeatherWatch.co.nz
"Those facing to the east to north east will have lower rainfall totals, slightly higher temperatures and less dangerous marine conditions."
The west, on the other hand, is rough. The 'rough west coast' lives up to its name with highly dangerous beach and marine conditions across the next 72 hours at least.
Boaties and those fishing on the rocks are advised to postpone things until Tuesday next week due to the dangers posed.
Saturday's wave height forecast.
Meanwhile, heavy snow will fall across the Southern Alps, some lighter falls may get right down to 100 or 200m, mainly around Southland and Otago, while Fiordland has a chance of sea level snow, says the weather organisation.
"Southland will also see low level snow flurries and sleet, but it may not settle. Sunday will see snow falling to the lowest levels of Southland, Otago and Canterbury - although Canterbury looks fairly dry at this stage.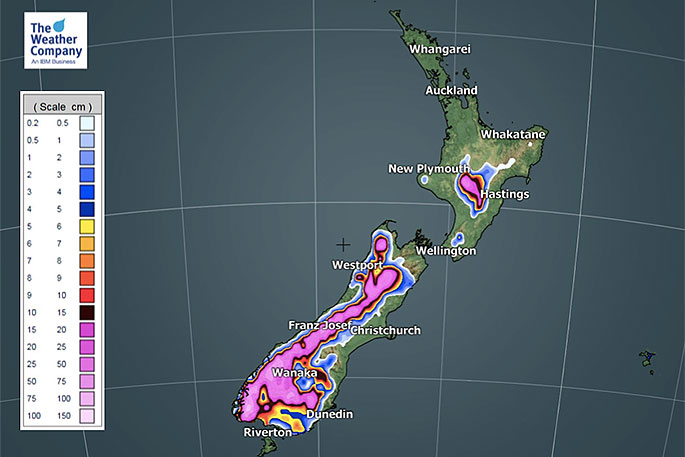 Snowfall accumulation from 6am today until 6am on Monday.
"Regions facing north to north east in the upper North Island look to be the most settled this weekend. For example the Bay of Islands, eastern Coromandel Peninsula and Gisborne."
WeatherWatch says a storm is approaching the South Island today and will unravel over NZ bringing a windy, wintry weekend and start to next week.
"Snow, hail, thunderstorms, heavy rain, severe gales, sleet and bitterly low temperatures are all in the forecast - but if you live in the east or north east there may also be plenty of sun and dry weather.
"Friday marks the start of this windier surge with peak winds likely between now and dawn Saturday.
"Sunday marks the start of the coldest air with peak cold likely on Sunday and Monday nationwide. The Bay of Islands, eastern Coromandel Peninsula and Gisborne look to be the more settled of the regions this weekend."
More on SunLive...