Tyres a major concern in BOP town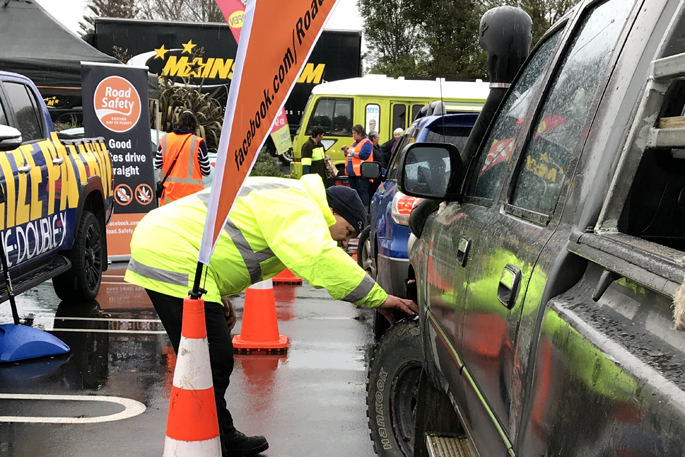 A record number of Opotiki drivers took part in a free Winter Pit Stop event last week to learn more about their vehicle's safety in winter driving conditions.
More than 100 vehicles were checked by automotive students from Toi Ohomai and overseen by a NZTA Technical Support Officer.
A total of 106 cars took part in the event in the New World Opotiki car park which was run by the Eastern Bay Road Safety program and BOPRC.
Just over 25 per cent of the vehicles checked in Opotiki were found to have faults with inadequate tyre tread or bald tyres a common concern. One driver was unaware that the steel cord on her front tyre was visible and was very pleased to be informed about it so she could arrange for a replacement.
Issues with lights were also found on many vehicles.
Whakatane District Council community development advisor Lorreen Hartley was extremely pleased that numbers participating in the Eastern Bay exceeded that of previous years.
She encourages drivers to check their light lenses are clean and not cracked or hazy.
"Check that your headlights, reversing lights and brake lights are all working. You can also check your back lights by reversing close to a wall so you can see the reflection in your rear view mirror."
The TWIRL check involved: Tyres, Windscreen, wipers and mirrors, Indicators, Rust and Lights.
Regular vehicle checks have shown to reduce the risk of serious damage to drivers, their passengers and other road users, especially in the winter when driving can be especially hazardous if vehicles aren't in good condition.
The event was very well received by the public with all driving earning a free prize pack and coffee voucher for taking part, while some lucky drivers also gained supermarket vouchers and emergency breakdown kits. The event was a multi-agency initiative between NZTA, BOPRC, Eastern Bay Road Safety Programme, Proevents and Radio 1XX with the knowledge and encouragement of Police.
More on SunLive...