Tauranga to join in with Oranga Tamariki protests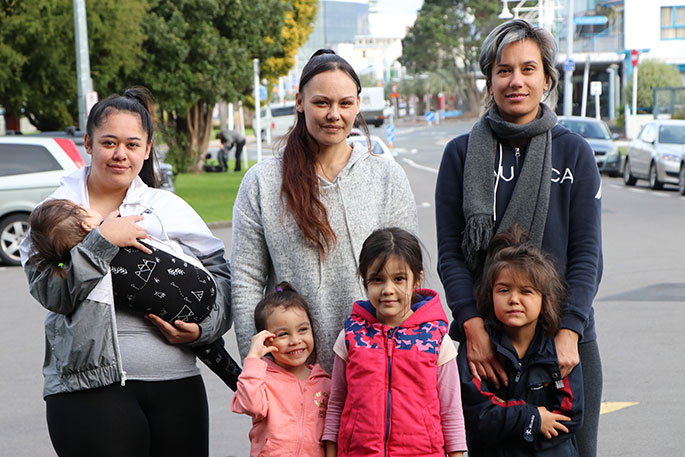 Tauranga will be just one of the many towns and cities across New Zealand that will be protesting the Oranga Tamariki uplifts today.
The protest is being held in conjunction with the one in Wellington, which is taking place outside Parliament.
For Angela Bowerman, Donna Love and Tiani Anderson this is the first time on the picket line, and they say they're protesting for change.
"It pretty much started when the video came out of the young mum and her baby. We didn't realise how bad it was," says Donna.
They video they're referring to is a video produced by Newsroom documenting Oranga Tamariki trying to take a newborn baby from the mother's care in a Hawkes' Bay hospital.
Another reason for the three ladies to organise the protest is because of the statistics.
"The number of Maori children that go into state care and the lack of evidence behind the uplifts and the injustice of some of the uplifts," says Angela.
"There is definitely an issue and it's pretty straight forward that there's something that needs to change.
"There are other towns around New Zealand that have been protesting. Christchurch and Palmerston North have been protesting every single day since the video came out of the uplifts.
"We believe these children need a voice. They are just lost in the system and they don't have a voice so they are being abused, physically and mentally, and no one is really looking into it. It's just been allowed to happen and that connects with the suicide rates."
Donna says there are a lot of misconceptions about why they are protesting.
"We obviously know some babies do need to be uplifted, but it's the way they're going about it. And since that video has come out there has been hundreds of stories of similar situations."
Local iwi Ngai Te Rangi have also got on-board and will be providing a free sausage sizzle for people who attend.
People who want to get involved with the protest are welcome to join. Everyone is meeting outside the Tauranga Library at 12.30pm and will be protesting opposite the Oranga Tamariki Tauranga branch from 1pm.
For more information, check out the event page on Facebook here:
More on SunLive...