Otumoetai Intermediate leading in road safety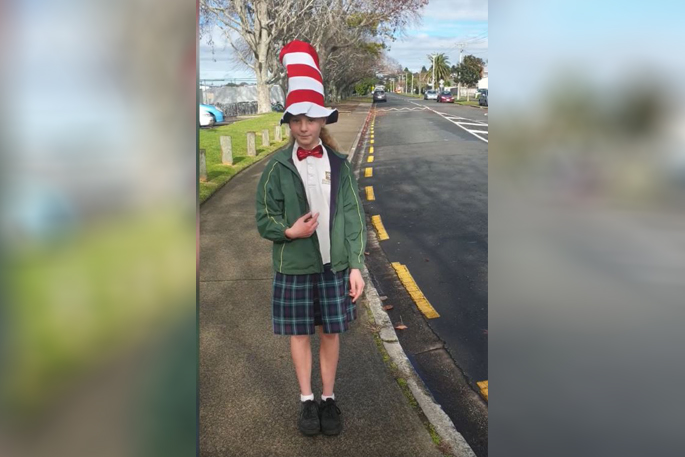 Otumoetai Intermediate School students have banded together to produce a light hearted road safety video, with an influence from illustrator extraordinaire Doctor Seuss.
The students send a clear message to parents and caregivers to stay clear of yellow lines when picking up or dropping off students from the school.
To get parents away from parking on yellow lines, two students suggest walking around the corner to be picked up, or to meet in the nearby Carlton Street Reserve car park.
"But to stay off the yellow, the parents don't know, they show they don't know where else they can go.
"500 metres, it isn't bizarre, it's just a short walk down to your car," the boys say.
Otumoetai Intermediate student support and teacher Alison McPike says on a yearly basis, some of the student leaders attend a Travel Safe work shop run by the Tauranga City Council.
"We have had quite a few issues of parents parking out the front of the school on yellow lines stopping buses coming in, we've got cars coming out of driveways and people can't see. It's been really congested out there.
"With the college, Bellevue Primary and us, if it's 3pm and it's a rainy day everyone leaves the school at the same time and it's a nightmare, it's quite dangerous."
Alison says with the help of Sheree Ellis who is the Travel Safe Coordinator at the council, the student leaders came up with the idea of a road safety video.
"Sheree videoed it and her older son put it together for us.
"The students loved it, I was blown away. They had a cat in the hat style hat, and it's amazing how they can get behind the actual meaning in regard to safety and people parking correctly.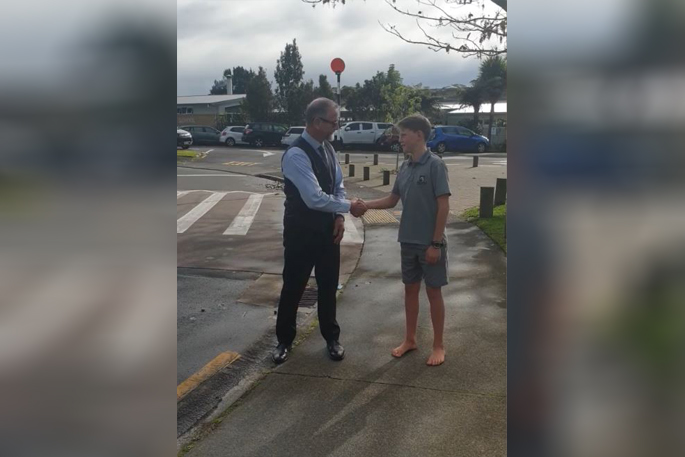 Principal Henk Popping participating in the video. Image: Facebook.
Sheree herself says Otumoetai Intermediate and Travel Safe work in partnership to lift the level of road safety and active travel under the school's 'Travel Safe School Action Plan'.
"School travel action plans are underpinned by the four e's, encouragement, education, enforcement and engineering, and the idea behind the video is to encourage children to get active.
"As the population of Tauranga grows so do school rolls and many schools face the same issue of unsafe parking behaviour around their school gates.
"The more students who walk, bike, scooter or park and stride, the safer it is for students and the safer the environment around the school."
Sheree says active transport helps to develop road sense and supports the global ecosystem and population health.
To watch the Otumoetai Intermediate School road safety video, click the link here.
More on SunLive...