Investigation into Hell Pizza opens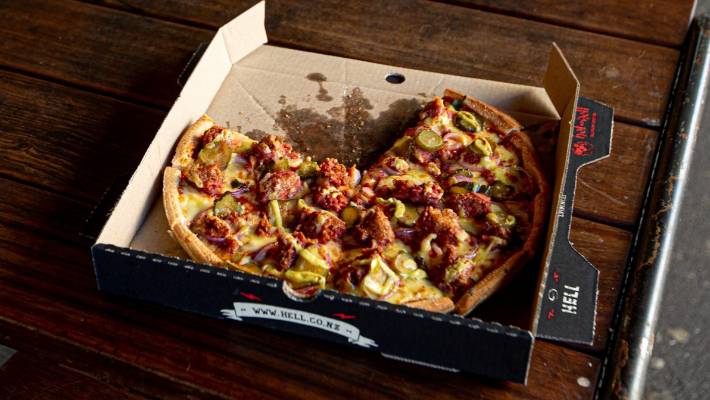 The Commerce Commission has opened an investigation into Hell Pizza's covert use of fake meat.
The consumer watchdog received several complaints after the pizza chain revealed last month it had secretly used plant-based Beyond Meat burger patties on one of its pizzas.
On Thursday a spokesperson for the commission confirmed an investigation had been launched.
As the investigation was ongoing, no further comment would be made.
The Commerce Commission action follows the launch of a Ministry for Primary Industries investigation into potential breaches of the Food Act by Hell Pizza.
The company caused controversy after revealing it had used the plant product on its promotional burger pizza, describing the ingredient only as "medium-rare burger patty."
There were particular concerns in relation to allergens, and for customers being able to make an informed decision when ordering their pizza.
Marketing lawyer Rae Nield says there was "a high risk" the company was in breach of the Fair Trading Act, which protected consumers from being misled.
"What does a reasonable consumer expect if if says "burger" and there's no qualifier - it doesn't say "veggie" or "meat-free". A reasonable consumer is going to think that means meat."
Revealing the use of Beyond Meat, Hell general manager Ben Cumming says the company had wanted to introduce customers to alternative proteins in an unexpected way and had expected mixed feedback.
The company cared about the planet and had wanted to start a conversation and raise awareness about sustainable food choices, he says.
Hell has since launched an interactive allergen warning feature on its website, which lists the potential allergens – like soy, gluten and nuts – on each pizza and updates automatically when toppings are customised.
A request for customers with life-threatening allergies to inform the store before ordering is also included.
Beyond Meat uses ingredients that mimic the composition of real meat, like pea protein, coconut oil and potato starch, to create products that look and cook like beef.
Although marketed as better for both people and the planet, questions have been raised over whether highly-processed plant-based "meats" are any healthier than red meat.
There are also concerns the product may cause allergic reactions in consumers who were unaware of potential issues with pea protein.
On its website, Beyond Meat warns that peas are legumes and people with severe allergies to legumes like peanuts "should be cautious when introducing pea protein to their diet because of the possibility of a pea allergy.
More on SunLive...