New look Blackcaps test side announced at Bay Oval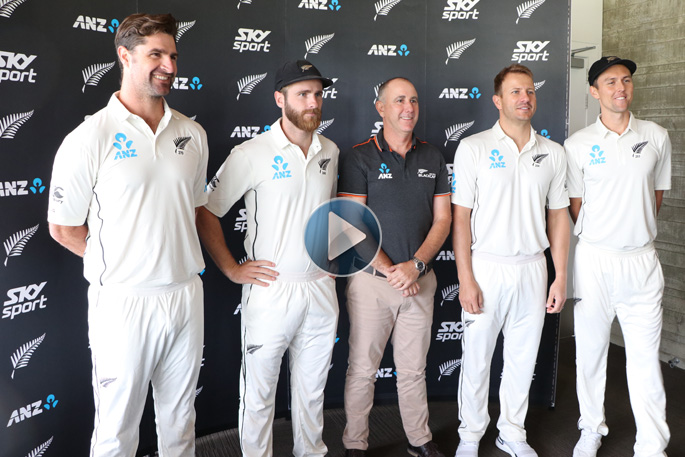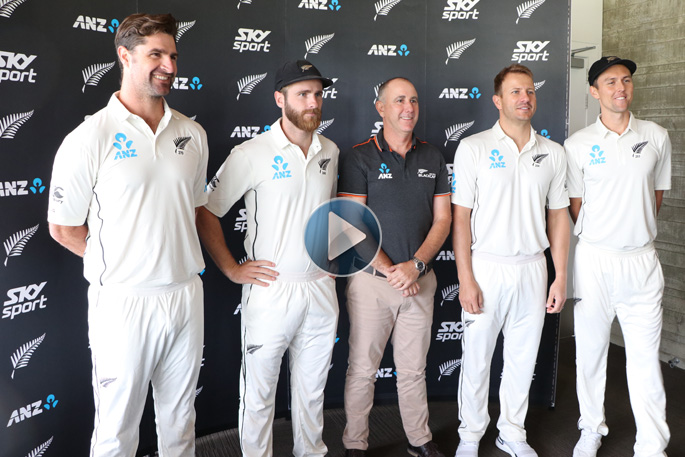 Click the image above to watch the video
Despite losing the Cricket World Cup final, the Blackcaps are looking forward to switching their focus as they prepare to take on Sri Lanka.
Blackcaps coach Gary Stead and four Tauranga based players gathered at the Bay Oval this morning for the announcement of the squad taking part in the upcoming test series against Sri Lanka.
Captain Kane Williamson, Trent Boult, Neil Wagner and Colin de Grandhomme donned the iconic white test strip at the announcement, which includes the addition of the player's surnames and numbers on the back of the shirts.
Despite only being back in New Zealand for a short time following the side's heartbreak super over loss to England in the Cricket World Cup final, Stead says the group has had time to reflect, and getting stuck into red ball cricket is the best possible scenario for the team.
"It was an incredible time for the team and the country, but we're now excited to move forward as a group and sink our teeth into another opportunity."
Stead says the group should embrace what they have been through at the world cup rather than dwelling on the result.
"At the end of the day we played in a world cup where we played 11 games and we had six that absolutely went down to wire where it could've gone either way.
"We got over the line in four of them and we had a tie in the last one, but anytime you come away with winning two thirds of the close ones, we should embrace that and be proud of the efforts, but also keep moving forward to what's ahead of us now."
The test series against Sri Lanka marks the start of the World Test Championship campaign, where nine teams will play 72 test matches over the course of two years, with the final to be held at Lord's in June 2021.
The talking point of the Blackcaps 15-man-squad is the number of spin bowlers, with Stead opting to take four spinners to Sri Lanka.
Stead says he took into account the recent history of touring teams visiting Sri Lanka, particularly the likes of England and South Africa.
"Playing three spinners is an option in Sri Lankan conditions and we believe this group provides the best variations and skill mix on offer.
"England were playing three spinners against Sri Lanka on their successful visit there last year and the slow bowlers also dominated the previous series against South Africa."
Significant recalls into the side include left-arm orthodox Ajaz Patel and off-spinner Will Sommerville, who will join Mitchell Santer and Todd Astle in the spin bowling duties.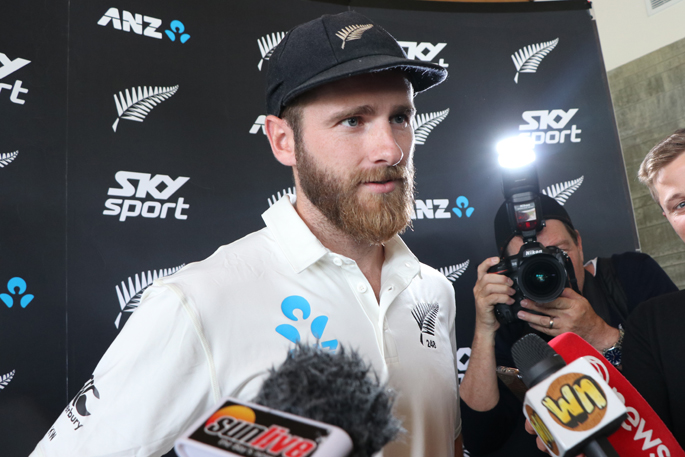 Blackcaps captain Kane Williamson. Photo: Daniel Hines/SunLive.
The four Tauranga based cricketers were cheerful and excited about the upcoming World Test Championship matches, and captain Williamson says he is looking forward to getting back into red ball cricket.
"Having three formats, it's always quite refreshing when you change between them, and I know after a lot of white ball cricket, the test team are really excited to get back into their work.
"After a campaign like the world cup, two months of pretty intense cricket, there is a little bit of a come down but it's always enjoyable as well when you join a slightly different squad and they'll bring a really good energy."
Mount Maunganui based bowler Trent Boult who was named in the 15-man-squad has managed to come home to the Bay following the world cup, however he excited to head off again and take on the Sri Lankan's on their soil.
"It's obviously a short stay, but I'm looking forward to be heading away on Friday and getting the whites back on, so that will be exciting, but it's nice to be home to refresh a little bit.
"It'll be pretty interesting getting on a plane and heading into 40 odd degrees, but luckily test cricket is my favourite format and I'm sure I don't need too much motivation."
Although Trent admits mentally it has been a challenge to process the world cup defeat, physically he feels fit and is ready to 'get back on the saddle'.
A motivating point for Trent is returning to the Bay Oval with the side in November for the test match against England.
"It's one of my favourite grounds in the world and it will be a nice opposition to play as well and I'm looking forward to that, it's definitely going to be exciting."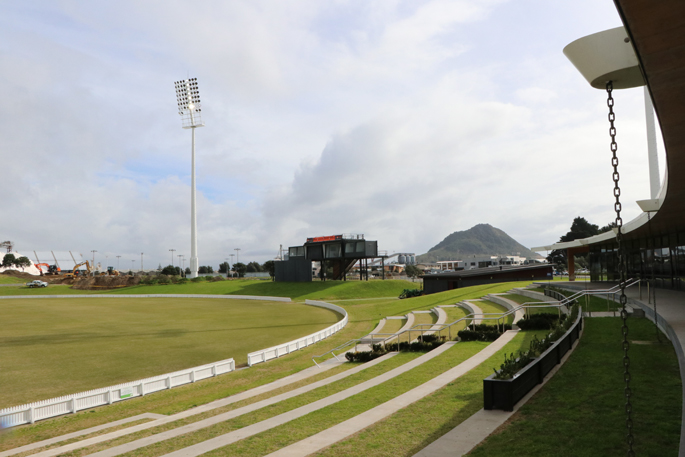 The announcement took place at Mount Maunganui's Bay Oval. Photo: Daniel Hines/SunLive.
More on SunLive...